Keeping Your Stars in Town: The Case for Matthew Stafford
Fresh on the heels of the Giants finding reasons to extend Victor Cruz, the Lions joined in on the "keep your stars in town" bandwagon, offering Matthew Stafford enough guaranteed money to put him in the top-10 of all starting quarterbacks, money wise.  The deal will lock Stafford in Detroit through the 2017 season, seeing his cap hit top $20 million by the time the deal is done.  Now, part of the reason for doing this was to save cap space in the short term – with the renegotiated terms, the Lions save about $7 million against the cap in 2013 and 2014.
The other reason the deal is so high is because Stafford was one of the last number one picks to be signed before the era of the rookie salary cap; he had what was, at the time, the single most valuable rookie contract ever – a $72 million deal given to someone who had never thrown an NFL pass.  At some point, the deal had to be restructured just to fit everything in under the cap.  Fans in Washington and Indianapolis sure are glad those days are over.

What makes the deal odd, though, isn't the numbers, but the timing.  Stafford still had two years under that rookie contract, meaning there wasn't a rush to get the deal done this year, as there was with Cruz.  Also, this late in the offseason, there's not a lot of reasons to try to crack open extra salary cap space, as most of the high-priced free agents have signed elsewhere, and the Lions aren't exactly in a rough place with signing their own draft picks – you'd think they'd wait and take all the savings next year.  All this offseason, the rumor mill said that no deal would be done this year.  Heck, it probably was in Stafford's best interest to wait, right?

I mean, why sign a deal coming off of a 4-12 debacle when you can hope to bounce back and squeeze some more money out of someone?  After all, we just saw what a postseason run did to Joe Flacco's value – why not take the two seasons you have under contract and try to duplicate that?  As recently as the beginning of this week, you had Lions president Tom Lewand saying that here had to be some cut-off point for negotiations, and that there wasn't going to be a deal done during the regular season.  Add all the signs up, and, while it's not the biggest surprise in the world that Stafford would sign long-term with the Lions, a $41.5 million guaranteed contract coming out this year seemed fairly odd, much less one done this week.

People are going a little bit berserk over an $18 million a year contract given to a player who hasn't won a single playoff game.  Yes, that might seem a lot at first glance, but quarterbacks always get 95% of the credit for playoff wins and 95% of the blame for playoff losses, and that's too much – we never talk about a team's record when so and so is starting at left guard or anything.  The fact remains that Stafford's one of only four players in the history of the league to have surpassed 5,000 yards in a season, and very nearly duplicated that feat last year, in a "down" season.  The Lions haven't exactly excelled at the quarterback position in recent history, either –you have to go back to at least the mid-90s, if not earlier, to find a quarterback as successful as Stafford.  Besides, you have to take into account two financial situations – first, with the new rookie salary cap, there's more money out there to pay veterans, and with the starting point for this extension being a mega deal, the Lions weren't exactly going to get a cheaper deal on Stafford.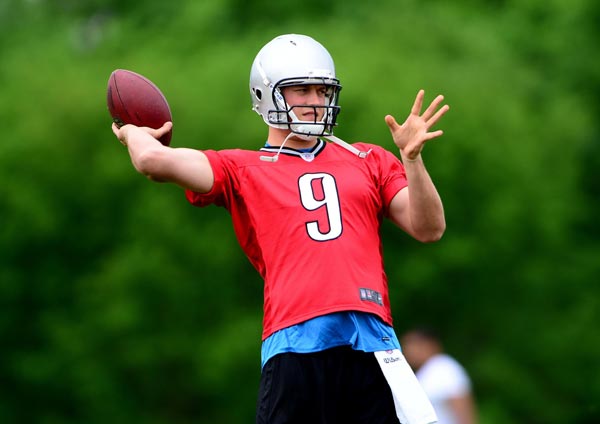 But if Stafford is getting paid like a top-ten quarterback, is he a top-ten quarterback?Ron Jaworski doesn't think so – he dropped Stafford from 14th to 16th this offseason, pointing out flaws in his mechanics and a lack of success under center. There certainly are some mechanical issues – possibly holdover from his 2010 shoulder injury, or possibly just a lack of discipline – but the under-center statistics don't back up Jaworski's claim. ESPN Stats & Information reports that, on plays under center, Stafford has a quarterback rating of 108.9, and 19 touchdowns to just 5 interceptions for a completion percentage of 62.9%. It's not what he does best, certainly – which is why he has three times as many snaps from the shotgun – but those aren't bad numbers at all.

However, you do have to look at his efficiency stats, and wonder – he put up more pass attempts than any other player the past two seasons, so his raw stats are somewhat inflated. In 2011 and 2012, Stafford ranked 10th and 12th in DVOA – value over average, placing him right on the borderline of that top-10 group. I haven't done my quarterback rankings yet for 2013, but, while he'll be above average, certainly, he might have trouble cutting into the top-ten. That being said, average doesn't mean replaceable – you can't go out right now and find an average quarterback to plug into your team. Maybe there's a bit too much money out there for Stafford, but he is, by leaps and bounds, their best option for the immediate future.

Of course, this contract isn't just for 2013 – it will go through Stafford's 29-year-old season in 2017.Using the same comparisons we used for Victor Cruz yesterday, who are Stafford's comparable quarterbacks, and what did they do the next five years? It's a little trickier to do, because we're trying to account for Stafford's shoulder injury and near-missed season in 2010; including that season in the comparisons gets you a list of 17 comparable quarterbacks, while not including it gets you a list of 20. There's almost no overlap between the two lists, either – the only quarterback that appears both times is Philip Rivers, and he didn't miss time due to an injury; he missed time due to sitting behind Drew Brees.
Rivers had three pro-bowl appearances in his fifth-through-ninth seasons and, after suffering a minor slump in year four, his numbers rebounded – which would be a welcome sight for Lions fans. Of course, Rivers' Chargers teams historically underperformed in the playoffs, but again, too much blame on the quarterback there – and honestly, I think Lions fans would take getting to, and losing in, the playoffs on a regular basis, considering the recent history of the franchise.

Apart from Rivers, the two lists diverge, which is fitting, considering the split opinions on Stafford for Lions fans. The non-injury list is the more impressive of the two – Brett Favre, Troy Aikman, John Elway, Joe Namath, and Fran Tarkenton are good comparables to be held up to. That being said, the injury list all that bad either, featuring Bob Greise and Terry Bradshaw – but it also features a lot of quarterbacks who never lived up to some of their early potential, or saw their careers shortened by one reason or another.
Looking at both lists, I'm torn – but I think, in general, you're looking at the upper parts of the injury list (i.e., your Marc Bulgers) and the middle parts of the non-injury list when you're trying to find the most likely comparables here. The shoulder injury has not flared up again, and it's not like Stafford's been particularly injury prone, so docking him too many points for the shoulder injury just doesn't seem fair – unless, of course, it flares back up at some point, but two injury-free seasons makes me worry less about that.
 
No, I think the Rivers comparison holds up the best, or a Mark Brunell-type – starting slow, before bursting onto the scene and leading the league in passing yards, then sliding back into a consistently solid quarterback year in and year out. Even some of the quarterbacks on that list who ended up fading out – like Steve Grogan – still had a number of very good seasons left in the period that this Stafford deal would cover. I think Lions fans can rest a little easy, knowing that Stafford to Megatron is going to be an effective combination throughout the length of this deal.


What do you think?
We'd love to hear your comments and/or opinions. If you submit them here, other visitors can read them, rate them and comment on them. An e-mail address is not required.