Jeremy Lin: The Classic Sports Story
Jeremy Lin's Emergence is the Kind of Story that Creates Sports Fans
By Paul Grossinger
Jeremy Lin's story is what makes us love sports and it's the kind of story that creates new sports fans.
When I sit down to watch a random basketball game, I am usually thinking about match-ups, player statistics, team records, and playoff seeds. When I drift further toward the abstract, it is to consider potential coaching changes, team chemistry issues, and fantasy trades. But, deep beneath all of that, my mind asks the same question over and over: why am I watching this game? What is it that makes me love sports?
After years of watching, I know that isn't for the stylistic beauty or pure athleticism. Sure, fans enjoy watching LeBron James play because he is an artist with the basketball. But that is not why people enjoy sports. That artistry is beautiful and pleasing on the surface but it does not penetrate to the core. It's not what drives me to care deeply, viscerally about my sports teams.
No, it's the stories. The stories behind sports are what sustains fans' love and creates new sports addicts. It's stories like Jeremy Lin's emergence that make sports different from anything else.
Jeremy Lin began his basketball career as a middle-schooler who wanted to play basketball. That sounds like many of us. He spent nights watching live basketball games and old film tapes of NBA stars, copying their signature moves in his head and trying to replicate them on his own. His basketball IQ made him a high school star, which still sounds like some of us, and he led his team to the California state title. But, most division one colleges were not interested in a young Asian American player and he came up empty in his big school recruiting search.
For most basketball kids, that is how it ends. A middle school love affair becomes a high school pastime. But for most that is the end of the story. In an AAU era, when the best talents are identified in their preteen years and coached privately toward superstardom, most young basketball players get left behind.
Young basketball players become basketball fans. And they wait for someone like them to come along and become a star.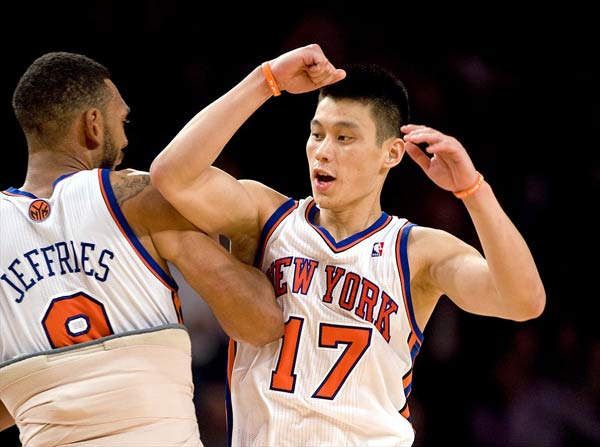 Los Angeles Lakers Vs. New York Knicks at Madison Square Garden: Knicks #17 Jeremy Lin reacts after hitting a shot during the fourth quarter with #9 Jared Jeffries.
---
Jeremy Lin is that someone. He is America's unexpected star of the moment because, when his nascent basketball career could have ended like most high school kids', he rose above us and went to Harvard. Lin became a college star and put Harvard back on the road to college basketball respectability. He barely ever got attention on the national stage but when he did he made the most of it, most poignantly when he lit up the University of Connecticut for 30 points. Still, his name was not called on draft night and he spent a year and a half bouncing from Golden State, to Houston, and finally to New York. At every stop he flashed talent and basketball IQ but it was only sheer chance that have him his shot.
What makes Jeremy Lin different is he took that shot. He grabbed the opportunity, ran with it, led the floundering Knicks to six straight wins, and became a star.
What makes Jeremy Lin's emergence a great sports story is that he did not give up when his nascent basketball career should have ended. He made it well past the point where most of us fail. But then he took his opportunity and made his dream into a reality. We love that story because, deep down, it's what we want for ourselves. Sports give us that chance to experience the pinnacle, to watch and live vicariously as someone like Jeremy Lin accomplishes his dream.
Sure, we see that in other, non-sports careers as well; Bill Gates dropped out of Harvard and became the face of Microsoft and Steven Jobs turned his mental artistry into Apple Computer. But those stories are rare, few and far between, and often too specialized for us to comprehend and empathize with at a visceral level. After all, how many of us truly wanted to become a software engineer?
Sports are different: every little boy who holds a tennis racket, basketball, or baseball wanted to be Pete Sampras, Michael Jordan, or Derek Jeter. Most never made it, will never make it. But it's a common dream we all identify with and it's a dream that we get to see made into reality every day, on national television. Jeremy Lin will go home tonight and actually live that dream. But everyone who saw watches him in the Garden or on television lived it with him, just a little bit, and many of them became fans.
That little bit is what makes us love sports.
For more Linmania see Linsanity Strikes New York
---
What do you think?

We'd love to hear your comments and/or opinions. If you submit them here, other visitors can read them, rate them and comment on them. An e-mail address is not required.
---
From Jeremy Lin: The Classic Sports Story to NBA Basketball Blog | Sports Blog | NFL Football Blog | NCAA Football Blog | NFL Football Archives | College Football Archives | MLB Baseball Blog | College Baseball Blog | MLB Baseball Archives | NCAA Basketball Blog | NBA Basketball Archives | NCAA Basketball Archives | Fantasy Football | Fantasy Basketball | Fantasy Baseball | Soccer Archives | Olympics Archives | Stupid Athletes Archives | Other Archives | Football Forum | Basketball Forum | Baseball Forum | NFL Football Store | NBA Basketball Store | MLB Baseball Store | NCAA Football Store | NCAA Basketball Store | NCAA Baseball Store | Fatheads | NFL Football Tickets | NBA Basketball Tickets | MLB Baseball Tickets | NCAA Football Tickets | NCAA Basketball Tickets | NCAA Baseball Tickets |
---
Home Page
About Us | Contact Us | Site Search | Advertise | Terms of Use |
---