Is This The End for Tim Tebow?
Let this be the end of it.

With the man who drafted him, JoshMcDaniels, and one of the coaches with the most leeway for outside-the-box thinking, Bill Belichick, opting to pass on him, this, finally, looks like the end of the line for one Timothy Richard Tebow.
We've been here before, of course – when the Jets released Tebow back in April, the obituaries were written and his career was seemingly relegated towards the dustbin of the AFL or Canada, but he received a new lease on NFL life when the Patriots took a flyer on the divisive quarterback.

I tried to come up with a best-case scenario when the signing was first reported, such as pondering Tebow's potential as a goal-line specialist, in an attempt to find some way to justify the signing. As recently as the 31st, people were still pointing out that Belichick would find a way to keep Tebow on the roster. It wasn't to be however.

At the time, I said that Tebow would still be the same Tebow we've seen since Florida, and wouldn't have the ability to run the Patriots offense in an emergency, third QB situation – and that's what ended up being the story. Already, we're getting the same denials we heard when the Jets let him go – no one claimed Tebow off of waivers, and both NFL teams and CFL teams are denying they have any interest or contact with Tebow.Every single NFL team had a chance to grab him off of waivers, and every single team passed. This, remember, with his contract with zero guaranteed money – he can be cut at any time, and not cost a team a cent.

The bottom line? Tebow will never, ever play a single snap at quarterback in the NFL from here on out.Yes, he was 8-6 as a starter in Denver, but a sub-50% completion percentage reveals the awful truth – luck, and a punishing defense, is the only reason that Tebow had any success in the big leagues at all.Football Outsiders had him at 22.7% below average in 2011 with an ESPN QBR of 29.4; he also ranked 18.3% below average carrying the ball. It gets worse if he tries to head to the CFL or Arena leagues – those are much more passing-based offenses than the NFL is, and his deficiencies would be highlighted even more there, even against the lesser opposition. His lack of fundamentals doomed his chances of being an NFL quarterback.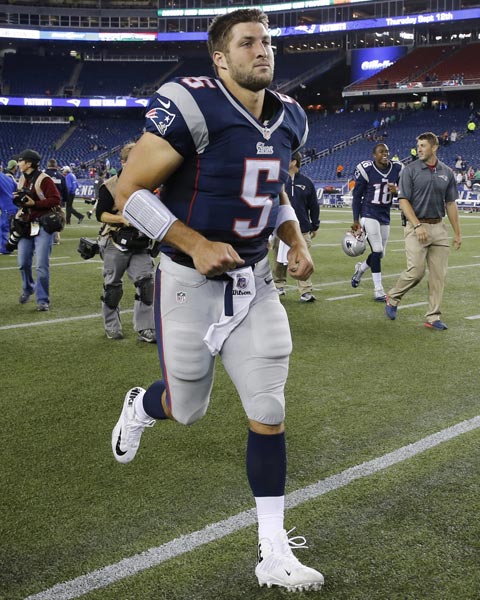 And why would anyone pick him up? Better quarterbacks than he were just let go. Just think:

The Packers cut loose Vince Young, despite having only last year's seventh-rounder BJ Coleman on the roster behind Aaron Rodgers. Young actually moved the offense in the third preseason game, too, unlike Tebow, who never entered the game.
Austin Davis was beat out by Kellen Clemens for the backup Rams job, almost a year to the day after the exact opposite happened in 2012 – he's a lock for someone's practice squad.
Matt Scott, the undrafted free agent out of Arizona, missed time in Jaguars camp with a high-ankle sprain, but got snatched up for the Jags practice squad anyway for seasoning.

The list goes on – David Carr is available, Brady Quinn is available, Trent Edwards is available, Caleb Hanie is available – no one good, mind you, no one with the "just win" credentials that Tebow brings to the table, but all with better production on the field than Tebow was ever available to put out there. He's not eligible for the practice squad, either, so there's nowhere to put him on the off hope that someday, someone will find the right combination of plays and techniques to morph Tebow into a league-average passer. Even in his fourth preseason game, don't be fooled by the touchdown passes – his mechanics were still the same horrible mechanics we've always seen, his arm sped is slow, and his accuracy is off the charts bad. Very few people get this many chances to show what they can do on a field, and while Tebow won't go down in the Ryan Leaf category of mega-busts, there isn't room for him to have a fourth chance to show his lack of NFL-caliber tools yet again.

Tebow's a great guy, but 'great guy' isn't a position on an NFL roster. His work-ethic (unimpeachable), his great character (a refreshing breather from the OTHER Patriots offseason news), his merchandise sales (last season, he was the 13th top selling jersey in the entire league), his relationship with Josh McDaniels – none of it mattered in the end.

As it should be.


What do you think?
We'd love to hear your comments and/or opinions. If you submit them here, other visitors can read them, rate them and comment on them. An e-mail address is not required.