Is Andrew Luck Elite?
By Zach Gilliland

When the Indianapolis Colts decided to turn the page with Andrew Luck and said their goodbyes to Peyton Manning, it started an inevitable comparison. That comparison often leads to bets on their games and their futures, so look for the best NFL odds before making your bets.
Throughout his career, Luck will always be compared to Manning because of that decision.

Luck got his first career playoff win last week in a thrilling 45-44 win over Kansas City.

Andrew Luck would be a good quarterback to bet on right now the way he is playing. He is coming off a game in which he threw for a career-high 443 yards and tied a career-high with four touchdown passes.

The second-year quarterback has cut his interception total in half this season, going from 18 in his rookie season to nine.
Is Andrew Luck elite though? Not yet, but he's close.

His numbers are middle of the road; 23 touchdown passes and 3,822 yards passing. He is a proven winner though, getting the Colts to the playoffs in each of his first two seasons. His numbers will get better as he gains experience.

I think Luck has the potential to be a top-10 quarterback of all-time, maybe even top five. He is on the brink of being elite already in his second season. Luck possesses the leadership and drive that you want to see in a quarterback.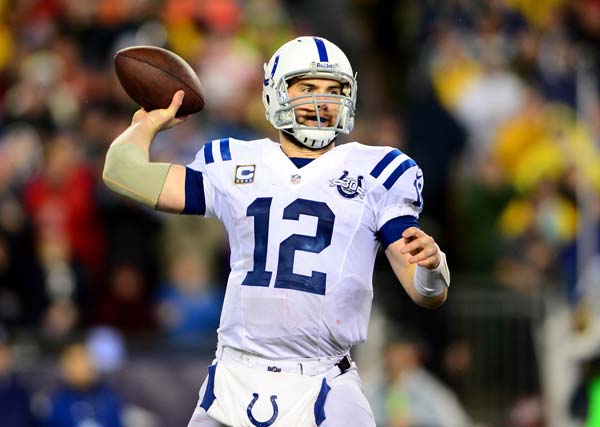 Did the Colts make the right move doing away with Peyton? Probably not for this year because Manning is having the best season he's ever had from a statistical standpoint.

Looking ahead though, Manning probably only has a couple of good seasons left in him. The Colts are getting experience for Luck now that is going to pay off in a few years. He has the skillset and leadership to follow right along in Manning's footsteps.

Besides Russell Wilson, Luck has been the most solid quarterback in that great draft class from a year ago. For the long haul, I would for sure take Luck over Wilson though.

The best is yet to come with Andrew Luck. Once he gets established as a quarterback and gets more experience, he is going to be a fun player to watch.


What do you think?
We'd love to hear your comments and/or opinions. If you submit them here, other visitors can read them, rate them and comment on them. An e-mail address is not required.
Is Andrew Luck Elite to NFL Football Blog