International Secret to NBA Success
Commentators and pundits across the sports world are fond of making fun of NBA General Managers. Bill Simmons makes his living off it (and in rather entertaining fashion I might add). Whenever a basketball GM hands out a terrible deal to a player who fills a perceived need (Amir Johnson's 5 year; 30 million dollar deal and Travis Outlaw's 5 year; 35 million dollar deal are major examples) pundits sit down at their computer screens and prepare to blast away and criticize. However, while some of these deals are egregiously bad with no possible explanation, most simply arise out of a necessity to fill a need that cannot be filled on such short notice in any other need. I imagine that, if you interviewed a few of the top GMs in basketball, they would tell you that (past the few stars available) free agency is a last minute exercise to fill holes teams should have been preparing to plug years before. The truth is that these deals are handed out routinely because teams are desperate for both overall talent and players who fill their needs. Moreover, this desperation from a lack of foresight and preparation and an ability to understand the true secret to developing an NBA roster: developing talent overseas.
Every year, there is a ton of hoopla over the NBA draft. Throughout the year, Chad Ford and other analysts build up detailed profiles on prospects and, by mid February, the coming talent pool looks infinite. However, a combination of poor tournament performance, fear of being under-drafted, poor exposure, and other issues, the talent pool dwindles down every week up until draft day. At that point, teams wake up to a far weaker pool than they had months ago. In fact, a casual survey of all the drafts from 2000-2008 shows that each draft produces an average of 1-2 star players, a handful of starters, and a few key bench players. Therefore, while the draft is important and can be a game-changer in some cases (the Bulls 2008 drafting of Derrick Rose and the Wizard's 2010 drafting of John Wall come to mind) oftentimes it provides teams with more disappointment than hope. Moreover, those teams that don't cash in are left to overpay role players in free agency and get criticized by pundits the world over.
Visit Dirk Nowitzki Jersey
However, while this may seem like an endless cycle, the secret to breaking out of it is drafting international (or under-exposed domestic talent) in the second round, nurturing that talent over several years in some cases, and reaping the long term rewards from these talent investments. This secret is not something that has escaped every single team, the Spurs figured it out almost a decade ago (Tony Parker, Manu Ginobli, and most recently Tiago Splitter) and have won four of the last eleven titles. Portland GM Kevin Pritchard and Houston GM Daryl Morey also understand the concept and both franchises have fielded successful teams throughout the last decade. Indeed, without key injuries (Greg Oden and Brandon Roy for the Blazers and Tracy McGrady and Yao Ming for the Rockets) both these franchises would likely have won titles in recent years. Ultimately, drafting this talent and allowing it to mature (cost free I might add) overseas for a few years allows teams to anticipate their future needs and plan for them years ahead.
Look, for example, at the case of the Spurs new Brazilian import: center Tiago Splitter. Back in 2007, Tim Duncan was still a dominant post presence but was in his thirties and about to begin a slow decline. Knowing that they would soon need a new and capable center to pair with Duncan once he lost the ability to run the Spurs defense from the 5 spot, the Spurs drafted Splitter 27th overall. Splitter was a massive and polished center prospect with lottery talent but he fell to the very bottom of the round because teams knew that he would remain abroad for at least two years. However, foresighted teams (like the Spurs) would have seen this as a positive rather than a negative; Splitter developed for two years and, now the most polished big man outside of the NBA, he will join the Spurs as the most underrated addition of the offseason.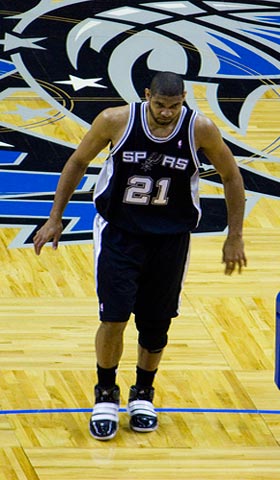 Tim Duncan, San Antonio Spurs, 2010.
Thanks to RMTip21 at flickr.com for this photo.
---
Other teams, jealous of the Spurs and Blazer's success, are beginning to look overseas for talent. The Bulls drafted center Omer Asik in 2008 and added him this offseason in a move that should have profound implications since he will allow the Bulls to play different frontcourt combinations between Boozer, Noah, Gibson, and Asik himself. Looking forward, teams would be wise to accelerate this process and look for international talent throughout the draft. The 2011 draft (assuming it is not decimated by a lockout) should feature major international talent. However, while all teams will be watching future lottery pick big men Jonas Valenciunas, Donatas Montejunas, and Enes Kanter, more savvy GMs who understand the secret to developing international talent will look a bit deeper into the international talent pool. Eighteen year old center prospect Lucas Nogueira of Brazil is a seven foot tall behemoth with developing post skills that could become the next Splitter in a few years and will likely be drafted in the late first or early second round. Shooting guard prospect Tomas Satoransky of Lithuania will be available in the late first (if he declares) because he will be in Europe for at least two years but he is a lottery talent capable of becoming an all star in the league. German small forward Robin Benzing outplayed several young NBA stars at the world championships. The list goes on.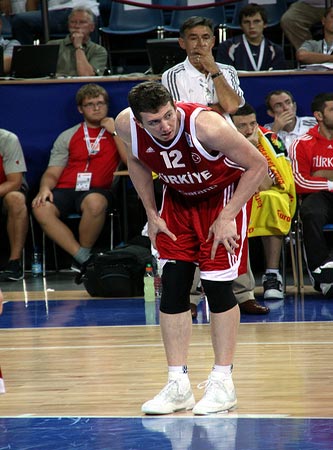 Omer Asik.
Thanks to Klearchos Kapoutsis at flickr.com for the picture.
---
The message is clear: if an NBA team wants success, it should look beyond Ricky Rubio. Ultimately each team has about fifteen roster spots to fill and sixty million to spend, but NBA stars don't cost four million dollars each. If you want to create a team with both star power and capable backups, you have to look at the deep international pool because that is where the talent happens to be. If NBA GMs haven't realized that now, then they should soon…otherwise they will continue to watch two or three smart franchises reap all the rewards.
---
What do you think?

We'd love to hear your comments and/or opinions. If you submit them here, other visitors can read them, rate them and comment on them. An e-mail address is not required.
---
From International Secret to NBA Success to NBA Basketball Blog | Sports Blog | NFL Football Blog | NCAA Football Blog | NFL Football Archives | College Football Archives | MLB Baseball Blog | College Baseball Blog | MLB Baseball Archives | NCAA Basketball Blog | NBA Basketball Archives | NCAA Basketball Archives | Fantasy Football | Fantasy Basketball | Fantasy Baseball | Soccer Archives | Olympics Archives | Stupid Athletes Archives | Other Archives | Football Forum | Basketball Forum | Baseball Forum | NFL Football Store | NBA Basketball Store | MLB Baseball Store | NCAA Football Store | NCAA Basketball Store | NCAA Baseball Store | Fatheads | NFL Football Tickets | NBA Basketball Tickets | MLB Baseball Tickets | NCAA Football Tickets | NCAA Basketball Tickets | NCAA Baseball Tickets |
---
Home Page
About Us | Contact Us | Site Search | Advertise | Terms of Use |
---