How Did the Denver Broncos Lose Elvis Dumerveil to a Fax Machine?

In 2013, an NFL team lost a top player thanks to a fax machine.  This is not a joke, nor is it a metaphor or winking aside or anything of that nature.  The Denver Broncos wanted to keep Elvis Dumervil, Elvis Dumervil wanted to stay on the Denver Broncos, and a paperwork snafu ensured that it wouldn't happen.
Now, this isn't all the fax machine's fault, mind you – it can be seen as a cautionary tale against waiting to the last minute.  With a 2 PM deadline to have the necessary paperwork in to avoid paying Dumervil $4 million more than they wanted to, the Broncos set a deadline for 1 PM – if there was no agreement by then, they were going to cut him outright.  The deadline came and passed – but 25 minutes later, Dumervil had a change of heart, accepting the contract that the Broncos had offered at 11 AM.  The Broncos noted the late hour, but were assured the paperwork would get in on time.

Here's where the stories diverge, however – Dumervil's agent, who is now Dumervil's FORMER agent, claims that the Broncos faxed a revised contract to him at 1:45 PM – while the Broncos claim no such thing occurred.  One way or another, the 2 PM deadline came and passed, with the final signed contract only arriving in the Broncos front office seven minutes later.  The NFL's deadline had come and passed, and the Broncos were forced to release Dumervil.

It's easy to blame Dumervil for this – so that's what I'm going to do, partially.  He was given a deadline to make a decision, and let it slide by.  He's got to know there's work to be done beyond just saying yes – things to sign, things to file.  And since apparently all the NFL's carrier pigeons are broken and smoke signals were out of commission due to the weather, the almighty fax machine was the necessary tool to get this information across.  I suppose the backup plan would be either semaphore or the pony express, depending on sightlines.

But on the other hand, the Broncos kind of hit him with a hard ultimatum, didn't they?  You have two and a half hours to decide whether or not to take a 33% pay cut or a 100% pay cut?  That's kind of last minute notice – especially considering they had been in negotiations for days.  Dumervil had earlier asked to be release well in advance of the deadline in order to test the free agent market if that's what the Broncos wanted to do, and had offered to take a pay cut, as well.  Waiting until mere hours before the deadline doesn't feel right – what if Dumervil had been indisposed?  I know nowadays, with cell phones and instant messaging, the chances of Dumervil or his agent being out of reach is slim and none – but, again, remember these things have to be faxed, not just e-mailed in or signed electronically.   The Broncos have to do their due diligence, true, but leaving these things to the last minute just gives opportunities for screw-ups – screw-ups like this – to happen.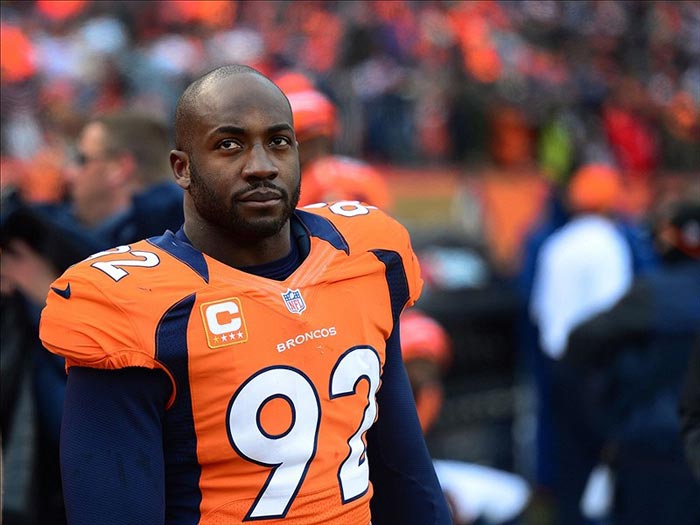 Jan 12, 2013; Denver, CO, USA; Denver Broncos defensive end Elvis Dumervil (92) against the Baltimore Ravens during the AFC divisional round playoff game at Sports Authority Field. Photo Credit: Mark J. Rebilas-USA TODAY Sports.

I just can't get over it – the fax machine faded out of common usage nearly a decade ago.  Oh, sure, it's not like no one ever sends a fax or that it's a relic of history alongside Betamax players or 8-tracks, but .pdf documents, e-mail, and electronic signatures have made them a bit of a relic.  The Smithsonian museum is literally adding a couple fax machines to their collection, so antiquated are they.  Even the fifteen minute window Dumervil's agent claims they received could have been enough if they were allowed to electronically submit approval.

It's not the first time this offseason lack of technology awareness has been an embarrassment for NFL owners – pranksters were able to record a conversation between the GMs of the Buccaneers and Bills simply by calling their publically available front office numbers.  It's kind of startling to realize I could (or at least, could have, until about a week ago) call up an NFL front office and get a direct line to their GM in one of the busiest parts of their offseason without being asked to verify my identity in some way – at least with caller ID or something.

Dumervil, of course, has made out the worst in this.  $8 million, which was what the Broncos were going to give him, is a high number for a defensive lineman in this market – compare that to Michael Bennett, who got a 1 year, $5 million deal from the Buccaneers.  Dumervil's a little better than Bennett – perhaps Anthony Spencer's $10.6 million deal from the Cowboys is a more at benchmark – but this late into free agency, a lot of teams have already addressed their defensive line situations – the Cowboys, Bengals, Seahawks, Rams, and Saints, all of whom were in the market, have already made signings on their defensive line.  It's a buyer's market now, and while Dumervil is a cut above some of the remaining available targets (Dwight Freeney, OsiUmenyiora, Israel Idonije, all of whom share the trait of being rather old), it's going to be hard for him to draw the kind of big-time salary he wanted – even the Broncos could get him for a reduced price at this point.

It's not all gloom and Dum, however – the Ravens seem to be pushing hard for him now, and of course, the Broncos could always just sign him back without any hassle.  His agent was even kind enough to waive the five day waiting period normally needed to hire a new agent, so he could be on the market right away – or, at least, whatever market there still exists.

I guess that's just life in the NFL, though.  When the free agent world never seems to be living up to your dreams, suddenly you find out that the fax of life is all about you.
What do you think?
We'd love to hear your comments and/or opinions. If you submit them here, other visitors can read them, rate them and comment on them. An e-mail address is not required.