Hopelessness Redefined: The Buffalo Bills
Fan of a team that looks hopeless at this point?  Have no fear – even teams sitting at the bottom of the standings still have a chance to make the playoffs.  Don't believe me?  Here's a look at how even the 3-7 Bills could still realistically find their way in the postseason, just for an example.
Basics first. The Bills need to win at least four games to get into the playoffs; that would put them at a record of 7-9. The way I see it, there are actually four games left I'd predict the Bills WILL win, so we might as well give them those:

*Week 11 v. NY Jets
*Week 13 v. Atlanta
*Week 15 @ Jacksonville
*Week 16 v. Miami

We're sitting pretty at 7-9 now.

Now to deal with those pesky rival Jets who, you'll remember, we already had losing to Buffalo, placing them at 5-5. Let's just give them four losses, so they'll be, at best, 7-9 and out of our hair:

*Week 12 @ Baltimore
*Week 13 v. Miami
*Week 15 @ Carolina
*Week 17 @ Miami

That's all fine, with the home game against the Miami being the only real iffy one.

Now, having given Miami two wins (and the one earlier loss to Buffalo), we'd better deal with the now 6-6 Dolphins. Down to 7-9 they go!

*Week 12 v. Carolina
*Week 14 @ Pittsburgh
*Week 15 v. New England

That seems...entirely plausible, actually. This isn't so hard!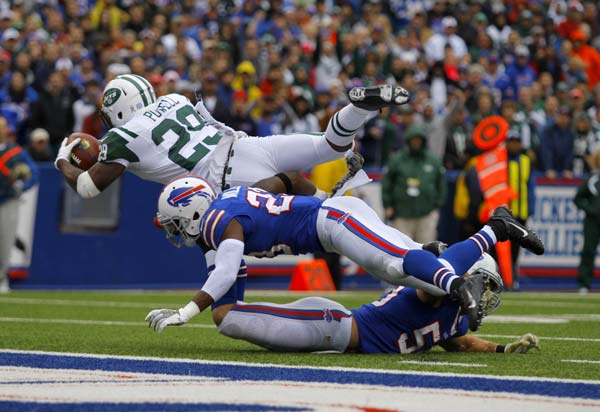 Let's jump divisions and handle untouched, 4-5 Cleveland. Tiebreakers are iffy, but they have five losable games on their schedule, let's just hit them with all of 'em:

*Week 11 @ Cincinnati
*Week 14 @ New England
*Week 15 v. Chicago
*Week 16 @ NY Jets (fine; we already dealt with the Jets)
*Week 17 @ Pittsburgh

That all seems fine! Man, Buffalo's odds are better than I thought; yes, they can't win the division any more at this point, but we're sticking close to realism here!

Things get tougher as we jump to 4-5 San Diego, a legitimate wildcard contender. To be SURE they're dead, we'll have to give them 5 more losses, and now it begins to get trickier. Let's give them:

*Week 11 @ Miami (fine; we've dealt with Miami)
*Week 12 @ Kansas City
*Week 13 v. Cincinnati
*Week 15 @ Denver
*Week 17 v. Kansas City

We're down to only the sixth seed now, but we're OK. We can do this.

Another real contender is Tennessee, still sitting at an honest 4-6 in this scenario. We have to hit THEM with four more losses, too, and we're getting really iffy at this point.

*Week 12 @ Oakland
*Week 13 @ Indianapolis
*Week 14 @ Denver
*Week 15 v. Arizona

Eesh.

We've already given Pittsburgh two wins in this scenario, putting them at 5-6. We can chalk up four more losses to them easy, though:

*Week 12 @ Cleveland
*Week 13 @ Baltimore
*Week 15 v. Cincinnati
*Week 16 @ Green Bay

No sweat.

We've also given two wins to the Super Bowl Champs, sticking Baltimore at 6-5. Now, we have to fly off of the reservation and go wild, making Baltimore lose every other game on their schedule. This is where things fly off the rails:

*Week 11 @ Chicago
*Week 14 v. Minnesota
*Week 15 @ Detroit
*Week 16 v. New England
*Week 17 @ Cincinnati

Ugly. 2-7 Houston is next, but it's easy to find three losses for them:

*Week 15 @ Indianapolis
*Week 16 v. Denver
*Week 17 @ Indianapolis (already dealt with!)

That just leaves 4-6 Oakland, and four more losses to dish out:
*Week 13 @ Dallas
*Week 14 @ NY Jets (already dealth with!)
*Week 16 @ San Diego (already dealt with!)
*Week 17 v. Denver

SO! After all is said and done. In this scenario:

New England wins the AFC East with 10-14 wins
Indianapolis wins the AFC South with 10-13 wins
Cincinnati wins the AFC North with 10-12 wins
Denver (12-15 wins) and Kansas City (11-16 wins) take down the AFC West and the #5 seed in some combination.

The race for the #6 seed looks like this:

Buffalo: 7-9 wins
NY Jets: 7 wins
Miami: 7 wins
Baltimore: 6 wins
Tennessee: 5-6 wins
Cleveland: 5-6 wins
San Diego: 5-6 wins
Pittsburgh: 5-6 wins
Oakland: 4-6 wins
Houston: 2-6 wins
Jacksonville: 1-5 wins

Even if Buffalo loses the other two games we haven't dealt with (Week 14 @ Tampa Bay and Week 17 @ New England), they'd end up in a tie with the Jets and Dolphins at 7-9. In that scenario, though, the Bills are 3-1 against the other two (with the only loss coming back in week 3), the Jets are 1-3, and the Dolphins are 2-2. Bills win, get the 6th seed.


What do you think?
We'd love to hear your comments and/or opinions. If you submit them here, other visitors can read them, rate them and comment on them. An e-mail address is not required.
From Hopelessness Redefined: The Buffalo Bills to NFL Football Blog