Grading the NFL Signings: The Best and Worst Off season's
By Jason Fryer
Since the start of free agency (March 11th), there have been a ton of moves throughout the NFL. With this chaotic offseason, I wanted to grade the teams with the 5 best and worst off seasons so far.
Best Moves
St. Louis rams trade the Number 2 pick to Washington for 3 first round picks and 1 second round pick along with signing Scott Wells, Cortland Finnegan, and Kendall Langford: (A++): The Rams released a lot of players this offseason (including former 2009 second overall pick Jason Brown) and have decided to start over with former Tennessee Titans head coach and former Chicago Bear Jeff Fisher. St. Louis started their offseason by making a blockbuster trade by moving down 4 spots in this years draft (from pick 2 to pick 6) and acquired Washington's 2012 second round pick along with their 2013 and 2014 first round picks. With the Rams now having 9 picks in the first two rounds of the next 3 NFL Drafts, St. Louis can take their time and build a great core through the NFL Draft around former number one overall pick Sam Bradford. Their current offensive line features a nice combination of experience (Scott Wells and Harvey Dahl) along with youth (Rodger Saffold and Bryan Mattison) to help protect Bradford and block for all-pro running back Steven Jackson.
Because the Rams didn't upgrade their receiving core in free agency, they need to make sure they draft him a few good wide-outs in next months draft. If the Rams are able to not have to move up and trade one of their picks and still draft Justin Blackmon, St. Louis should be in great shape to add to their defense with the two second picks they'll have in this years draft. If the Rams feel the Browns will draft Blackmon with the 4th pick, they might look to trade one of their two second round picks in this years draft to Minnesota or stand pat by drafting Michael Floyd and use the rest of their draft by upgrading their defense. As for the signings of Finnegan and Langford, they'll bring more professionalism and toughness to this Rams team. With the picks they have in this years draft and the future, the Rams should easily be able to upgrade their defense in the near future. The 2012 Rams will be improved but still close to the bottom of the NFC; however, if Sam Bradford is able to show a great deal of progress this year, along with the picks they have in the next three drafts, the Rams should become an elite team by the start of the 2014 season.
Denver Broncos sign Peyton Manning and trading Tim Tebow: (A+): There are a lot of parts that made up the signing of Peyton Manning to the Denver Broncos. First, John Elway now has his wish by having a prototypical quarterback in Peyton Manning and at the same time Elway and the Broncos didn't take a significant PR. The Broncos also structured Manning's contract in a way that will reward Manning, but won't hurt the club's future (the second and third years of his contract become guaranteed only if his neck checks out). With the Broncos being able to move on from Tebow by receiving a 4th and 6th round draft pick in addition to saving almost 3 million in Tebow deal, along with structuring a deal that won't affect the Broncos too much in the future; I would say this was the best possible situation the Broncos could have put themselves in.
Tampa Bay Buccaneers sign Vincent Jackson, Carl Nicks, and Eric Wright: (A) The Tampa Bay Buccaneers had a ton of money to spend this offseason, and used it wisely by signing the best wide receiver (Vincent Jackson) and offensive lineman (Carl Nicks) on the free agent market along with cornerback Eric Wright. After last year, it was easy to notice how little help 24-year-old Josh Freeman was receiving from the rest of his offense and now with the addition of Jackson to their receiving core to go along with wide receivers Mike Williams, Arrelious Benn, Kellen Winslow, and LeGarrette Blount and an improved offensive line, the Bucs offense will be vastly improved in 2012. The Bucs play in one of the toughest divisions in football (NFC South), nevertheless, along with new head coach Greg Schiano, Tampa Bay should be one of the most improved teams in 2012.
New England Patriots: (A) Even though the Patriots came 5 minutes away from winning the Super Bowl, there were still a significant amount of holes on their roster. The Patriots cap was extended just before the offseason when quarterback Tom Brady decided to restructure his deal to open up more cap space for the Pats. New England started their offseason by upgrading their wide receiving core by adding wide receiver Brandon Lloyd(who under Josh McDaniel's made the Pro Bowl in 2010). The Patriots also decided to also sign a few other players to fill in a few holes by signing former number two overall pick Robert Gallery and in addition to others. Along with the depth they have added to their roster, the Patriots have 4 picks in the first two rounds of this years draft and should be a much better team this year than the team that lost in the Super Bowl.
Chicago Bears acquire Brandon Marshall: (B+) Even though Brandon Marshall might be suspended, I feel this was a necessary risk the Bears needed to take. The charter NFL franchise has never featured an elite number one wide receiver on their roster and now the Bears feel they have their guy. By acquiring Marshall, Chicago decided to listen to their quarterback's recommendation and trade for Jay Cutler's favorite target and pair him with another one of Cutler's favorite targets (Earl Bennett). This was a risk the Bears needed to take because Chicago only traded a pair of 3rd round picks (they already had two in this years draft thanks to the Greg Olsen trade) and feature a veteran locker room (Urlacher, Briggs, Peppers, Tillman, Garza, Cutler, and Idonije) to help keep Brandon Marshall on the right track. In my mind, the only downfall that can come from this trade would be if Marshall was suspended, however, if he isn't suspended or its a short-term suspension, I feel the Bears offense (with Jay Cutler throwing to Bennett, Hester, Bush, and Forte) will be feature a solid offense in 2012.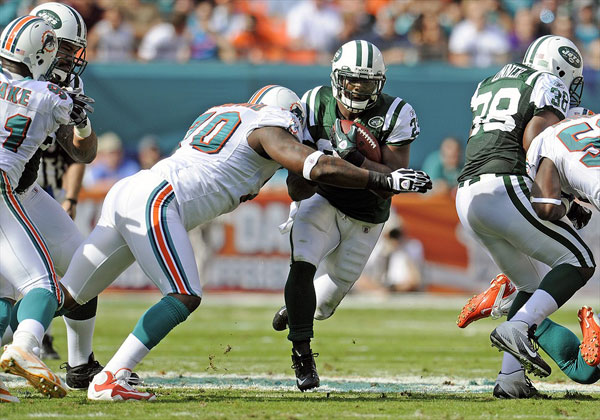 Miami Dolphins defensive end Kendall Langford (70) tackles New York Jets running back Shonn Greene (23) in Miami's 19-17 victory at Sun Life Stadium, Miami, Florida.
---
Buffalo Bills sign Mario Williams: (B-) The Buffalo Bills spent a ton of money this offseason by signing star defensive end Mario Williams to the largest contract to a defensive player in the history of the NFL. The Bills have been an organization that hasn't been able to sign the profile free agents (unless you consider T.O. a free agent a few years ago) coaches as many refused to interview for the Bills opening in 2009. Even though Buffalo had to pay a hefty price for the former number 1 overall pick, this was an investment they needed to make to become a legitimate free agent landing spot in the future. As much as I feel this was a necessary and important signing for the Bills, I do believe there's a huge risks that the Bills are taking with signing Mario Williams. For one, as good as he is, Williams isn't even the best defensive player in the league, or a top 10 defensive player in the NFL. Also, the Bills signed a player that played in 5 games last year and has seen his sack total decrease every year since 2007. In the end, this was a risk I feel the Bills needed to make yet has the capability of going down as one of the worst free agent signings of all time.
Worst Moves
New York Jets acquire Tim Tebow: (D) If there wasn't enough pressure and chaos surrounding March Sanchez and the New York Jets, now there is. Earlier this offseason, Sanchez signed a three-year extension reportedly worth around 40 million dollars. A few unnamed players criticized Mark Sanchez in the offseason and as the Jets were in the process of acquiring Tim Tebow, a few individuals started tweeting their displeasure with the decision the Jets were about to make. I have no idea which direction the Jets are going in and if Mark Sanchez gets off to a bad start, the calls for Tebow from the stands will begin and the media will destroy the Jets locker room. If the New York Jets weren't already the most talked about team in the NFL, they officially are now with the addition of Tebow to their roster.
Washington Redskins acquire number 2 overall pick along with signing Pierre Garcon: (D) I'm a big Robert Griffin III fan, with that said, the Redskins still traded away almost double the amount of what the Bears gave Denver for Jay Cuter, and three times the amount when the Giants received the draft rights to Eli Manning. St. Louis already has a franchise quarterback on their roster (Sam Bradford) and traded four top 30 picks for a player that's never thrown a pass in the NFL. In addition to the RG III trade, the Redskins also signed former Colts wide reliever Pierre Garcon to a 5 year contract worth reportedly 42 million (which was less than Marques Colston'scontract, and only 13 million less than what Vincent Jackson received from Tampa Bay). One reason why I feel the Redskins overpaid for Garcon is when you look at the three players and the amount of 1,000 yard seasons they've had: Colston's had five, Jackson's had 3, and Garcon still hasn't had any which shows why I feel the Redskins most likely overpaid for Garcon. If RG III becomes a franchise quarterback in the near future, I'll change this trade the 2012 Redskins offseason grade to an A as its hard it is to find an elite quarterback. At the same time, if he's an average or worse quarterback, this will be seen as one of the worst trades in NFL History (alongside the Herschel Walker trade).
Jacksonville Jaguars: (D-) The Jaguars entered this offseason by having 40.6 million dollars of cap space open along with one of highest ranked defenses in the NFL last year (finishing 6th). The Jaguars opened free agency by paying a high price for a wide receiver that's only had one productive NFL Season (Laurant Robinson) along with signing a 3rd string corner back. I know the Jags didn't need Tim Tebow and he might have not fit into new coach Mike Mularkey's offense, (and we should give BlaneGabbert some time to develop before we make quick assumptions about his future); however, Tebow mania in Jacksonville would have been crazy and Jaguars ticket sales would have gone up by a tremendous amount. Unfortunately for Jags fans, 2012 seems like its going to mirror their 2011 season and become another tough year in Jacksonville.
Cincinnati Bengals: (F) No team entering the 2012 offseason had more cap space this offseason than then the Cincinnati Bengals (49.9 million) and yet the Bengals biggest free agent signing so far has been former Patriot BenJarvus Green-Ellis. I liked what the Bengals did last offseason by drafting A.J. Green/Andy Dalton during the 2011 NFL Draft, trading away distracting wide receiver Chad Ochocinco/Johnson (not sure what his last name is anymore) to New England (for a 2012 5th round pick and 2013 6th round pick), and then the eventual midseason trade of former number one overall draft pick Carson Palmer to Oakland for the Raiders 2012 first round pick along with their 2013 second round pick. The Bengals will hopefully have a better draft than free agency as the team with the most cap space this offseason has been surprisingly quiet.
---
What do you think?
We'd love to hear your comments and/or opinions. If you submit them here, other visitors can read them, rate them and comment on them. An e-mail address is not required.
---
From Grading the NFL Signings: The Best and Worst Off season's to NFL Football Blog | Sports Blog | NCAA Football Blog | NFL Football Archives | College Football Archives | MLB Baseball Blog | College Baseball Blog | MLB Baseball Archives | NBA Basketball Blog | NCAA Basketball Blog | NBA Basketball Archives | NCAA Basketball Archives | Fantasy Football | Fantasy Basketball | Fantasy Baseball | Soccer Archives | Olympics Archives | Stupid Athletes Archives | Other Archives | Football Forum | Basketball Forum | Baseball Forum | NFL Football Store | NBA Basketball Store | MLB Baseball Store | NCAA Football Store | NCAA Basketball Store | NCAA Baseball Store | Fatheads | NFL Football Tickets | NBA Basketball Tickets | MLB Baseball Tickets | NCAA Football Tickets | NCAA Basketball Tickets | NCAA Baseball Tickets |
---
Home Page
About Us | Contact Us | Site Search | Advertise | Terms of Use |
---