Getting Ready for the Miami Dolphins on HBO's Hard Knocks
By Bryan Knowles
After being a casualty of the lockout last year, HBO's award-winning sports documentary, Hard Knocks, will make a triumphant return in 2012. This is fantastic news for sports fans everywhere, as Hard Knocks has consistently been some of the best television around – and is a more than welcome break after months of scouring the transactions list and debating who the third string quarterback of your favorite team will be. It, along with the beginning of training camps and the annual complaints over paying full price for preseason games, is a sign that finally, the long offseason has come to an end, and it's time for football season once more.
We're lucky, too, as the rumor mill was churning with stories of teams turning down HBO. While NFL Films senior coordinating producer Ross Ketover insisted that they "did not offer the show to any other team", the internet has been buzzing for months about the various teams attached to the show – and turning it down.Rumors have easily tied half the NFL to the show at one point or another, with all leaving HBO out in the cold. The Broncos came out with a press statement saying they would pass, followed quickly by privacy concerns cited by the Texans and Redskins.
Jed York, owner of the 49ers, tweeted that his team didn't "need distractions", echoing sentiments expressed, publically or privately, by the Jets, Falcons, Redskins, and Vikings. The Jaguars actually publically expressed interest in being featured on the show, but as I'm not quite sure if the NFL actually realizes that Jacksonville has a professional team, they were passed up. Rumors that the Sacramento Mountain Lions, Los Angeles Express, or San Francisco Demons would be featured on the program could not be confirmed.
But hail the Miami Dolphins! Honestly, it would be hard to pick a better team for the program. Joe Philbin, taking over the reins for his first head coaching job on any level, should be very interesting to watch – how will he handle a situation very different from the one he was used to up in Green Bay? We have a three way quarterback battle between their previous starter, Matt Moore, seasoned veteran David Garrard, and first round draft pick Ryan Tannehill. There's a void at wide receiver, with the talented yet disruptive Brandon Marshall being sent off to pasture in Chicago, in exchange for about twenty four dollars in shiny beads. There are huge personalities, like Reggie Bush, and HBO's cameras always find a story in an undrafted free agent struggling to make the bottom of the fifty three man roster. Yup, the marriage of HBO and the Miami Dolphins seems just about perfect. For the fans, I mean. And for HBO – there's plenty of possibilities for great television here. But for the Dolphins?
For many franchises, a show like Hard Knocks would be fantastic – but the Fins? Really? This seems to be just another example of how the Dolphins are putting their image first, and their on field quality second. It's hard enough to be a rookie head coach in the NFL, trying to install a new system on a team largely composed of personnel picked by the old regime. Does Philbin really need a phalanx of cameras surrounding him, filming his every move and broadcasting it to a nation of armchair quarterbacks (of which I include myself, of course) who will take joy in poking holes in everything?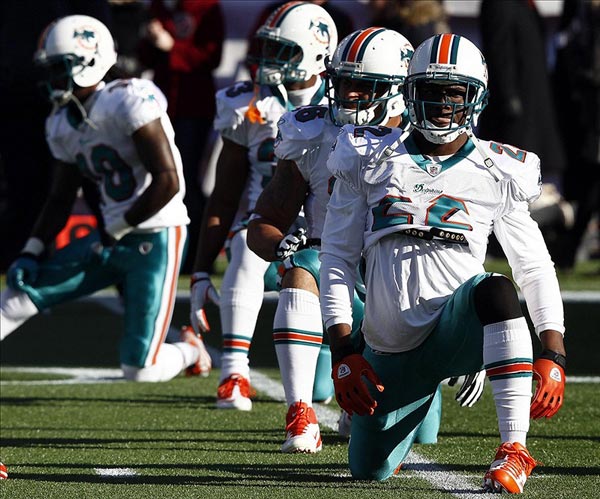 Miami Dolphins running back Reggie Bush (right) and teammates stretch prior to a game against the New England Patriots at Gillette Stadium. Photo Courtesy By: Mark L. Baer-US PRESSWIRE.
---
Philbin said, in his press conference where he discussed the show, that being featured on Hard Knocks was a "football decision", which seems to be the standard explanation when something is very much not a football decision. But, for the moment, let's take him at face value. Hard Knocks hasn't exactly set the world on fire for the teams it covered, though some of that is just regression to the mean. Key examples include the 2002 Cowboys, who sputtered on to a 5-11 season and ended up firing Dave Campo, the collapse of the 2007 Chiefs, who went from 9-7 to 4-12 in their worst season in twenty years, and the 2008 Cowboys sputtered to a halt and missed the playoffs in a rather epic December collapse.
Anecdotal evidence? Of course. Coincidence? Probably. But this is a league where coaches consistently buck statistical advice and new ideas in favor of older, safer paradigms – there is nothing on Earth quite as risk adverse as an NFL head coach, especially a rookie one. As a breed, they'd rather lose games by punting into the end zone from their opponent's forty yard line than going for it on fourth and one and risk taking the blame – why on Earth would any of them increase the scrutiny on them with extracurriculars like the Hard Knocks cameras? It takes a united team inspired by a powerful head coach to overcome distractions like this and reap the benefits of the media exposure.
Maybe Joe Philbin is that kind of coach! Maybe he'll go on to have a Don Shula-like career and become an icon on the Gold Coast. But is that something you really want to gamble on in your first shot at being an NFL head coach? The NFL is littered with one or two year washouts – no one wants to be the next Hue Jackson or, more fittingly for Miami, Cam Cameron. Wouldn't, as a football decision, want to keep your developing team away from as much of the outside criticism as possible, rather than inviting them into you proverbial living room?
No, I don't buy that this is a football decision for a moment, and I find it hard to believe that Philbin is as excited as he claims – or that he had anything to say about the decision to be put under HBO's microscope. The Dolphins need to sell tickets – they had to buy some of their own on several occasions last year to avoid having their game blacked out. Owner Steve Ross has shown more interest in making the Dolphins a brand then making them winners, spending more time bringing in names like Gloria Estefan and Marc Anthony to help them off the field than bringing in names like Peyton Manning to help them on the field.
Maybe this will end up being a non-story. Maybe, inspired by the fortieth anniversary of the perfect '72 Dolphins season, Miami will turn their Hard Knocks season into a return to glory, stampeding over the division for their first playoff appearance since 2008, and only their second since 2001. I hope it works out well for them – it's been a long time since the glory days of Shula and Marino, and a return to glory for the franchise would be welcomed. I fear, however, when all is said and done, this will just be another entry on the list of recent off the field blunders the Dolphins have made.
Their search for a quarterback was more embarrassing than anything else. They couldn't close on Peyton Manning, despite trading Brandon Marshall away for draft picks specifically to open up room for anyone Manning desired. He chose to go west instead. They couldn't get Matt Flynn, despite having his old offensive coordinator coaching the team, installing the system that let Flynn succeed in Green Bay. He chose instead to head to Seattle, into what Pete Carroll described as an open quarterback competition rather than be the guaranteed starter in Miami.
They couldn't even get Alex Smith – Alex Smith, who has driven 49er fans crazy since 2005 for the crime of not being Aaron Rodgers (or, to be fair, very good for many of those seasons). Alex Smith, who when asked if he was serious about joining the Dolphins, replied "I had never been to Miami Beach before, and I thought it was a good way to go see it." Alex Smith, who decided to stick with a franchise that already has his successor in Colin Kaepernick sitting on the bench, waiting for him to make a mistake. Jason Campbell, Josh Johnson, Kyle Orton – all of them passed up on the chance to join the Miami Dolphins, who had to settle for a quarterback who hadn't been in the NFL the previous year.
This is the sort of thing the Dolphins are known for nowadays, not their string of six and seven win seasons. They don't make headlines for great plays, they make headlines for their GM, Jeff Ireland, asking Dez Bryant if his mother was a prostitute. They don't make headlines for the players they sign, they make headlines for failing to get head coaches like Jeff Fisher, or their attempts at wooing Jim Harbaugh – when former head coach Tony Sparano was still under contract. The Dolphins seem like a team with no plan, no strategy, and no hope. They run like a team run by…well, by me, going after the big shiny names and then acting surprised when more competent front offices come away with all the rewards. The difference is, no one's paying me the big bucks for making the decisions for an NFL team – and, if the results don't improve in South Beach soon, no one will be paying them, either.
It is the fortieth anniversary of the legendary '72 Dolphins team, and the reminders of the good old days of the franchise will be all over Sun Life Stadium. I'm sure we'll see plenty of appearances by Don Shula and Bill Stanfill and Mercury Morris and the entire undefeated squad. They'll be the toast of the town throughout the year. They stand in stark contrast to the state of the franchise now. I wish Joe Philbin and his staff all the best, and I hope that they can turn the Dolphins' experience on Hard Knocks into the catalyst that propels them back to the front of the NFL's mind. I hope Ryan Tannehill is all that they hope for, and more. I hope that Reggie Bush has another season like the ones he had at USC in him, somewhere. I wish them the best of luck – I think they're going to need it.
---
What do you think?
We'd love to hear your comments and/or opinions. If you submit them here, other visitors can read them, rate them and comment on them. An e-mail address is not required.
---
From Getting Ready for the Miami Dolphins on HBO's Hard Knocks to NFL Football Blog | Sports Blog | NCAA Football Blog | NFL Football Archives | College Football Archives | MLB Baseball Blog | College Baseball Blog | MLB Baseball Archives | NBA Basketball Blog | NCAA Basketball Blog | NBA Basketball Archives | NCAA Basketball Archives | Fantasy Football | Fantasy Basketball | Fantasy Baseball | Soccer Archives | Olympics Archives | Stupid Athletes Archives | Other Archives | Football Forum | Basketball Forum | Baseball Forum | NFL Football Store | NBA Basketball Store | MLB Baseball Store | NCAA Football Store | NCAA Basketball Store | NCAA Baseball Store | Fatheads | NFL Football Tickets | NBA Basketball Tickets | MLB Baseball Tickets | NCAA Football Tickets | NCAA Basketball Tickets | NCAA Baseball Tickets |
---
Home Page
About Us | Contact Us | Site Search | Advertise | Terms of Use |
---