College Football Prediction: Get ready to see Alabama play Texas A&M in the BCS
By Mike

College football season hasn't even kicked off yet, but that isn't stopping us from thinking about the BCS Championship. With Alabama having taken the last two BCS Championships, a lot of college football fans are predicting a threepeat on January 6, 2014.

While we're not willing to lay money down quite yet on a win at popular football betting site SportsBettingOnline.ag, we're going to go out on pretty structurally sound limb and predict that Alabama will play in the BCS Championship. The other helmets? Texas A&M.
A bold prediction? We don't think so. Just take a look at the schedule for the two teams to see why this isn't really that bold of a prediction at all.

Alabama has what amounts to be the easiest college football schedule. The only real tests on their schedule happen to be their matchups before Texas A&M and LSU. And guess what? Their bye weeks happen just before those matchups. 

Rounding out the list of teams they'll face are Virginia Tech, Colorado State, Ole Miss, Georgia State, Kentucky, Arkansas, Tennessee, Mississippi State, Chattanooga, and Auburn. Many are predicting they'll win all of their games, with the only real risk coming against LSU and Texas A&M.

Last season, Alabama had one of the hardest schedules in the SEC, and they plowed through it, eventually winning the championship. The fact that the load has been lightened for this year could mean even smoother sailing.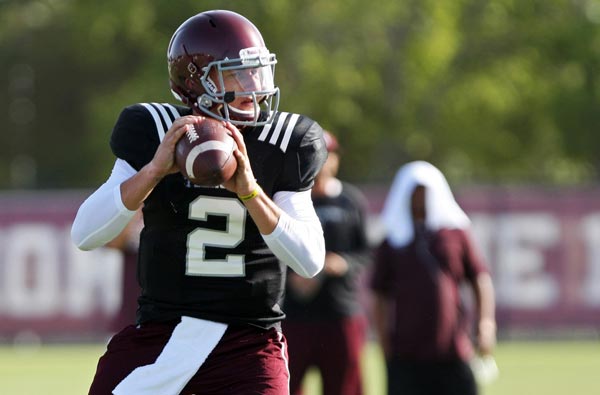 Texas A&M has what's arguably the second easiest schedule in the SEC. And after exploding on the field in their first season in the SEC thanks to the ridiculously good offense led by Johnny Manziel, they're already one of the few contenders for an SEC championship title this year (of course, if Manziel is found guilty of selling his autograph and subsequently suspended, that could spell trouble for the Aggies).

Both squads also enter the college football season highly ranked, and the fact that they play each other early on means that only one will drop slightly in the rankings. Plus, because the game happens early on, they'll have an opportunity to rebound.

The Crimson Tide and Aggies take the field on August 31st in separate matchups, so we won't have to wait long to see how solidly these two squads perform en route to the championship game.


What do you think?
We'd love to hear your comments and/or opinions. If you submit them here, other visitors can read them, rate them and comment on them. An e-mail address is not required.
What Other Visitors Have Said
Click below to see contributions from other visitors to this page...

Sean the Sports Guy Not rated yet
This outcome is definitely possible, as we saw before Alabama and Louisiana State played during the regular season and again in the BCS Title Game. …