Five Basketball Trades that Should Happen
1. Trade: Denver trades Chauncey Billups and Nene Hilario to the Hawks in exchange for Jamal Crawford (bought out and resigned by the Hawks), Jordan Crawford, Maurice Evans, P. Sye, J. Teague, and their 2011 first round pick.
Reason: While both of these veterans are leaving their primes, Billups and Nene would provide talent and leadership at key positions for a talented Hawks team that could contend for an Eastern conference title with solid floor leadership and more size. With Anthony's departure imminent and rebuilding on the horizon, Denver would get a chance to unload Billups and Nene for young talent in guards Jordan Crawford and Jeff Teague and another first round choice to pair with the players garnered in an accompanying Anthony trade.
2. Trade: Wizards and Magic swap Gilbert Arenas and Rashard Lewis.
Reason: This one is really a no brainer. Lewis can't play well on a Magic team that forces him to switch between the three and four spots constantly and calls plays that limit his slashing abilities. The Magic need to unload his bad contract for a potential impact player who might push them over the top-and Gilbert is the only one they can get. The Wizards need to unload Arenas desperately in order to move forward as a franchise and Lewis is still a relatively young and talented player who can solidify a talented Wizards frontcourt.
3. Trade: Bobcats trade Stephen Jackson to the Spurs for A. McDyess (bought out and resigned by the Spurs), James Anderson, and a conditional future first round pick.
Reason: The Bobcats are headed nowhere and they need to unload some of their awful long term contracts-starting with Jackson. The mercurial swingman is still talented but he is almost thirty three, hates losing (soon to become a Bobcat's pastime), and will decline well before the Bobcats are ready for a contenders run. Trading him to the Spurs for Anderson and a pick would return some talent that the club desperately needs. For the Spurs, bringing Jackson back would give the Spurs an extra edge that they need to challenge for their first title of the new decade.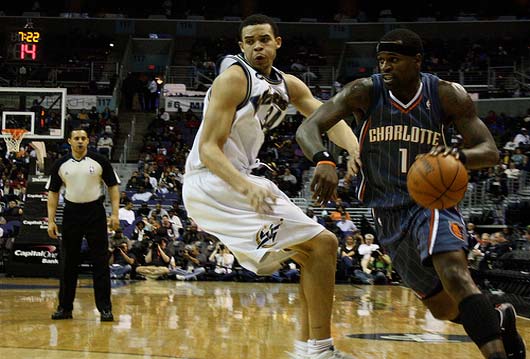 JaVale McGee & Stephen Jackson.
Thanks to truthaboutit at flickr.com for the picture.
---
4. Trade: Timberwolves trade G Jonny Flynn, F Corey Brewer, and C Kosta Koufos to the Magic for C Marcin Gortat and PF Daniel Orton.
Reason: This trade is one of those quieter deals without stars that nonetheless have major implications. Flynn is awful in Minnesota's triangle and needs to go in order to prove to Ricky Rubio that there is an open spot for him upon arrival, but he would be a good fit on a Magic team that values range and needs more grit and ball handling. Minnesota would also get Gortat and the Polish center would be an excellent fit in the frontcourt with Kevin Love and Michael Beasley (a young core that, with the addition of Rubio, would rival any in the league). The Magic would also receive a talented role playing swingman in Brewer and a center project in Koufos at the cost of a player who gets less than fifteen minutes per game behind Dwight Howard.
5. Trade: Bulls trade Omer Asik, Taj Gibson, James Johnson, Ronnie Brewer, their 2011 and 2013 second round picks, and six million in cash to the Pacers for Danny Granger and James Posey. Bulls also trade Luol Deng and their first round picks in 2011 and 2013 for Andre Igoudala.
Reason: This trade is very involved, but it really works for all three clubs. The Pacers have four talented players under 23 and, were the 28 year old Granger unloaded for more young talent, could contend for years. With this trade, the players would add four talented role players, picks, and cash while unloading their only remaining large contracts. Their 2011 roster (before free agency) would consist of Darren Collison, Ronnie Brewer, Paul George, Tyler Hansbrough, Roy Hibbert, Tyler Hansbrough, and Omer Asik along with two more 2011 picks of choice (including one likely to be in the top five) and would have almost thirty million dollars in open money for new talent and future raises. The 76ers would get a chance to unload Igoudala's massive contract for Luol Deng, which is a good move because Deng's midrange shooting and rebounding ability would pair better with young talents Evan Turner and Jrue Holiday. Finally, the benefit to the Bulls is self explanatory: adding Igoudala and Granger to a core of Rose, Boozer, and Noah would make them the best team in the league.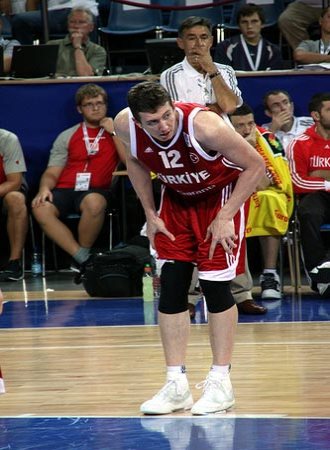 Omer Asik.
Thanks to Klearchos Kapoutsis at flickr.com for the picture.
---
What do you think?

We'd love to hear your comments and/or opinions. If you submit them here, other visitors can read them, rate them and comment on them. An e-mail address is not required.
What Other Visitors Have Said
Click below to see contributions from other visitors to this page...

Trade Ideas Not rated yet
Trade number five is interesting. When I say interesting that is another form of unrealistic. Why would Indiana trade their best player for essentially …
---
---
From Five Basketball Trades that Should Happen to NBA Basketball Blog | Sports Blog | NFL Football Blog | NCAA Football Blog | NFL Football Archives | College Football Archives | MLB Baseball Blog | College Baseball Blog | MLB Baseball Archives | NCAA Basketball Blog | NBA Basketball Archives | NCAA Basketball Archives | Fantasy Football | Fantasy Basketball | Fantasy Baseball | Soccer Archives | Olympics Archives | Stupid Athletes Archives | Other Archives | Football Forum | Basketball Forum | Baseball Forum | NFL Football Store | NBA Basketball Store | MLB Baseball Store | NCAA Football Store | NCAA Basketball Store | NCAA Baseball Store | Fatheads | NFL Football Tickets | NBA Basketball Tickets | MLB Baseball Tickets | NCAA Football Tickets | NCAA Basketball Tickets | NCAA Baseball Tickets |
---
Home Page
About Us | Contact Us | Site Search | Advertise | Terms of Use |
---