Fiesta Bowl Corruption
The world is back to normal again. How do I know? After a few months break, I am back to bashing the BCS and explaining why it is terrible for college football. As the widespread corruption within the Fiesta Bowl hierarchy shows, the collegiate version of America's favorite sport is gradually being tarnished and ultimately corrupted by a number of high ranking bowl officials. Everyone who loves college football has a right to know what is happening and ought to pressure university presidents, coaches, television networks for an end to the BCS and a new system for college football.
Look, I will be the first one to say it: college football was hardly perfect before the BCS system arrived just over a decade ago. Many college football fans have this fantasy that the sport was completely pure and untarnished before the systematic changes at the turn of the millennium, which is ridiculous. In fact, the college football bowl system was changed because universities and fans were completely unsatisfied with the way that major bowl participants were selected and national champions were crowned. The BCS system was implemented to standardize the process and bring the semblance of objective-if not fair or transparent-decision making to the college game.
But, as everyone knows, that did not happen: all that the BCS system managed to standardize was the arbitrary unfairness of the college football rankings, bowl selection, and even the bowls themselves. The weekly rankings are constantly scrutinized and, more often than not, appear to favor certain teams for the wrong reasons. Bowl selections continue to be questionable (why does the Big East still have an automatic bid could someone please remind me?) and, at the end of every year, college football fans never seem to be very happy with the National Champion. Clearly, this is not the system that should run American College Football.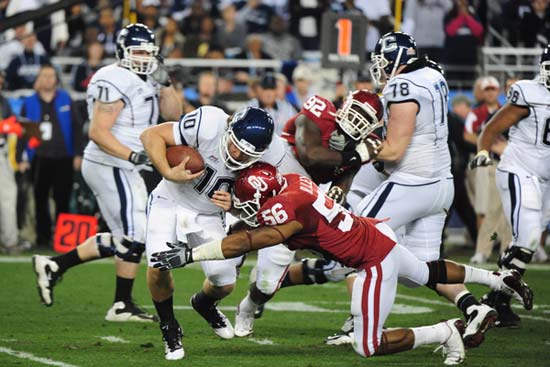 01 January 2011: Oklahoma Sooners linebacker Ronnell Lewis (56) sacks Connecticut Huskies quarterback Zach Frazer (10) during the Fiesta Bowl at University of Phoenix Stadium in Glendale, AZ.
---
But I digress: this article is about the Fiesta Bowl's corruption. Last week, the Fiesta Bowl's internal investigation concluded and revealed an embarrassing level of improper and downright corrupt behavior by bowl officials. Considering that this was an internal investigation, the Fiesta Bowl investigators probably left out (or intentionally missed) some of the really gory details. Obviously, it should have been a deep and thorough investigation conducted by the NCAA but, ignoring that fact for a second, lets evaluate what the investigation did find. Apparently, Fiesta Bowl corporate officers used bowl money that came from attending schools and state tax receipts to fund their trips and even excursions to strip clubs. Even worse, the Fiesta Bowl forced schools to guarantee up to eighteen thousand seats at the bowl (and pay out of pocket when students didn't attend) and took millions from attending schools for very questionable reasons. Since much of that money came from state grants, the Fiesta Bowl effectively took money from the American people to finance the strip club excursions of its corporate officers.
There is obviously a level of comedic embarrassment to this, which led to CEO John Junker's firing, a Fiesta Bowl corporate reshuffling….and little else. The Fiesta Bowl and BCS have so far managed to ignore the larger issues stemming from these investigations. If the Fiesta Bowl is run this way, why are the other four major bowls likely to be any different? Even more importantly, doesn't this show why the bowl's near monopoly on control of the college football postseason is bad for the game?
The answer to these questions is simple: the Fiesta Bowl's corruption is more likely than not found across the college football hierarchy. The BCS and its member bowls constitute a powerful monopoly and monopolies always erode transparency and encourage corruption. The only way that these issues will be solved in the long term will be to put a more transparent system in place that is run by the NCAA and involves some form of merit-based selection-either a playoff or something else that no one has thought of yet. The exact answer is not readily apparent but what college football fans do know is this: there are serious, endemic problems that run deep into the BCS and its member bowls and firing a few corporate officials will do next to nothing to solve them.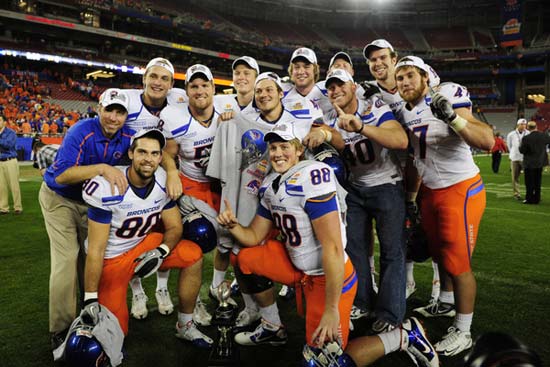 Boise State football players after the Fiesta Bowl at University of Phoenix Stadium in Glendale, AZ where the Boise State Broncos beat the TCU Horned Toads 17 - 10.
---
---
What do you think?
We'd love to hear your comments and/or opinions. If you submit them here, other visitors can read them, rate them and comment on them. An e-mail address is not required.
---
From Fiesta Bowl Corruption to NCAA Football Blog | Sports Blog | NFL Football Blog | NFL Football Archives | College Football Archives | MLB Baseball Blog | College Baseball Blog | MLB Baseball Archives | NBA Basketball Blog | NCAA Basketball Blog | NBA Basketball Archives | NCAA Basketball Archives | Fantasy Football | Fantasy Basketball | Fantasy Baseball | Soccer Archives | Olympics Archives | Stupid Athletes Archives | Other Archives | Football Forum | Basketball Forum | Baseball Forum | NFL Football Store | NBA Basketball Store | MLB Baseball Store | NCAA Football Store | NCAA Basketball Store | NCAA Baseball Store | Fatheads | NFL Football Tickets | NBA Basketball Tickets | MLB Baseball Tickets | NCAA Football Tickets | NCAA Basketball Tickets | NCAA Baseball Tickets |
---
Home Page
About Us | Contact Us | Site Search | Advertise | Terms of Use |
---