Exciting Start to Early NFL Free Agency
Free agency kicked off with a bang!  There's way too much news to digest this early in the process, with deals being made nearly every hour, so we'll try to cut through as many moves as we can as quickly as possible.
Before free agency even officially began, the NFC West made two huge splashes as Seattle and San Francisco upgraded their receiving games, with the Seahawks trading a 1st, 7th, and 3rd rounder (next year) to Minnesota for talented if unsatisfied receiver Percy Harvin, and the 49ers responding by dealing a 6th round pick to Baltimore for talented if unsatisfied receiver AnquanBoldin.  This was a top need for both teams, and both came out winners here.  The Seahawks got the better player – they had no legitimate #1 receiver, and Harvin, when healthy, has been brilliant.  He's an injury risk, and still needs to develop his overall game, but 24 year old receivers like him don't come around every day.  The 49ers got the better value – a 6th round pick is most frequently bottom of the roster fodder, maybe having an impact on special teams.  Getting a talented receiver who is both an upgrade in talent and younger than the guy he's replacing (Randy Moss) is a great move – neither Boldin nor Michael Crabtree are elite, change the course of a game single-handedly type players, but both should complement each other well, and anyway, they have Vernon Davis for their deep threat.  It's no wonder Vegas has the 49ers and Seahawks as the top two team in the NFC – hopefully we'll see three great matchups between the teams in 2013.
On to free agency properly, Mike Wallace got a deal and a half on his move to the Dolphins – five years, $65 million dollars, with $30 million of that guaranteed.  Getting Wallace was obviously the Dolphins number one priority this offseason, and they needed something to start a passing game.  It's easy to nitpick – Wallace drops a lot of passes – but a #1 receiver to a team that needs a #1 receiver is always a good move.  You have to look at how his numbers fell off a bit last year, though, and note that the Steelers made no real effort to resign him, and wonder what they know that the Dolphins don't.  Is he being overpaid?  Maybe in a vacuum, but that's about the same Harvin will be making in Seattle; it's apparently just the cost of doing business with a top receiver in this day and age.  I don't think it will backfire, necessarily, just that it is quite a hunk of change there.
One more note on receivers, because that's where all the big news was on signing day.  Wes Welker has apparently been low-balled by the Patriots, and could be on the way out.  The offer has been called "laughably low" – though that may be something he has to deal with, considering Greg Jennings and Victor Cruz are also still on the market, and three receiver-needy teams already made their moves.  I'd expect one of the three to end up in Minnesota – perhaps they'll turn their new first round draft pick into an offer on Cruz the Giants can't match – but not Welker, necessarily, who might end up going to a more struggling team.  Kansas City would be an exciting place for him, or as exciting as a 2-14 team could ever be.  Across from Dwayne Bowe, with new quarterback Alex Smith, all of a sudden you'd have a very solid passing game develop.
Kansas City has been on a tear this offseason – a lot of their moves (trading for Smith, franchising Brandon Albert, re-signing Dwayn Bowe) came before free agency started, but they were big movers on day one of free agency, too, picking up Dunta Robinson and Anthony Fasano, along with others.  Robinson's the more important move there, as they needed secondary depth, but you have to begin to wonder at the size of the contracts they've been giving up.  I know when you're 2-14, you're going to have to pay a premium to get talent on your squad, but a second round pick for Smith?  5 years, $18.75 million for a punter?  $37 million combined for Fasano, Mike DeVito, and Chase Daniel?  That's first-day-of-free-agency premiums – similar players (say, Benjamin Watson, Vaughn Martin, and Caleb Hanie) could be had for much less money next week.  Sometimes, not making a move is the best possible move.
That may not be the case for the Ravens, however, who seem to be losing players left and right, with Darnell Ellerbe (overpaid by the Dolphins) and Paul Kruger (lost to division rivals Cleveland) both leaving the fold.  With Ray Lewis retiring, too, the Ravens all of a sudden have questions all over their linebacking corps.  Signing Chris Canty is a good move for depth, but I'm not sure if it really fits a need.  I'd have faith if I was a Ravens fan – after all, you just won the Super Bowl, so your front office must have some idea what it's doing.  I imagine they're doing the opposite of what the Dolphins and Chiefs are doing – waiting for the initial surge of overpriced contracts to get out of the way before making moves themselves.  With more than a dozen interesting linebacking options on the market, they'll make a move.  It just feels a little odd – getting rid of Boldin was widely thought to be to get enough cap room to resign someone like Ellerbe.  It will be interesting to see what their strategy is, but they're playing their cards close to their vest.
They aren't the only returning Super Bowl team to have issues with players, though – the 49ers have already lost two key contributors in free agency.  Isaac Sopoaga ended up heading to Philadelphia, where he'll serve as a lynchpin in the Eagles' new 3-4 defense, while Delanie Walker headed over to Tennessee, where he's an improvement as a blocker over Jared Cook.  The 49ers targeted both players for retention, and struck out, and it looks like safety DashonGoldson might also be moving on.  Their big splash was, of course, Boldin, and there are plenty of rumors swirling connecting the team to pieces in the secondary like Ed Reed or DarelleRevis, but the news on the first day of free agency wasn't what 49er fans were hoping for.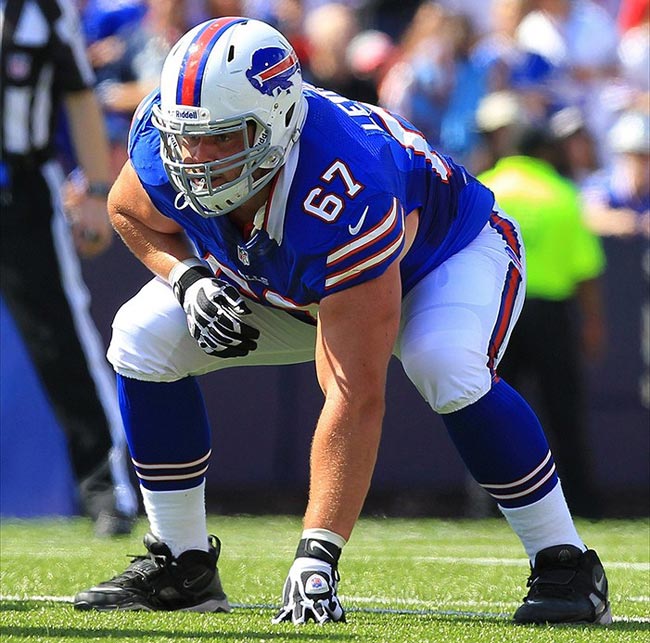 Sep 16, 2012; Orchard Park, NY, USA; Buffalo Bills guard Andy Levitre (67) during the game against the Kansas City Chiefs at Ralph Wilson Stadium. Photo Credit: Kevin Hoffman-USA TODAY.

Tennessee has probably impressed me the most in free agency.   In addition to Walker, they grabbed a couple of ex-Bills in Andy Levitre and George Wilson.  Safety was their biggest need, so grabbing Wilson was huge, and Levitre, at 6 years and $46.8 million, could be just what Jake Locker needs in protection to take the next step forward, and maybe provide a little bit of run protection for Chris Johnson.  No fantastic, A+ level grades in those moves for the Titans, but a lot of solid pieces picked to fill needs.  That's what they needed.  Still a lot of work to be done, but Titans fans have to have enjoyed day 1.
Now that the Cardinals have selected a pope, maybe they can select a starting quarterback too, right?  Or is that a bit beyond their abilities?  I'm no theologian, but I think Kevin Kolb's contract might count as an act of heresy.
Best signing of free agency (ignoring the trades the day before) might be the Bills grabbing Manny Lawson for 4/$12 – a bargain that's very much out of character with their recent history of massively overpaying anyone who knows how to tackle.
Worst signing might be the Colts grabbing Erik Walden for 4/$17.5 – not just a worse player than Lawson, he's a practice squad guy, historically, forced into the Green Bay lineup via injuries, and then embarrassed in the playoffs by Colin Kaepernick.  I don't get the signing at all – he's a league minimum guy, if that.
Top free agents left at each position at the time of this writing, which could drastically change in the next 24 hours:

QB: Ryan Fitzpatrick (Buffalo)
RB: Steven Jackson (St. Louis) [At time of writing, Reggie Bush had just gone to Detroit.  Good move!]
FB: Greg Jones (Jacksonville)
WR: Danny Amendola (St. Louis), Greg Jennings (Green Bay)
TE: Tony Gonzalez (Atlanta) [Says he's coming back, has not yet officially signed his deal]
OT: Andre Smith (Cincinnati), Jake Long (Miami)
OG: Kevin Booth (NY Giants) [Also a center], Willie Colon, Pittsburgh [Also a tackle]
C: Dan Koppen (Denver)
DE: Michael Bennett (Tampa Bay), Cliff Avril (Detroit)
DT: Richard Seymour (Oakland)
OLB: Daryl Smith (Jacksonville), Connor Barwin (Houston) [Also a defensive end]
ILB: Brad Jones (Green Bay), KarlosDansby (Miami)
CB: AqibTalib (New England), Keenan Lewis (Pittsburgh)
S: DashonGoldson (San Francisco), Louis Delmas (Detroit)
Happy bargain hunting, NFL fans!
What do you think?
We'd love to hear your comments and/or opinions. If you submit them here, other visitors can read them, rate them and comment on them. An e-mail address is not required.