Examining the 2012 NFL Free Agent Wide Receivers
With the NFL offseason in full swing, some teams still have some holes and some players are still searching for a new home. Some free agents are taking their time deciding on where to sign, waiting for an injury or opportunity to open up. Veterans are staying rested before they have to start the rigorous routine of minicamp and eventually preseason. Every player in the league knows that this is the healthiest and best they'll feel the entire year. With that in mind I'll break down some of the remaining big name free agents at each position, giving them a good fit for the 2012 season.
There are a plenty of receivers still available and a lot of teams need to fill out the roster. Every receiver brings something to the table, filling a different role on said team. Let's start with one of the biggest names out there, Braylon Edwards. Edwards broke out with the Browns in the surprising 2007 season when he hauled in 80 passes for 1,289 yards and 16 touchdowns. He ran into some trouble last year as he saw action in just nine games for the 49ers. They are one team that doesn't need Edwards' services as they reloaded this offseason. So where would be a good fit for this veteran? He won't be landing a big money deal as he's never lived up to the potential of being the third pick in the draft. I wouldn't call Edwards a bust, but he's far from a Hall of Famer.

Edwards would round out a receiving corps as the third receiver. The Steelers have gone young in the receiving corps, so this isn't the best fit. But if Pittsburgh doesn't resolve the Mike Wallace situation they will be in the need of a receiver. Another team that could use Edwards is New York. No not the Jets, but the Giants. After losing Mario Manningham to the 49ers, essentially taking Edwards' place on the roster, so it'd be fitting for Edwards to head to the Giants. How about the Texans? The Texans still want to get a legit running mate with Andre Johnson. Houston has a solid quarterback in Matt Schaub, which is a nice draw. Playing for the frontrunner in the AFC South would be appealing for Edwards too and I'm not the only one who thinks so.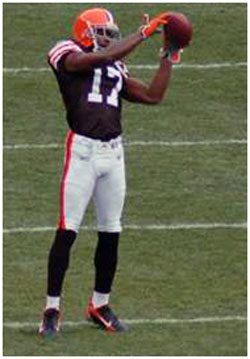 Roy Williams is still looking for a home too. The veteran last played for the Bears and they could still use his services, especially if Brandon Marshall is suspended to start the year. But Williams is far from a No. 1 receiver option. The Browns don't really have any big names for Brandon Weeden to throw the ball to this year, so Williams would definitely see plenty of playing time but I think competing for a championship is more important to him. For that reason I feel he's going to land in a spot where he isn't the main option and will only get around 25 catches on the year. The best scenarios for him would be New England or Green Bay.

A receiver that did not play in 2011 isn't exactly a hot commodity on the free age t market, but I feel Anthony Gonzalez has one play he should sign. The Broncos. Gonzalez enjoyed two nice seasons for the Colts, with Peyton Manning, before injuring his leg in 2010. While he won't be a huge signing for Denver, Gonzalez (if healthy) would give Manning a comfort level with one of his receivers. Gonzalez thrived as the Indianapolis' slot receiver. This would be a risky addition for the Broncos, but they could bring Gonzalez on at a relatively low contract to see if he still has anything left in the tank.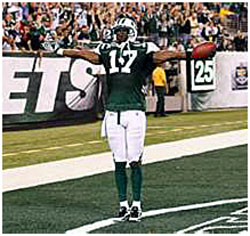 Plaxico Burress will find a new team, especially after he found the end zone eight times with the Jets last season. He wanted to go to Carolina, but the Panthers said no thank you. That is kind of crazy because he'd be an improvement to some of the receivers on the roster. The Panthers are opting to go with its younger receivers and give them a shot. Burress wants to go to a contender, so that narrows his prospects down a bit. An interesting option would Burress returning where his career began: Pittsburgh. Burress wouldn't have to be the main option for the Steelers and he'd give Big Ben a nice target in the red zone. I'm not 100 percent sure how his return would be welcomed in Pittsburgh after he left for the Giants after the 2004 season. So besides his old stomping ground what other teams might be interested in Burress?

Well I'm sure he won't sign with anyone until training camp, once a team knows what they have with their rookies and if any injuries pop up. So Burress will have to keep himself in football shape and be ready to impress when called on. Another team that would be an interesting match is Denver. Burress would give Peyton Manning a big target in his new home, something I'm sure he'd love. One franchise that is trying to improve its receiving corps is Jacksonville. While they aren't a contender Burress would be a nice a fit here because they need reliable options for either Chad Henne or Blaine Gabbert. This would be a longshot for Burress to end up, but he'd definitely help them out. Of all the receivers I've named, Burress has the most to offer a team. Unfortunately he'll have to wait for a while to find a new home.


What do you think?
We'd love to hear your comments and/or opinions. If you submit them here, other visitors can read them, rate them and comment on them. An e-mail address is not required.