Eight NBA Fantasy Basketball Flops This Season
By Lorenzo Tanos

The NBA Playoffs are on right now, though for fantasy basketball players, yet another season has come to an end.  Depending on where you finished, you're either celebrating a championship or podium finish, or telling your friends to "wait till next year" and hoping for a better 2014-15. If last week we touched on the 2013-14 season's biggest fantasy steals, here are the eight biggest disappointments, once again in no particular order. Take note that this list does not include players who missed most of the season due to injuries – that's 41 games or more.
1. Greivis Vasquez (Sacramento/Toronto – 9.6 ppg, 4.1 apg, 42.1% FG) – Vasquez enjoyed a breakout season in 2012-13, dropping double-digit dimes on a regular basis and averaging close to 14 points per game.  After he failed to adjust to Sacramento's system (while regularly being outplayed by erstwhile backup Isaiah Thomas), he was traded to the Raptors, where he promptly backed up Kyle Lowry, and continued fading into fantasy irrelevance.

2. Kevin Garnett (6.5 ppg, 6.6 rpg, 1.5 apg, 44.2% FG) – Admit it, you probably thought KG was capable of one more quality season, despite his advanced age and the fact that he's closing in on his second decade in the NBA.  A lot of fantasy basketball GMs did, and Garnett responded with an injury-marred season where he averaged career-lows in several categories, including a first-ever single-digit scoring clip.

3. Anthony Bennett (4.2 ppg, 3.0 rpg, 35.6% FG, 63.8% FT) – Usually, selecting the first-overall NBA Draft pick for your fantasy team is a sound move.  Unfortunately, Bennett never really found his groove after making just one of his first 21 shot attempts.  He had a few flashes of brilliance, but ultimately ended up with the most disappointing season for a first-overall pick in quite some time.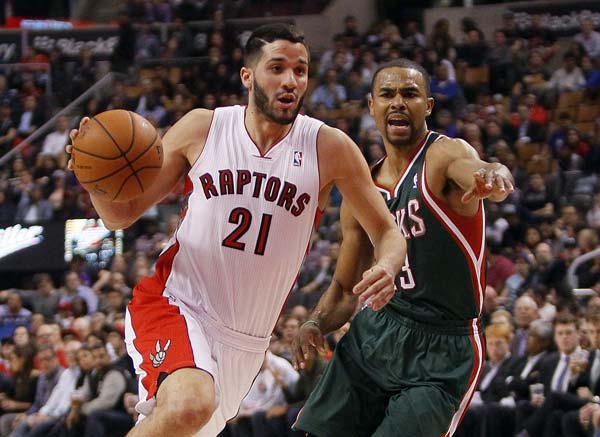 4. Harrison Barnes (Golden State – 9.5 ppg, 4.0 rpg, 1.5 apg, 39.9% FG) – It wasn't as much a case of the sophomore jinx as it was a case of Barnes' second pro season being a bit too much like the first.  You'd think such a dynamic college player would have no problem putting up bigger numbers on a fast-paced team like Golden State, but he seemed more content to remain in the background as a complementary player. 

5. Michael Kidd-Gilchrist (Charlotte – 7.2 ppg, 5.2 rpg, 0.7 spg, 47.3% FG, 61.4% FT) – Now here's an example of the sophomore jinx.  MKG's game has yet to translate into big NBA numbers, and while the jury isn't out on him yet, chances are he may end up as one of the more underwhelming second-overall picks, at least on a fantasy basis.  You can search the web to get opinions about what the exact "chances" are and some free betting picks as well.

6. Marcus Thornton (Sacramento/Brooklyn – 9.8 ppg, 2.8 rpg, 1.5 3P, 39.4% FG) – It wasn't long ago when Thornton was a sure source of points and three-point shots, but in 2013-14, he was like Forrest Gump's box of chocolates – you never knew what you were going to get.  Would it be the player who burned the Pacers' defense for 42 points in late January, or the player who scored just two points less than a week later?

7. O.J. Mayo (Milwaukee – 11.7 ppg, 2.4 ppg, 2.2 apg, 40.7% FG) – Just when you thought he was returning to form following a good 2012-13 season for the Mavericks, Mayo was back to his underachieving ways as a Buck, and, in many ways, symbolized Milwaukee's futility as a mostly ineffective young veteran.

8. J.R. Smith (New York – 14.5 ppg, 4.0 rpg, 3.0 apg, 41.5% FG, 65.2% FT) – Though Smith finished strong in the 2013-14 NBA season, especially when he took over as a starter, there was a time when 2012-13's Sixth Man of the Year was fantasy poison.  His shots weren't falling, and the fact that he spent a lot of time in the doghouse made him worth dropping just as often as he was worth owning.  He didn't have a bad season overall, but more was expected.


What do you think?

We'd love to hear your comments and/or opinions. If you submit them here, other visitors can read them, rate them and comment on them. An e-mail address is not required.
Eight NBA Fantasy Basketball Flops This Season to NBA Basketball Blog