Dwight Howard Wants to Be Traded, Again
Dwight Howard wants to be traded! That's the word, according to reports: Howard will request a trade from the Orlando Magic this summer.
Here we go again.
Howard's constant antics make you wonder: is he even worth it? Sure, he is the most talented center in the NBA. He is a dominant post player and the league's best defender. But his behavior is threatening to cripple the Magic franchise. Is that something any other team should willingly bring onto itself?
Once upon a time, Dwight Howard was a special young player any franchise would want as their centerpiece. He was a tireless worker, the best, toughest defender in basketball, and the leader of an Orlando Magic team that seemed poised to break through to an NBA title. Phil Jackson, the greatest NBA coach of all time, said he would start his dream team with Howard.
The statistics are still there but the hard working mystique is going; replaced by embarrassing behavior and distraction. Howard has changed: the player who selflessly led the Magic and said, quite forcefully, that he did not want to be "like Shaq" and leave Orlando in the lurch is gone. He has been replaced by a player who is still a magnificent on-court talent but who brings so much baggage that many contending teams should shy away from welcoming him into their locker rooms.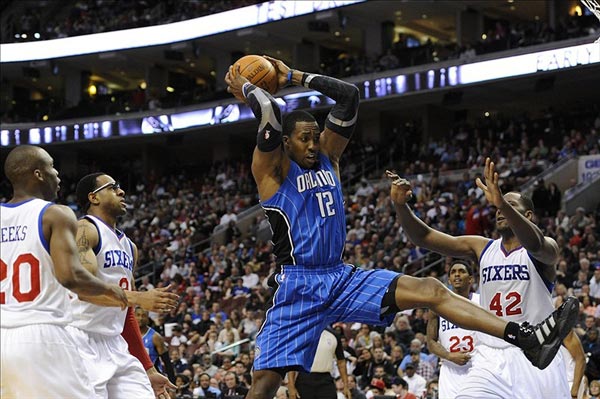 Orlando Magic center Dwight Howard (12) pulls down a rebound during the second quarter against the Philadelphia 76ers at the Wells Fargo Center. The Magic defeated the Sixers 88-82. Photo courtesy by Howard Smith-US PRESSWIRE
---
Take the Chicago Bulls, for example. Chicago is the perfect on-court fit for Howard: he would pair beautifully with Bulls point guard Derrick Rose and dominate the paint inside next to power forward Carlos Boozer. But Howard has shown serious misgivings about going to Chicago. He could change his mind after a trade, as he has on the Magic numerous times this year, and demand another trade. He could mentally check out; playing well while simultaneously mailing it in competitively.
There is no place for that kind of behavior on a championship team.
---
What do you think?

We'd love to hear your comments and/or opinions. If you submit them here, other visitors can read them, rate them and comment on them. An e-mail address is not required.
---
From Dwight Howard Wants to Be Traded, Again to NBA Basketball Blog | Sports Blog | NFL Football Blog | NCAA Football Blog | NFL Football Archives | College Football Archives | MLB Baseball Blog | College Baseball Blog | MLB Baseball Archives | NCAA Basketball Blog | NBA Basketball Archives | NCAA Basketball Archives | Fantasy Football | Fantasy Basketball | Fantasy Baseball | Soccer Archives | Olympics Archives | Stupid Athletes Archives | Other Archives | Football Forum | Basketball Forum | Baseball Forum | NFL Football Store | NBA Basketball Store | MLB Baseball Store | NCAA Football Store | NCAA Basketball Store | NCAA Baseball Store | Fatheads | NFL Football Tickets | NBA Basketball Tickets | MLB Baseball Tickets | NCAA Football Tickets | NCAA Basketball Tickets | NCAA Baseball Tickets |
---
Home Page
About Us | Contact Us | Site Search | Advertise | Terms of Use |
---