Down One By One: The New England Patriots Receiving Woes
One can be excused for panicking a bit about the Patriots' receiving game.  After all, it's in a bit of shambles at the moment, at least as much as an offense directed by Tom Brady could possibly be in shambles.  News coming out of New England has all been either about Tebow or about how yet another problem has hit the receiving corps.  All you have to do is look at the leading receiver list from last year and go down, one by one, to see the extent of the problem.
Their leading receiver in 2012 was Wes Welker.  Well, he's long gone – he was let go and ended up in Denver, trading in Brady for Peyton Manning, where he's expected to head up a three-pronged receiving corps the likes of which Manning has never had.

Their second leading receiver was Brandon Lloyd, and he's still sitting on the free agent list despite being the most valuable receiver remaining.  His odds of joining another team seem to be roughly zero, as are the odds of him returning to New England.

Their third leading receiver was Rob Gronkowski, and we've dissected his health status almost as much as doctors have dissected his arm and back this offseason.  Four arm surgeries and a back injury later, and his status for the beginning of the season has to be considered highly doubtful, at best.

Their fourth leading receiver was Aaron Hernandez, and things looked bad enough when he was having his shoulder scoped and was out of OTAs.  Now, however, breaking news has him as a person of interest in a murder investigation, and likely to be arrested.  It seems almost crass to use his legal issues and speculate on his role in the Patriot offense this season, but it does seem fair to say that this isn't exactly going to boost his numbers.

It goes on like this, too.  Number five was Danny Woodhead, and he's in San Diego now.  Number six is Julian Edelman, who's out with a right foot injury and might not make the team at all.  Number seven was Deion Branch, and he's no longer with the team.  At number eight, finally, we find a receiver still with the team and healthy – Shane Vereen, and is grand total of eight receptions in 2012.  It seems fairly safe to say that the Patriots passing game will look quite different this year.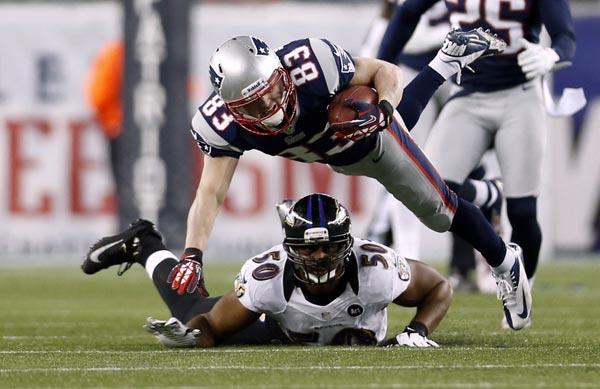 That's not to say the Patriots should panic, that is – there is a lot of new talent coming in to replace the departed targets, and injuries don't last forever.   Any passing game organized by Tom Brady is going to have a certain level of competency there, as well – it's not like they're trying this with a middle-of-the-road quarterback or anything of that nature.  It's just an issue trying to work these new pieces into a consistent, effective system.  The targets have to go somewhere, so the question is who will lead the Pats in receiving in 2013?

When I started considering this list about a month ago, I had thought Hernandez would have been one of my top picks for taking those receptions, but this murder case is one of the most bizarre stories to hit the NFL media in months, if not years.  While apparently not a suspect in the murder itself, the reports of his arrest are mounting.  He has yet to be charged with any crime – and that's very important to remember as all the details come out – but forensics have placed a car driven by Hernandez at the crime scene, and they are looking for another.

Coming out literally as I was writing this article was news that Hernandez destroyed his home security system and phone, including video surveillance.  A team of house cleaners came in on Monday and scrubbed his apartment, as well.  This story is definitely developing, though Hernandez's actions do not seem to be consistent with someone who has nothing to hide.  We can only wait for more information to come out.  Suffice it to say his odds of being the Patriots leading receiver are low.

First on your list, then, has to be the new replacement for Welker, Danny Amendola.  There are a ton of targets left open in the offense with the departure of Wes Welker – Welker was targeted 175 times last season.  It stands to the reason that the player replacing Welker's role in the offense will get the majority of those targets.  Amendola's catch rate in St. Louis wasn't as good as Welker's – 62% v. 67% -- though some of that might be chalked up to the difference in quarterback play between Sam Bradford and Brady.  He's been impressing beat writers during OTAs, looking as "quick as advertised" and operating as the primary receiver.

If Gronkowski misses any serious time, Amendola's the logical choice for racking up huge numbers.  The knock on Amendola, of course, is injury history – he dislocated an elbow in 2011 and missed all but one game, and shoulder and ankle injuries kept him out of five more in 2012.  These aren't injuries that should hamper him, but could be indicative of a larger problem – going over the middle does increase your chances of getting hurt, and, be it bad luck or bad health, Amendola's been unable to stay upright an entire season.  Still, I don't think you'd be remiss in penciling him in for somewhere between 80 and 85 receptions – less than Welker had last year, but more than any other receiver on the team in 2012.

You can't count out Gronkowski, though.  He's the most talented receiver on this team now that Welker's gone, and remember – he missed five games last year and still pulled down 55 balls.  There's no reason for him not to be a regular target once he re-enters the Patriots offense; it's all a matter of how long it will take for him to get fully healthy.  I think, based on this most recent surgery, that I would be surprised if he played more than a dozen games this year – just the pure recovery time needed to get back at 100% after the back surgery keeping him out of September.

I don't think the Patriots will be in a hurry to rush him back onto the field, rather plugging in a blocker like Hoomanawanui or a Giant-cast off like Ballard into their two tight end-set, so that's going to harm his chances at being number one.  Still, he's the best option after Hernandez, and I wouldn't be at all surprised to see him end up with 65 or 70 receptions, depending on when he comes back.  Some of those Welker-targets should be distributed to the tight ends, after all.

The other starting receiver is Aaron Dobson, the second-round pick out of Marshall.  While he's been described as having Larry Fitzgerald-style size and hands with the ability to stretch the field – and the logical heir to Brandon Lloyd's 130 targets last season – expecting a rookie to take on all of those numbers is likely somewhat of a stretch.  We could see 50 receptions out of the rookie, and he's one to keep an eye on for the future, and in keeper/dynasty leagues, but he's not going to push anyone this season.

Brady had 637 attempts last season; they've got to go somewhere.  It'll be very interesting watching the first couple games and seeing how they get divvied up.  Plus, it's the Patriots, so that adds another level of uncertainty – remember when Welker was benched in week 2 last season?  Any guess as to where those receptions will go is a bit of a long shot, but I think the healthy Amendola will slide into Welker's role and lead the Patriots in receptions in 2013.


What do you think?
We'd love to hear your comments and/or opinions. If you submit them here, other visitors can read them, rate them and comment on them. An e-mail address is not required.