Crowd Goes Wild Injects New Element to Sports Show Mix
There is a newcomer to the New York sports scene: the "Crowd Goes Wild" TV show for FOX Sports 1 filming at Chelsea Piers in Manhattan.

"Crowd Goes Wild" is definitely wildly ambitious in one way: it seeks to put something very new into the weekday afternoon sports show roundup.
The show features retired NFL star Trevor Pryce, who should inject great football commentary into the mix, especially once the season gets underway.
Fans have grown used to ESPN's formulaic mix of "experts" trading attacks and barbs on the sports issues of the day.  On "Around the Horn" and "Pardon the Interruption," the new shows two main competitors, viewers are bombarded with conflicting opinions on every 'controversial' issue of the moment.  In reality, that means fans are repeatedly subjected to the same aggressive, back and forth discussion of the Alex Rodriguez saga – day in and day out – without, pardon the pun, 'Interruption."
Regis Philbin's new show is refreshingly different; a lighter-toned exploration of a mix of sports, pop culture, and simply random topics.  I attended a screening this week and it brings back a slight evocation of Regis' old format on the timeless Regis and Kelly and promises to at least give fans a sports show option that does not even pretend to be about sports expertise, critical analysis, or deep debate.

The show begins with a few one-liners from Regis, who looks very spry and fun.  It then devolves into a rather formulaic, somewhat unspontaneous discussion of sports "news" read by Crowd Goes Wild's British import Georgie Thompson.  The show seeks to mix a cast of dovetailing pieces, with Thompson lending international flavor, Trevor Pryce providing football street cred, Michael Kosta lending comedic relief, and Jason Gay providing the reporters take.  Throughout the hour, the show seems to wrestle between two possible outcomes: the desire to focus on Regis and leverage his legendary credentials and affability into an hour of fun banter and the intent to actually create an open-mic format where Regis' co-hosts lend the mix of different flavors they were brought in to provide.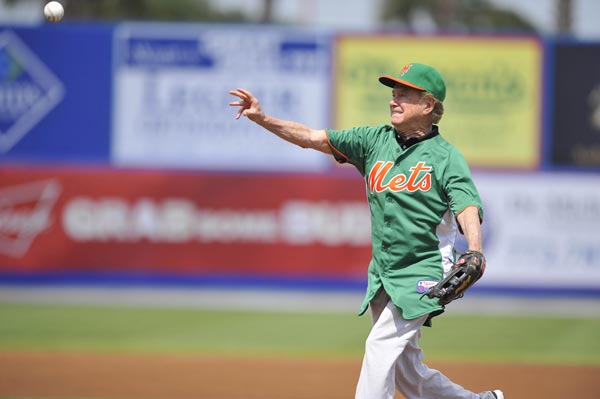 Perhaps because of that identity wrestling, the current edition of "Crowd Goes Wild" falls short of truly compelling entertainment for a full-hour.  But, the show's intention to create a fun alternative to the experts at PTI is definitely needed and "Crowd Goes Wild" has the ingredients to succeed over the long-run.  My suggestion: give in, make the show about Regis, and let him run a free-flowing banter discussion where he is the center and he chooses who to discourse with at any given moment.

Drop the prepared bits and commercial entry one-liners and let Regis do his thing: charm viewers on the fly.  If the show does that, then it should really become the fun, easy alternative sports fans need.  Here's to hoping!


Here's where to get tickets to attend a taping: http://1iota.com/Show/311/Crowd-Goes-Wild


What do you think?

We'd love to hear your comments and/or opinions. If you submit them here, other visitors can read them, rate them and comment on them. An e-mail address is not required.