Conference Title Ties: Another BCS Problem
The last set of regular season BCS standings were really fascinating. From the top three on down, there were critical issues that demonstrated the need for change. Undefeated Oregon was number one overall in the human poll despite the fact that Auburn went undefeated through the vaunted SEC. TCU was also undefeated but, despite destroying several ranked opponents, won't even get a chance at the National Title. But it is the conference ties in the Big Ten and Big Twelve that really demonstrate how screwed up the current system is and how change is desperately needed. The system is fast turning from an embarrassment to a travesty.
Since Oregon and Auburn will play in the title game and TCU will likely play in the Rose Bowl against a Big Ten opponent, number four Stanford could conceivably be left out of the BCS bowls. Stanford went 11-1 and its only loss was at Oregon (undefeated and the current standings leader) so if it were left out of the BCS bowls that would be completely ridiculous. Of course, the rankings problems don't stop there. Wisconsin is fifth and should earn a Rose Bowl berth and sixth-ranked Ohio State will almost certainly grab an at-large bid, but by rule three teams from a conference cannot play in the BCS bowls so, sadly, 11-1 Michigan State will be relegated to a second rate bowl. MSU is a prestigious program that played a tough schedule (and notched a 34-24 win over Wisconsin in season) so leaving it out of the BCS will be terribly embarrassing. That's not all: Boise State, which has lost two games since 2007, won't play in a major bowl and both two loss LSU and Missouri squads will likely be left out as well.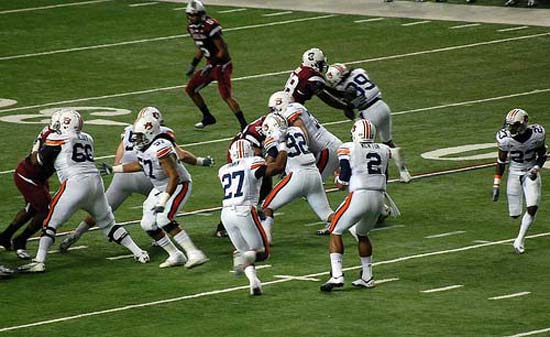 SEC Championship game Auburn Tigers completely dominate the South Carolina Gamecocks!
Thanks to Leigh Ann Simpson at flickr.com for this photo.
---
BCS defenders argue that such regrettable omissions are inevitable since there are a limited number of spots but that whole premise is ridiculous. First, the BCS still gives automatic bids to all six major conferences so an undeserving ACC team will get to play a BCS bowl. Do you believe that two-loss Virginia Tech deserves that honor over a one loss Boise State team that smacked them in the season opener? I certainly don't. Even worse, a Big East team will play in a bowl and I would challenge you to find me a single intelligent college football fan who would argue that West Virginia deserves a BCS berth over MSU, LSU, or Missouri. But that is exactly what will happen because the current rules on conference bowl berths are hidebound and don't take into account changing dynamics. The system has been embarrassing for years, it's a travesty now, and if it is not changed soon it could fundamentally change the fairness and watchability of college football.
---
---
What do you think?
We'd love to hear your comments and/or opinions. If you submit them here, other visitors can read them, rate them and comment on them. An e-mail address is not required.
---
From Conference Title Ties: Another BCS Problem to NCAA Football Blog | Sports Blog | NFL Football Blog | MLB Baseball Blog | College Baseball Blog | NBA Basketball Blog | NCAA Basketball Blog |
---
Home Page
About Us | Contact Us | Site Search | Advertise | Terms of Use |
---