College Football Previews 2012: Virginia Tech Hokies
By Matt Green
Over the past decade, the Virginia Tech Hokies have been one of the most consistent, if not the most consistent, program in all of college football. The Hokies are one of the strongest programs in the nation, year in and year out, and one of the top bets to make a BCS Game every year. If you want to bet on them, use sportsbook review to place it and your bets the other top college football programs.
Virginia Tech gets it done with special teams, defense, and just enough offense, despite having a long run of incredibly average QBs. However, that may change this year.
Logan Thomas, who some draft gurus think is more pro-ready than I do, is as physically gifted as quarterbacks come. He's a 6'6" 260+ pound QB that still can move extremely well. He's only a junior, so he definitely needs more time to mature and needs to start learning the position. He was great in '11, but he was still going with limited experience and really just winging it. With another offseason of work, he should be much better this year, and is even being considered in the early season Heisman talk, although I find this to be a little bit absurd considering his 2011 numbers (59% comp, 19/10 td/int).
Thomas isn't the problem for this offense, the problem comes at the skill positions. Reliable, Wes Welker-like receiver Danny Coale has moved on to the League, Jarrett Boykin is gone, and, most importantly, 1700-yard man David Wilson is now in tandem with Ahmad Bradshaw in the Giants backfield. Michael Holmes is most likely to be the next in line for the Hokies, with Martin Scales and JC Coleman fighting for the backup job. The problem? Not a single one had a carry in 2011. As far as receiver goes, 142 catches from last year are gone, so looking to keep up that level of production is Marcus Davis and DJ Coles. Coles and Davis are the leaders of the unit, having combined for 66 catches last year and 8 touchdowns. Dyrell Roberts returns after missing all of last season, but acquiring a medical redshirt from the NCAA. He has size and speed but must be far more consistent if he is to get some playing time from those 2 guys. Malleck, Martin, and Dunn are in a 3-way battle for the tight end spot, and it doesn't appear like it's going to be decided anytime soon.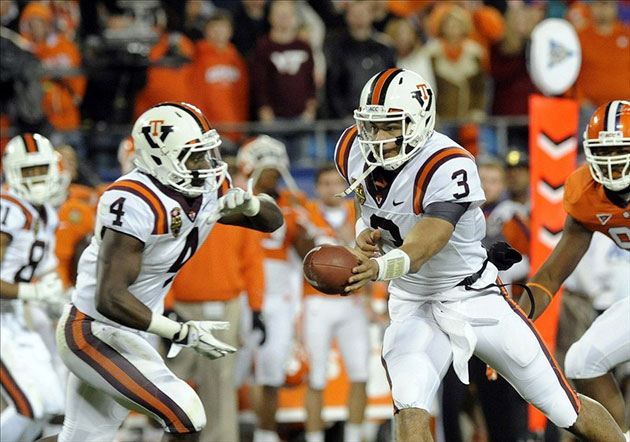 Dec. 3, 2011; Charlotte, NC, USA; Virginia Tech Hokies quarterback Logan Thomas (3) hands off the ball to tailback David Wilson (4) while playing against the Clemson Tigers during the ACC Championship at Bank of America Stadium. Photo Courtesy By Sam Sharpe-US PRESSWIRE.
---
More turnover on the offensive line for the Hokies means even more pressure will be on the back of Logan Thomas. 4 (four) starters are gone, but the leader and center Andrew Miller returns with an even bigger role this year. The good news is, the talent level up front is still there, but the experience is very much lacking. David Wang and Brent Benedict are the most likely candidates for the guard spots. At the blind side, beastly Nick Becton, who stands at 6'6" and 320+ pounds, will try to protect Logan Thomas and keep their star out of harm's way, while Vinston Painter holds down the fort at right tackle.
Off to the defense, led by the most underrated assistant coach in America, Bud Foster. James Gayle and JR Collins up front are a terror to opposing QBs, combining for over 13 sacks a year ago, and getting pressure countless times. They are almost as good a duo as you will find in college football. Brothers Derrick and Antoine Hopkins are the most likely guys to fill the tackle spots. Neither is a huge playmaker, but both are solid, mistake-free guys that can do a nice job.
The best news for this defense is that their leader and LB Bruce Taylor returns after a limited, but productive 2011. Tariq Edwards and Jack Tyler are vying for the other inside LB position alongside Mr. Taylor. Vandyke, Gouvela-Winslow and Alonzo Tweedy are battling for the final LB position, but the decision probably won't be made until shortly before the season.
Finally, to the secondary. One of my favorite players, Jayron Hosley, is off to the League, so Kyle Fuller now steps in as the top corner. He is very good and should have no problem as their lockdown guy. The other corner, Antone Exum, is also 6 feet tall, so the size at corner is there for the Hokies, something that not many teams have the luxury of having. Detrick Bonner and Kyshoen Jarrett will be the two safeties. Both are sophomores and have limited experience, so much of the pressure will be on the corners to take some of the heat off the young safeties while they get their feet wet.
2012 Schedule:
vs Georgia Tech
vs Austin Peay
@ Pitt
vs Bowling Green
@ Cincinnati
@ North Carolina
vs Duke
@ Clemson
@ Miami (FL)
vs Florida State
@ Boston College
vs Virginia
The schedule is anything but difficult for the Hokies, with the biggest challenges being Clemson and Florida State, only one of which is on the road. Starting off the season with GA Tech is always good, giving you all offseason to prepare for the option attack, so that gives them a leg up. Carolina should be okay as always, and Miami has some talent, as well as Cincinnati, Pitt, and Virginia, but, in reality, VT should have no problems this season, despite the youth. What have I always said? That's right, it's all about QB play. VT will go 10-2(6-2) in 2012, book it.
Greenie's Top 25 Countdown List:
#16 Virginia Tech
#17 Florida (http://www.thebestfootballblog.com/2012-florida-gators-football-preview.html)
#18 Notre Dame (http://www.thebestfootballblog.com/2012-notre-dame-fighting-irish-football-preview.html)
#19 Kansas State (http://www.thebestfootballblog.com/2012-kansas-state-wildcats-football-preview.html)
#20 Stanford (http://www.thebestfootballblog.com/2012-stanford-cardinal-football-preview.html)
#21 TCU (http://www.thebestfootballblog.com/tcu-horned-frogs-2012-football-preview.html)
#22 Oklahoma State (http://www.thebestfootballblog.com/2012-oklahoma-state-cowboys-preview.html)
#23 Boise State (http://www.thebestfootballblog.com/2012-boise-state-broncos-preview.html)
#24 Nebraska (http://thebestfootballblog.com/2012-nebraska-cornhuskers-preview.html)
#25 Texas (http://thebestfootballblog.com/college-football-previews-texas-longhorns.html)
Find out more about Virginia Tech here:
http://cfn.scout.com/2/1188777.html
---
What do you think?
We'd love to hear your comments and/or opinions. If you submit them here, other visitors can read them, rate them and comment on them. An e-mail address is not required.
---
From College Football Previews 2012 Virginia Tech Hokies to NCAA Football Blog | Sports Blog | NFL Football Blog | NFL Football Archives | College Football Archives | MLB Baseball Blog | College Baseball Blog | MLB Baseball Archives | NBA Basketball Blog | NCAA Basketball Blog | NBA Basketball Archives | NCAA Basketball Archives | Fantasy Football | Fantasy Basketball | Fantasy Baseball | Soccer Archives | Olympics Archives | Stupid Athletes Archives | Other Archives | Football Forum | Basketball Forum | Baseball Forum | NFL Football Store | NBA Basketball Store | MLB Baseball Store | NCAA Football Store | NCAA Basketball Store | NCAA Baseball Store | Fatheads | NFL Football Tickets | NBA Basketball Tickets | MLB Baseball Tickets | NCAA Football Tickets | NCAA Basketball Tickets | NCAA Baseball Tickets |
---
Home Page
About Us | Contact Us | Site Search | Advertise | Terms of Use |
---