College Football 2012: Best Heisman Contenders
By Matt Green
GENO SMITH, QB, West Virginia
81.4% Comp, 1,996 Yds, 24 TD, 0 INT, 9.78 Yds/Att
Nobody has had the gaudy, video game-like numbers through the first 6 weeks that the West Virginia QB has had. He has been as accurate as any QB I can remember. His 81.6% completion rate speaks to that. His bevy of talented receivers doesn't hurt his numbers, and neither does the fact that almost a third of his TDs came in one game against Baylor and their horrific defense. Although, against Texas, a team that is supposed to have one of the top defenses around, Smith still put up 4 TDs and has yet to cost his team with an INT.
TAVON AUSTIN, WR, West Virginia
58 Rec, 662 Yds, 8 TD, 7 Car, 90 Yds
Through 5 games, Tavon Austin has shown that he is one of the biggest threats in the nation, not only with his numbers, but with his speed to draw attention and challenge defenses vertically. Not only does he have the 8 TDs thus far to go along with an average of almost 12 (not a typo) catches per game, Austin is averaging over 30 yards per kick return, which is just icing on the cake for an offense that can score from anywhere.
STEDMAN BAILEY, WR, West Virginia
49 Rec, 710 Yds, 13 TD
Bailey is more of a true WR, rather than a returner and athlete like Austin, but he is still providing production unlike anything we have ever seen from a receiver this soon into the season. Bailey is averaging almost 3 TDs PER GAME, to go along with 10 catches and just over 140 yards per contest. He certainly benefits from the attention paid to Austin, and has been seizing his opportunities to this point in the year. You worry though that he may be a guy considered a "system receiver" and many of his numbers will be disregarded.
BRAXTON MILLER, QB, Ohio State
61.5% Comp, 1,060 Yds, 9 TD, 3 INT, 7.85 Yds/Att; 106 Car, 763 Yds, 8 TD
Braxton Miller, while I wouldn't necessarily use the word surprising because we all knew about his talent, has probably been the most dynamic player in football thus far. If you thought Tebow was perfect at running the Urban Meyer offense, this is Tebow 2.0. His stats won't wow you, even though Miller, as a QB, is averaging well over 100 rushing yards per game and has led his team, a team that has no postseason to play for, to a 6-0 record.
COLLIN KLEIN, QB, Kansas State
67% Comp, 887 Yds, 7 TD, 2 INT, 9.44 Yds/Att; 73 Car, 405 Yds, 7 TD
Speaking of guys whose stats won't wow you, there is Collin Klein. He's not the kind of guy like Geno Smith that can throw for 8 TDs in a game or like Braxton Miller who will break 80-yard TD runs, but he is a hard-nosed leader that gets the job done every time out. In recent years, the Heisman voting has shifted more towards numbers and such, but Klein is the kind of guy that can win awards with heart. Not to mention, his very impressive 9.44 yards per attempt, which is far higher than Miller, and just shy of Geno Smith. If he gets more carries, which he should with the tough part of the schedule coming up, those numbers will improve and he will be a front-runner.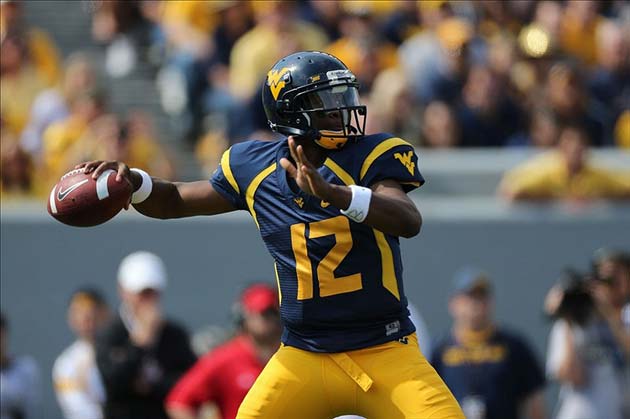 ---
Others to Watch:
Marcus Lattimore, RB, South Carolina
Johnny Manziel, QB, Texas A&M
Tajh Boyd, QB, Clemson
De'Anthony Thomas, RB, Oregon
Matt Barkley, QB, USC
Johnathan Franklin, RB, UCLA
Manti Te'O, LB, Notre Dame
---
What do you think?
We'd love to hear your comments and/or opinions. If you submit them here, other visitors can read them, rate them and comment on them. An e-mail address is not required.
---
From College Football 2012: Best Heisman Contenders to NCAA Football Blog | Sports Blog | NFL Football Blog | NFL Football Archives | College Football Archives | MLB Baseball Blog | College Baseball Blog | MLB Baseball Archives | NBA Basketball Blog | NCAA Basketball Blog | NBA Basketball Archives | NCAA Basketball Archives | Fantasy Football | Fantasy Basketball | Fantasy Baseball | Soccer Archives | Olympics Archives | Stupid Athletes Archives | Other Archives | Football Forum | Basketball Forum | Baseball Forum | NFL Football Store | NBA Basketball Store | MLB Baseball Store | NCAA Football Store | NCAA Basketball Store | NCAA Baseball Store | Fatheads | NFL Football Tickets | NBA Basketball Tickets | MLB Baseball Tickets | NCAA Football Tickets | NCAA Basketball Tickets | NCAA Baseball Tickets |
---
Home Page
About Us | Contact Us | Site Search | Advertise | Terms of Use |
---