Colin Kaepernick: The New Standard for Quarterback Contracts
The San Francisco 49ers may have found a new model for future quarterback contracts.

The 49ers recently re-signed Colin Kaepernick to a six-year contract extension worth $126 million dollars.  That would make Kaepernick the highest-paid quarterback of all time, with an average salary just under that of Aaron Rodgers.
However, Kaepernick's contract has several interesting features to it that means he may never see that level of contract.  The 49ers have worked in a number of provisions that protect them-wise, considering Kaepernick's only been a starting quarterback for a year and a half.

Kaepernick's contract might become a model for two reasons.  First of all, Kaepernick is often a run-first quarterback.  While far from the first scrambling quarterback in the NFL, Kaepernick is part of a new breed of duel-threat quarterbacks, along with Robert Griffin III, Cam Newton and Russell Wilson.  Running quarterbacks bring with them more hits and a higher risk of injury, so the 49ers have made several moves to protect themselves should Kaepernick get hurt.

The other reason Kaepernick's contract is so interesting is that he's the first quarterback to get a new deal since the rookie salary cap entered the league in 2011.  This means he's the first highly-regarded young talent to get a new contract without having had a massive rookie deal, like the Sam Bradfords or Matthew Staffords of the world.  Over the next few years, Russell Wilson, Robert Griffin, Cam Newton, Andy Dalton, Andrew Luck, Ryan Tannehill and Christian Ponder will all be looking to sign their second contracts.  Kaepernick's deal could prove a model for teams working with them.

Let's take a look at some of the more interesting features of Kaepernick's deal, and why they benefit the 49ers so much.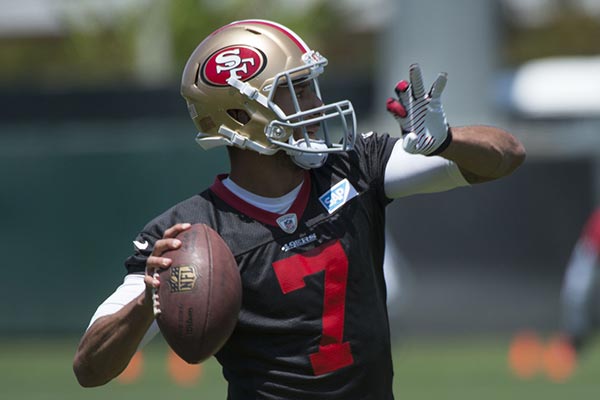 Signing Bonus
Most NFL contracts nowadays include massive signing bonuses up front.  Joe Flacco's recent deal included $30 million up front, while Aaron Rodgers got $35 million.  This is a lot of up-front money for the player, and in terms of the salary cap, it's spread out as guaranteed money over the first five years of the deal.

Kaepernick only got $12 million as a signing bonus-the majority of his contract comes in actual base salary.  This means the 49ers aren't on the hook for $7 or 8 million a year if they cut Kaepernick early-only the $12 million, plus Kaepernick's 2014 salary of $645,000, are guaranteed at the start of the contract.  If Kaepernick flops, the 49ers could cut him with a minimal salary problem.

If Kaepernick doesn't flop, and the 49ers find themselves in need of more cap room in a specific season, they also have the flexibility to convert some of Kaepernick's salary into a signing bonus, and pushing some of his money into future seasons.  This allows the team more options in the future, as they're not locked into a specific amount of money for years down the line.

Late Guarantees
It's been reported that Kaepernick's contract has $61 million guaranteed, but that's a bit of a misnomer.  Kaepernick's 2015, 2016 and 2017 salaries do not fully guarantee until April 1 of each season.  If Kaepernick fails to develop into an Aaron Rodgers-level player, the 49ers can get rid of him before April 1st each year and save lots of cash.

For example, let's imagine all of Kaepernick's money was guaranteed right now.  Cutting Kaepernick after the 2016 season would then give them $26.7 million in dead money, which would be incredibly difficult to absorb.  Under the current contract, however, as long as they cut Kaepernick before April 1st, they would only have about $5 million in dead money.  While obviously cutting Kaepernick that early isn't in the plans, it is now a possibility.  The 49ers could financially get away from Kaepernick at almost any point in this contract without crippling the team in the future.

Per Game Bonus
Kaepernick has a roster bonus of $2 million a season ever year, divided up to $125,000 per game.  Kaepernick only gets that money if he's on the 46-man roster on each game.  If he gets hurt and misses time, the 49ers don't owe him that money.

From the 49ers' perspective, that's great-as a running quarterback, Kaepernick opens himself to more hits than a classic pocket passer, so the risk of injury is higher.  This protects the team financially in case Kaepernick suffers a season-ending knee injury.

De-Escalator
The most interesting part of the contract is probably the de-escalator.

From 2015 through 2020, Kaepernick'sactual salary and his scheduled salary are different.  Until he meets two criteria, he'll essentially lose $2 million a season from his current salaries.

To stop this de-escalation, Kaepernick needs to:
For perspective, here's the entire list of quarterbacks who have been first or second-team All Pros in the past decade:

Peyton Manning

Daunte Culpepper

Tom Brady

Drew Brees

Brett Favre

Aaron Rodgers



That's four surefire future Hall of Famers (Manning, Brady, Brees and Favre), another who is well on his way there in Rodgers…and Daunte Culpepper, who had the advantage of playing Randy Moss in his prime.  That's the caliber of quarterback the 49ers are asking Kaepernick to be to earn his entire contract.

Once Kaepernick achieves these feats, he'll make Aaron Rodgers money, and it would be hard to say he doesn't deserve it.  However, until he bring the 49ers back to the Super Bowl or breaks into the Manning/Brady/Brees/Rodgers club, he'll instead be making "only" Tony Romo money.  If Kaepernick develops into that caliber of quarterback, he'll be worth every penny of his contract.  Until he does, the 49ers are getting his services at a discount.
What do you think?
We'd love to hear your comments and/or opinions. If you submit them here, other visitors can read them, rate them and comment on them. An e-mail address is not required.
Colin Kaepernick: The New Standard for Quarterback Contracts to NFL Football Blog