Chicago Sports in Transition
By Jason Fryer

Chicagoans need to prepare for the start of a new era for the better or worse.

As a life-long Chicagoan, this is the first time I can remember so many professional teams in this city rebuilding at the same time. Not including the Blackhawks (who might have to rebuild within the next two years but I'll explain that later), the other teams in Chicago are/will soon be going through some type of transition phase on their roster. Don't believe me, then let's break down each team's roster and where they stand for the future:
Chicago Cubs:
The most obvious of the five Chicago professional sports teams undergoing a transition process, has seen Chicago make 15 trades since the Cubs hired Theo Epstein and Jed Hoyer in October of 2011. Since the new regime took over 21 months ago, the Cubs have had a completely new philosophy, which has included locking up their current young talent long term, trading veterans at their peak for quality younger prospects, and signing a number of young international players. When you add all that up, the Cubs are set to have their lowest current payroll since 2003 (it was 79 million in 2003, and is currently at 55 million for next season). The Cubs currently have only one player scheduled to make north of 10 million for next season (Edwin Jackson), and for the first time in since 2007, the Cubs won't feature any long-term veteran deals, allowing Chicago to move forward and start bring up their highly touted prospects in the near future.

Off the Field: The Cubs are also in transaction off the field with the teams new Wrigley Field renovations, which will finally include a jumbotron to the soon to be 100 year old ballpark. The $500 million project will also allow for better amenities for both the players and fans that will make the in game atmosphere considerably enhanced and have players in that much more in a comfort zone when preparing for a game. When the Cubs complete this 5-year project, there on and off the field transformation will finally be complete. In addition to their Wrigley Field projects, the Cubs are also in the process of building a new Dominican academy in Santo Domingo to further showcase their presence in Latin America and are entering a brand new state of the art 15,000 seat Spring Training Facility in Mesa, Arizona.  The three new projects will help make the Cubs a first class organization by the 2015 season.

The Cubs will reach the playoffs in....2015 or 2016. The Cubs have been sticking to the original plan that Epstein and Hoyer drew up and just like most thought, by year 4 or 5 of the Theo experiment, expect to see the north side of Chicago in the playoffs making annual appearances. Hats off to everyone involved within their organization; never panicked or skipped the necessary steps in attempt to be a long time winner. Sometimes you have to go through a long dark tunnel before seeing the light at the end and Cub fans are currently midway through the tunnel that I know will end with them seeing a bright light.
Chicago Bears:
The Bears? Yep, the Chicago Bears are one mediocre/bad season away from starting over with a new group of players. The NFL's founding franchise has all the makings of a rebuild surrounding them. It all starts at the top with Chicago's second year general manager Phil Emery who's made a number of bold moves the past 8 months which include firing long time head coach Lovie Smith, deciding to not resign long time (and future Hall-of-Fame) linebacker Brian Urlacher, and not negotiating long time deals with any of their 43 soon to be free agents. Yes, there are new sheriffs in town (Phil Emery and Marc Trestman) and it looks that both are attempting to start fresh and make their own mark on the organization. With new leaders at the top and a number of uncertainties on their roster going forward, Chicago is in the ideal position to start over following the season. Of the 11 former pro bowlers on the roster, 6 of them (Cutler, Gould, Hester, Jennings, Melton, and Tillman) are set to be free agents following the season. If the Bears have another 7-9, 8-8, or 9-7 record in 2013, look for Chicago to finally start over and let a number of these highly priced players move on.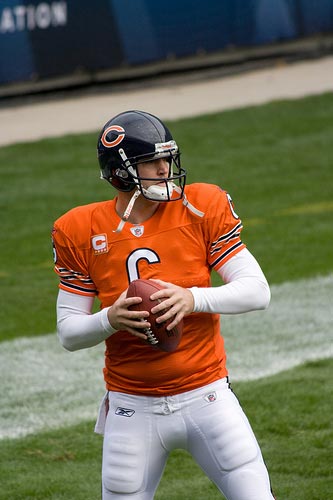 Off the Field: Many don't know, but the Chicago Bears are also having a transformation project off the field with the new renovations to Halas Hall. The new constructions to the Bears practice facility are expected to be completed by August 1st and will provide the players with better amenities for both the players and coaches to prepare for the upcoming season.

The Bears will reach the playoffs in....If all goes right, it could be this year (but with Atlanta, Dallas, Green Bay, New Orleans, New York Giants, San Francisco, Seattle, and Washington) but it's more likely  going to be around 2016 or 2017 as I feel the Bears will finish with an 8-8 record. It looks as if Bears management is finally ready to turn over this roster and have a full makeover. As a lifelong Bears fan I want the Bears to succeed year in and year out, however, I believe the time is right for the Bears to start over and transform an older roster into a younger and hopefully feature a deeper and more talented roster in the future.
Chicago White Sox:
With one of (if not the worst) minor league systems in baseball, the White Sox continued to hide their lack of quality prospects by signing/trading for a number of veterans with long-term contracts. The bad news is Chicago had a number of older veterans entering the down part of the peaks and it seemed that this roster didn't fit together. Nevertheless, the positive with this current team is the majority the veterans are set to be free agents either after this season (Paul Konerko, Jesse Carin, Matt Lindstrom) or next (Jake Peavy, Adam Dunn, Alex Rios) making them a viable options to a number of teams in the hunt for October baseball. If the White Sox are able to trade Peavy, Rios, and Alexi Ramirez (whose a free agent following the 2015 season), then Chicago will have 49.25 million on their books for next year and 15 million coming off their books following the 2014 season with Adam Dunn's set to expire. With Chicago having the majority of their veteran contracts coming off their payroll following the 2014 season, now would the perfect time for the White Sox to restock their minor league system and go through a full rebuilding mode.

Off the Field: As far as I know, the White Sox don't have any current plans off the field, however, the team recently built a new state of the art Spring Training Facility in 2008 and made a number of upgrades to US Cellular Field the past decade.

The White Sox will reach the playoffs in.... Now that's a tough question to answer. If they do decide to start over (like they should), and rebuild through their farm system and international prospects, look for Chicago to contend for the playoffs in 2017 or 2018. The team needs to rebuild their roster and build up a fully depleted farm system.

The following two teams on this list are two teams that have been deep in the playoffs (Bulls reached the eastern conference finals in 2011 and Blackhawks won two of the last four Stanley Cups), yet both teams are going to go through some type of transition by the start of the 2015-2016 season. With both teams set up to win now, I don't want to observe when both teams will next reach the playoffs (trust me, both teams are too talented to not make the playoffs), but instead the next time the United Center will host a championship game.
Chicago Bulls:
Now this can't be right, the Bulls are a team in transaction? Yes, the Bulls will go through sometime of transition phase next summer....just not the same type of transition that the other teams will go through. With the Bulls current team salary at 78.404 (and the tax level for next season at 71.448 million) for the 2013-2014 season, the Bulls had limited room to upgrade their roster for the upcoming season. With that said, following this season, Chicago will have the opportunity to advance their 2014 team and go through a mini roster transition phase with a number of free agents. Following this season, small forward Luol Deng and guard Kirk Hinrich will be free agents, freeing up over 18 million from this year's salary and if that wasn't enough, Chicago can receive even more cap space if they decide to amnesty Carlos Boozer who is due almost 17 million in 2014-15. When you do the math, the Bulls could have a 48.141 million payroll and be nearly 12 million under the cap, allowing for a number of different options going forward.
 
Resign Luol Deng for around 11 million per year/Amnesty Boozer: If the Bulls decide to resign Deng, look for the Bulls to keep Boozer and not amnesty him for the final year of his contract. This would show that either the Bulls like their core or they believe Boozer's 16.8 million dollar contract would interest a number of current teams both over/under the cap.

One player the Bulls would have to entertain a trade for is LaMarcus Aldridge. It seems that Aldrige is preparing to move-on from Portland and start over with a team that already has a superstar and quality core players....enter the Bulls. With Aldridge's contract set to expire following the 2015 season, Portland needs to trade high on him while he has value. Below are three realistic trade options for both the Blazers and Bulls:

Portland trades LaMarcus Aldridge for Carlos Boozer, Jimmy Butler, and Charlotte's 2016 first round pick.


Portland trades LaMarcusAldrige for Carlos Boozer, Marquis Teague, Tony Snell, a 2015 first round pick, and Charlotte's 2016 first round pick.


Portland trades LaMarcusAldrige for Taj Gibson, Jimmy Butler, and Charlotte's 2016 first round pick. Chicago would then amnesty Carlos Boozer's contract.

The first proposed trade would allow the Bulls to keep the majority of their core, sign Luol Deng find a reasonable starting shooting guard, and have a bench that includes Taj Gibson, Mike Dunleavy, Tony Snell, and Marquis Teague. Option two would give Portland additional young talent, draft picks, and following the 2014-15-season salary cap relief. The final scenario would provide Portland with a starting power forward, starting small forward/shooting guard, and a high first round draft choice. As for the Bulls, option three would be the best trade for them, as they would have enough space to resign Deng, add a midlevel shooting guard, bring over Nikola Mirotic, and sign a few veterans to makeup the remainder of their roster. Just like the summer of 2010, the 2014 offseason will no doubt in my mind be a time of transition for the Chicago Bulls.

Off the court: Most don't know this but in 1992, the Chicago Bulls became the first NBA team to have their own practice facility when they opened the Sheri L. Berto center in Deerfield, IL. 22 years later, the Bulls have decided to move back to the city of Chicago with a new practice facility across from the United Center. The hope is that the new 60,000 square facility will provide the team with a more accessible route to the United Center and help recruit other top player to Chicago.

The Bulls will reach the NBA Finals in.... 2015 or 2016, but it depends on a number of situations. Questions that have to be answered: Where will LeBron James sign after the 2014 season? What will Chicago do next offseason? And the most important of all: HOW WILL DERRICK ROSE RESPOND AFTER MISSING AN ENTIRE SEASON?

Let's first look at the scenario for the questions above:

Where will LeBron James sign after this season?

If James stays in Miami with an aging superstar (Wade) and an older roster, then the Bulls might be able to move past the Heat by 2015. If James stays in Miami and the Heat decide to rebuild the roster, then the Bulls might be able to overtake Miami in 2015 but Miami would be much improved in 2016 and beyond. If James decides to return to Cleveland following this season and team up with a number of quality young players....then I'm not sure how many times the Bulls would win their division, let alone an NBA Finals appearance.

Who will the Bulls add during the 2014 offseason?

I outlined a number of trade scenarios for the Bulls to acquire LaMarcus Aldridge so Chicago would be able to place that 1A player next to Rose in addition to being able to resign the longest tenured Bull: Luol Deng. Rose, (a veteran shooting guard), Deng, Aldridge, Noah, Snell, Dunleavy, Mirotic and possibly Teague and Gibson depending on the deal (Butler would have to be included in a trade for Portland to trade Aldridge) would make for a dangerous Bulls team in the eastern conference.
Chicago Blackhawks:
The Blackhawks just won the Stanley Cup; they shouldn't be a team in transition. True, not yet, but two years from now, the Hawks will have to become a team in transition. Following the 2014-15 season, Chicago will have to answer what's most important to them: their two star players or the other great other core players that make up their top two lines. With a 6.3 million cap hit for both Kane and Toews for the next two season (a bargain for two of the top 10 players in the NHL), Chicago will have to decide if they want to keep both their top players, trade one, or let one leave via free agency. With the 2015-16 salary cap expected to be at $66.1 million, Chicago will have to make a number of decisions.

If the Hawks do decide to resign both Kane and Toews for 10 million per season, then they would either have to trade two of their other top forwards/defensemen (Patrick Sharp, Marian Hossa, Bryan Bickell, Brent Seabrook) or have no depth on their 3rd and 4th pairings for both forward and defense. Not surprising, the Hawks have 5 players under contract for the 2015-2016 season (Sharp, Hossa, Keith, Seabrook, Bickell) at 26.513 million and will want to sign a number of their young role players to their roster for the future. If you add Kane and Toews to the 5 players listed above, the Hawks will have 46.513 million committed to the 2015-16 season with only 7 players signed, and less than 20 million left to spend on the remainder of the roster. If the Hawks were to decide to break up the Kane and Toews combination by trading Patrick Kane after the 2014 season, Chicago could receive an incredible package in return.

A 24-year-old Conn Smythe winner that's won 2 Stanley Cups and is from the USA (that could be vital to an American team that wants to market their organization around a star player from this country). If they wanted to go another route, they could look to trade Patrick Sharp (who would be 33 at that time and have 2 years at less than a 6 million per year cap hit on his deal), Bryan Bickell (who would have 2 years and a 4 million cap hit on his deal), Brent Seabrook (who would be 30 and have 1 year left (looking for one last big deal) at less than a 6 million per year cap hit left), or Marian Hossa (who would be 36 and have a 5.275 million cap hit until the 2019-20 season). The Blackhawks will be fine this season and next (if they decide to not trade Kane), but will have a number of questions surrounding them following the 2015 season.

Off the Ice: Like the White Sox, as far as I know, Blackhawks aren't planning on having any significant of the ice changes. Remember this was a franchise only 7 years ago underwent a complete overhaul project to completely transform the direction of this franchise and has since won 2 Stanley Cups.

The Blackhawks will reach the Stanley Cup Finals in....Like the Bulls, 2015 or 2016. This upcoming hockey season will be the most enduring season these players have had for a number of reasons. First, the 2012-13 season didn't start until January 19th and each team play 48 games in less than a 3 months span. Next, following exhausting regular season (that put even more pressure on the Blackhawks while they were in their 24 consecutive point streak), they went through a grueling two month Stanley Cup run that ended with them hoisting the trophy on the TD Garden Ice in Boston. Following a summer of partying and relaxing, the team will have just over 3 months to prepare for another hockey season that will again force players to modify their typical schedule.

From February 8th until February 26th, the NHL season will be put on hold as a number of NHL players will travel to Sochi, Russia and compete in the Winter Olympics. The Olympic invitees for each countries were just announced and the Blackhawks had an astounding 13 players invited to the camp, and expect at-least 8 of them to participate in the Winter Olympics. When you add all this up, I believe it's possible, but going to be extremely difficult for these players to recover and repeat as champions. With that said, don't put anything past this group and watch out for Chicago in 2015 as they will return everyone and know there's a great possibility that a number of players on the 2014-15 roster will be forced to move on following that season.


What do you think?

We'd love to hear your comments and/or opinions. If you submit them here, other visitors can read them, rate them and comment on them. An e-mail address is not required.