Chicago Bears 2012 NFL Draft Preview
The NFL Draft begins 2 weeks from tonight and with the start of the draft, I feel the Bears have a lot of different positions they need address. In this article, I will present you with a few play that I feel Chicago should look at with their first three draft picks. As for the 4-7 round picks, I will discuss which position I feel the Bears need to draft with those four picks.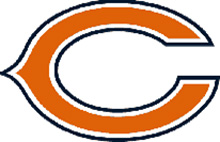 1st round pick (Pick 19): The Bears did a nice job this offseason by trading for a number 1 wide receiver (Brandon Marshall) in addition to them keeping a lot of the players on their roster. However, the Bears didn't sign a Left Tackle and still need to add more depth at the Cornerback, Wide Receiver, and Defensive End positions. Here are a few players the Bears should look to draft with their first round pick.
Jonathan Martin (6-5, 312) OT: Stanford: While blocking for the future number one overall pick (Andrew Luck), Martin had a very good year. He gets criticized a great deal because he was on the same line as star guard David DeCastro (whose rated as the number 1 guard on the NFL Draft board) and their line allowed 9 sacks all year. Some people are huge fans of Martin and others feel that the Bears should pass on him and not draft him. I feel many teams will look at Martin and see that he's one of the few players in this draft that can come into the league from day 1 and become a starting left tackle for an NFL team.
Mike Adams (6-7, 323) OT: Ohio State: Like Jonathan Martin, Mike Adams has good size and is capable of becoming a starting left tackle in the NFL. One problem with Adams is that he suffered a few injuries while he was at Ohio State, however, he was a first team All Big 10 player at Ohio State. With his size, Adams should be able to become a solid run blocker if the Bears decide to draft him in a few weeks. Some feel it might take Adams a little time for him to catch on, but other feel that once he starts, he'll become a solid offensive tackle for a long time. In addition to offensive linemen, the Bears also need additional help at the Defensive End and the Cornerback position.
Whitney Mercilus (6-4, 261) DE, OLB: Illinois: Many feel Whitney Mercilus can become a solid Defensive End (in a 4-3 defense) or a good OLB (in a 3-4 defense). During his first three years at Illinois, Mercilus didn't have much of an impact (only having 24 Tackles along with 2 sacks) in his first two years. That all changed last year as Whitney Mercilus had a monster 2012 season recording 16 sacks, 22.5 TFL (Tackles For Loss), 9 FF (Forced Fumbles), and 57 Tackles. If Mercilus can prove that he can become a good Defensive End (and not just a good Outside Linebacker) in the NFL, then he would be a nice addition for the Bears to play alongside Julius Peppers.
The 2012 Draft also has a great deal of Cornerback Depth and I feel there are 2 possible Cornerbacks that the Bears will be able to chose from in the first round of the draft.
Stephon Gilmore (6-1, 190) CB: South Carolina: Many feel that Stephon Gilmore has become the second best Cornerback in the Draft and others feel its his former SEC Rival (Dre Kirkpatrick of Alabama), that's the number 2 Cornerback the NFL Draft. Gilmore had a solid senior season and he had a season high in interceptions (4) to go along with 46 Tackles and a sack. Stephon Gilmore has great Cornerback skills and most feel that he's always around the football. In addition to his Cornerback skills, he's one of the best tackling Cornerbacks and is one of the most underrated first round players.
Dre Kirkpatrick (6-2, 186) CB: Alabama: The 2011 NCAA National Champion has ideal cornerback size and had a solid season. Even though Kirkpatrick didn't have any interceptions last year, he did a lot of other great things which include: being one of the best tacklers in last season (24 Tackles), Forced 2 Fumbles, and had 4 Tackles for a Loss. He could be a great Cornerback, play on the opposite side of Charles Tillman, and I feel would make a nice addition to the Bears defensive system.
Who I feel the Bears will draft: Whitney Mercilus
2nd Round (Pick 18 and 50 Overall): If the Bears draft Whitney Mercilus with their First Choice (and be finished with the Defensive End position, then they could concentrate on both Secondary positions (Cornerback and Safety), Offensive Tackle, and Wide Receiver.Below are a few second round options for the Bears to chose from.
Zebrie Sanders (6-6, 320) OT: Florida State: Sanders went from being a good right tackle prospect to becoming a solid left tackle because of the injury suffered to left tackle Andrew Datko. Playing on the left side, Zebrie had a solid year and proved that he should be considered a solid offensive tackle prospect for next year. People have said that he has good feet which should translate into him being good pass rusher and run blocker.
Jamell Fleming (5-11, 206) CB: Oklahoma: Fleming has average cornerback size (just short of 6ft) and would give the Bears another cornerback that they can bring on slowly. Fleming had a good Senior Year (60 Tackles to go along with 4 TFL's, 2 INT's and 2 Fumble Recoveries) during his final season at Oklahoma. In his last two years, Fleming proved to be a very good tackler and although he's not the fastest cornerback, he's still a very smart Cornerback that does a lot of great things.
Josh Robinson (5-10, 199) CB: UCF: In the past, Lovie Smith has done a terrific job working with smaller Cornerbacks (Nathan Vasher, D.J. Moore, Tim Jennings). Like those players, Josh Robinson is a smaller Cornerback that ran a great 40 time (4.33) at the NFL Combine which opened the eyes of many scouts that attended the combine. Robinson had a terrific Freshman season with 69 Tackles and 6 interceptions, however, since then he's averaged 53.5 Tackles per season and 2 interceptions during his Sophomore and Junior seasons. If Josh Robinson is able to gets back to the player he was as a freshman, he can be a solid NFL Cornerback.
-Brandon Boykin (5-10, 182) CB: Georgia: Another solid cornerback that played in the toughest division in college football (the SEC) and had a very solid senior season with 565 Tackles, 19 TFL, 2 FF, and 3 INT. Boykin showed that he might has the talent to be a solid second or third cornerback in the NFL down the road.
Alshon Jeffery (6-3, 216) WR: South Carolina: Alshon Jeffrey has a ton of talent and great size (6'3), however he's had a few problems in the past. One of these problems showed up in his Bowl Game as he had a great first half of the Capital One Bowl Game (4 catches, 148 yards, and a touchdown) but was ejected from the game because he got into a fight. Jeffery's stats were down this year (2010: 88 catches, 1517 yards and 9 TD's vs. 2011: 46 catches, 763 yards and 6 TD's but still has a ton of potential. If Jeffrey can get back to being the player that he was in his Sophomore year, then Jeffery has the potential to become a Number 1 Wide Receiver.
Who I feel the Bears will draft: Alshon Jeffery
3rd Round (Pick 18 and 79 Overall): With the Bears now having a Wide Receiver and Defensive End on their roster, this would be a good time for the Bears to draft either a offensive lineman or a cornerback. I feel there are two players that fits on the Bears roster with the 79th overall pick.
Mitchell Schwartz (6-5, 318) OT: California: Schwartz was a consistent starter at California and proved that he can play either tackle position (left 35, right 16). Schwartz also has a good arm length and is a very smart player as he was able to pick up the very complex California offense.
Dwight Bentley (5-11, 173) CB: Louisiana-Lafayette: Bentley had a very productive senior year (66 Tackles, 1 FF, and 3 INT's) and is a very tough Cornerback to play against. Its been said that he's a very confident player that needs to put on some weight if he wants to be considered a starting NFL Cornerback. If he can put on a little more weight, then along with his great instincts and being a very smart player, he can become a very good Cornerback in the near future.
Who I feel the Bears will draft: Mitchell Schwartz
4th Round (Pick 16 and 111 Overall): Cornerback: In this round, the Bears need to draft a Cornerback that can provide them with more depth at this position. Also, if this player can't start, then they need him to be able to become a solid Special Team Player and fill in for the Cornerbacks that the Bears lost in the offseason in Zack Bowman to Minnesota and Corey Graham to Baltimore.
5th Round (Pick 15 and 150 Overall): Outside of drafting a QB, the Bears should draft the person who is highest on their board no matter who it is as they need a good deal of depth at almost every position.
6th Round (Pick 14 and 184 Overall): Linebacker: The Bears need another linebacker that can backup Briggs/Urlacher and become another good Special Teams player.
7th Round (Pick 13 and 220 Overall): Safety: Chicago needs more depth at the safety position and someone who can also contribute on Special Teams at the same time.
---
What do you think?
We'd love to hear your comments and/or opinions. If you submit them here, other visitors can read them, rate them and comment on them. An e-mail address is not required.
---
From Chicago Bears 2012 NFL Draft Preview to NFL Football Blog | Sports Blog | NCAA Football Blog | NFL Football Archives | College Football Archives | MLB Baseball Blog | College Baseball Blog | MLB Baseball Archives | NBA Basketball Blog | NCAA Basketball Blog | NBA Basketball Archives | NCAA Basketball Archives | Fantasy Football | Fantasy Basketball | Fantasy Baseball | Soccer Archives | Olympics Archives | Stupid Athletes Archives | Other Archives | Football Forum | Basketball Forum | Baseball Forum | NFL Football Store | NBA Basketball Store | MLB Baseball Store | NCAA Football Store | NCAA Basketball Store | NCAA Baseball Store | Fatheads | NFL Football Tickets | NBA Basketball Tickets | MLB Baseball Tickets | NCAA Football Tickets | NCAA Basketball Tickets | NCAA Baseball Tickets |
---
Home Page
About Us | Contact Us | Site Search | Advertise | Terms of Use |
---