Case for NBA Contraction
Should the NBA Slim Down?
As many avid sports fans know, the NBA is increasingly likely to experience a lockout next year. Despite their understanding of the devastating consequences of a lockout on the popularity of their sport (the NBA has still not recovered from its 1998-1999 season lockout and is less popular and profitable than it was a decade ago) neither league officials nor NBA players seem truly willing to compromise. It is possible that the entire 2010-2011 NBA season will be lost.
The root of the problem is economic: as much as NBA officials would like to avoid a devastating work stoppage, the current collective bargaining agreement is simply unsustainable because teams lose too much money. NBA players dispute the league's accounting numbers and suggest that owner's losses are less than advertised but the fact remains that more than half of NBA franchises either lose money or break even and, according to Hoops Hype, five teams lost over ten million dollars in 2009-2010.
However, the crux of the issue is blame. NBA officials would like to blame all of these losses on the collective bargaining agreement and, more specifically, on the fact that players are guaranteed nearly sixty percent of pre-tax league revenue. Although this is clearly a major contributor to the league's financial insolvency and any future collective bargaining agreement will need to reduce guaranteed player percentages (and therefore salaries), league officials are dead wrong if they believe that just reducing player salaries will fix the NBA's problems and return it to perpetual profitability.
Shopping for a Kevin Durant Jersey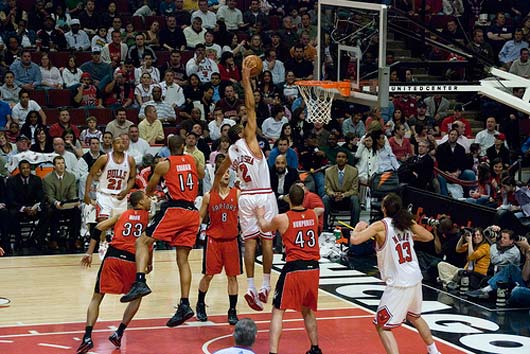 Bulls vs. Raptors Sefolosha Dunk.
Thanks to Chad Horwedel at flickr.com for this photo.
---
The hard reality-and it is one that league officials do not wish to admit-is that the NBA has several other major problems that slice into its profit margins and contribute to growing disinterest in the sport. The NBA has too many teams in too many bad markets and its players and talent are too thinned out amongst various squads. These cheap, weak, bad market teams survive on revenue sharing, cut into the profits of stronger teams and reduce their spending ability, and have caused the actual quality of NBA teams to drop over the last decade. If you watch the NBA and judge it without considering fiscal issues-as most fans do-the one thing you will certainly notice is that the league's growing number of teams and efforts to increase parity have diluted the talent concentrations on each squad. This has led to a commitment to mediocrity by a number of low-budget weak market teams and their fan bases have eroded. Simply put, the games are worse than they used to be and the fans know it.
Looking for a Russell Westbrook Jersey
The best solution to the problem is to downsize the NBA. Though it sounds radical and legally impossible, the NBA actually has the ability to eliminate bad market franchises that have been unable or unwilling to compete, lost money for several years, and weighed the league down through revenue sharing and profits from staying under the luxury tax. By my count there are eight teams-the Raptors, Kings, Grizzlies, Hornets, Bobcats, Hawks, and Timberwolves-that combine a bad market, monetary losses, and bad performance in recent years. If these teams were axed it would do wonders for the league. As General Motors learned recently, bigger is not always better: companies that slim down and keep their most profitable components survive in the long run.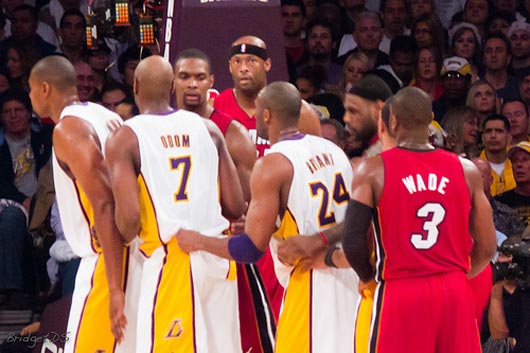 Lakers vs. Heat at December, 2010 in Dowtown Carrier Annex, Los Angeles.
Thanks to bridgetds at flickr.com for this photo.
---
Here's our Tyreke Evans Jersey
What would an eight team reduction do for the league? First, it would eliminate nearly all the teams that have lost money each of the last few years, instantly changing the NBA from an organization losing hundreds of millions overall to a profitable one with nearly all teams either making money or breaking even. More importantly, it would also serve to increase interest in the sport and facilitate long term growth: the players from those eight teams would be redistributed throughout the league and solve the talent dilution problem and the matchups would improve. Instead of seeing "Lakers vs. Grizzlies" or Bulls vs. Raptors half the time, viewers would be able to watch "Lakers vs. Heat" or "Bulls vs. Celtics" more often. If the teams were stronger and the matchups were better, interest in basketball would inevitably rise nation-wide and, combined with increased profitability gained by jettisoning dead weight; these changes would make the NBA profitable for decades to come.
---
What do you think?

We'd love to hear your comments and/or opinions. If you submit them here, other visitors can read them, rate them and comment on them. An e-mail address is not required.
What Other Visitors Have Said
Click below to see contributions from other visitors to this page...

The sense in NBA contraction Not rated yet
Contraction of the NBA, as I see it, is common sense given two of the mast basic and distinctive features of basketball as a sport: 1) Basketball, because …
---
From Case for NBA Contraction to NBA Basketball Blog | Sports Blog | NFL Football Blog | NCAA Football Blog | NFL Football Archives | College Football Archives | MLB Baseball Blog | College Baseball Blog | MLB Baseball Archives | NCAA Basketball Blog | NBA Basketball Archives | NCAA Basketball Archives | Fantasy Football | Fantasy Basketball | Fantasy Baseball | Soccer Archives | Olympics Archives | Stupid Athletes Archives | Other Archives | Football Forum | Basketball Forum | Baseball Forum | NFL Football Store | NBA Basketball Store | MLB Baseball Store | NCAA Football Store | NCAA Basketball Store | NCAA Baseball Store | Fatheads | NFL Football Tickets | NBA Basketball Tickets | MLB Baseball Tickets | NCAA Football Tickets | NCAA Basketball Tickets | NCAA Baseball Tickets |
---
Home Page
About Us | Contact Us | Site Search | Advertise | Terms of Use |
---