Can Football Survive the Debate over Brain Injuries
Introducing football: America's most popular sport. Its traditional rivals, basketball and baseball, are distant…at best. Football is without peer, a sport with only one threat, which comes from the game itself: head trauma. A ten year football career is a ticket to debilitating brain function later in life, according to recent scientific research, and the repercussions of those revelations will change who plays the game.
The central question is: how will football change as research shows ever more definitively that it damages players' brains? Right now, we are only at the tip of that discussion's iceberg: we are just beginning to understand how concussions affect players. Former players, now in their 40s, are beginning to show signs of mid-life debilitation and, as those symptoms grow worse, and our understanding increases, this debate will crystallize. Two possible scenarios will emerge: one, the American public will be turned off by the gruesome damage the sport causes and it will become a cult phenomenon or, two, its popularity will decrease but the players will become increasingly detached from fans. Scenario two is already happening: the "football player" demographic in changing from all types of Americans to mostly poor minorities.
Fifty years ago, football was dominated by white college students playing at prestigious institutions like Army, Michigan, and Notre Dame. The game's players were considered the epitome of the American male and most American kids either played or aspired to play the game at some level. Anyone who has seen the movie Rudy is familiar with this ancient, long lost, version of a football team: scholar athletes who were from a similar background and demographic as the fans watching them in the stands. Today, while some affluent and middle class kids still play football, parents are increasingly aware of the injury risk and switching their kids from the Pop Warner football they played as kids into other, less dangerous sports. Now, football is dominated by highly athletic players from poor backgrounds who often have little in common with many of the fans watching in their living rooms. Long term, that is very dangerous for football.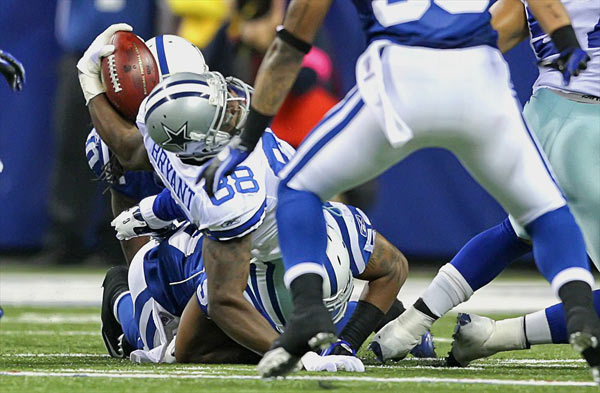 Dallas Cowboys running back Felix Jones (28) is endures a season ending injury as he is tackled from behind by Indianapolis Colts linebacker Kavell Conner (53) in game action. The Dallas Cowboys defeated the Indianapolis Colts by the score of 38-35 at Lucas Oil Stadium in Indianapolis, IN.
---
What will happen when and if the only kids playing football are disadvantaged athletes looking for a way out of their circumstances? Will the sport that captured America's imagination and has long represented the ideal American male still hold sway over the public? Or, will it become detached from its fan base; an outdoor version of basketball dominated by incredible athletes that is closer to the gladiatorial spectacles of Roman times than the turf battles of the original game?
---
What do you think?
We'd love to hear your comments and/or opinions. If you submit them here, other visitors can read them, rate them and comment on them. An e-mail address is not required.
---
From Can Football Survive the Debate over Brain Injuries to NFL Football Blog | Sports Blog | NCAA Football Blog | NFL Football Archives | College Football Archives | MLB Baseball Blog | College Baseball Blog | MLB Baseball Archives | NBA Basketball Blog | NCAA Basketball Blog | NBA Basketball Archives | NCAA Basketball Archives | Fantasy Football | Fantasy Basketball | Fantasy Baseball | Soccer Archives | Olympics Archives | Stupid Athletes Archives | Other Archives | Football Forum | Basketball Forum | Baseball Forum | NFL Football Store | NBA Basketball Store | MLB Baseball Store | NCAA Football Store | NCAA Basketball Store | NCAA Baseball Store | Fatheads | NFL Football Tickets | NBA Basketball Tickets | MLB Baseball Tickets | NCAA Football Tickets | NCAA Basketball Tickets | NCAA Baseball Tickets |
---
Home Page
About Us | Contact Us | Site Search | Advertise | Terms of Use |
---