Brawling in Boston
The Jets-Patriots tilt on Thursday night was, for the most part, a fairly uninspired affair. This isn't uncommon for the Thursday night game – with a short practice week, teams can look sloppy and unprepared. The Patriots didn't even bother to run a full practice leading up to the game. The rain in the second half didn't help the crispness of the game, either.
The Patriots couldn't run the ball – Stevan Ridley only got 40 yards on 16 carries – and they couldn't throw the ball – Tom Brady was only 19-for-39, thanks by a ton of drops, especially by Aaron Dobson. That left the game wide open for the taking by the Jets, who simply could not take advantage. Geno Smith threw three fourth-quarter interceptions, including one with 38 seconds left to go to seal New England's victory. All in all, a bit closer than expected, but nothing earth-shattering.

However, as Aqib Talib danced and darted around the field after the final interception, he was clobbered low by Nick Mangold out of bounds, triggering a scrum between players from both teams.

Talib should have just gone to the ground – the game was over as soon as he caught the ball, and the only thing that could have possibly happened would have been a fumble bringing the Jets back into the game – ask Lavonte David what happens when you give the Jets an extra chance. That being said, it doesn't excuse Mangold's hit, which was low, below the knees, and came as Talib was going out of bounds. Was it dirty? That's harder to say. Talib was in bounds when Mangold left his feet, and after the game, he didn't see anything wrong with the play, saying that it was a good tackle.

Patriots coach Bill Belichick didn't agree, and had some words for Mangold in the chaotic scene that ensued.

"He got heated about it," Mangold said. "I was a little surprised by that. I figured he'd have a little bit more poise, but obviously an intense game, an intense rivalry and tempers flare."

It's not the first time knees have been targeted this year – Dustin Keller's season was ended on a low hit from DJ Swearinger, who blamed it on the league's anti-concussion policies, saying that "in this league, you have to go – if you go high, you're going to get a fine. "Cut tackles and blocks like Mangold's have been under some scrutiny recently; in the 49ers-Vikings preseason game, Kevin Williams was injured when Joe Looney blocked him low.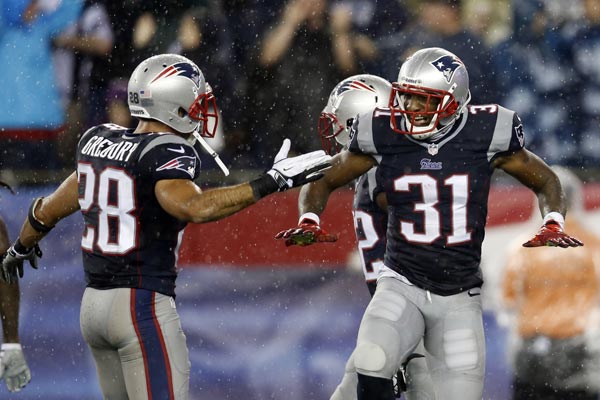 Was Mangold's hit dirty? I think that might be going a step far – calling something dirty involves a certain level of intent, and if Talib stays where he was when Mangold leaves his feet, the hit ends up above the knees. That being said, a fine seems perfectly reasonable, as the tackle was certainly ill-advised and could have seriously injured Talib for no reason – with Talib pinned on the sideline, he could have simply been run out of bounds, or tackled three steps later. Erring on the side of safety is always the right call, especially in the modern NFL.

Dirty, ill-advised, or just playing hard, the hit drew a huge scrum on the sideline, and that's where frustrations boiled over. D'Brickashaw Ferguson was ejected for throwinga punch, and Willie Colon was tossed for making contact with an official.

"I don't really remember the details of what happened; I just know that at the end of the day I was ejected," said Ferguson. "It was just a lot of frustration today and we didn't really have the result we were looking for."

"I lost my temper," Colon said." I lost my cool out there and we can't have it. It hurts your team and I know better, so it is my fault."

To me, these incidents are worse than Mangold's hit. No matter how much you try to legislate against it, football is going to involve large men trying to knock other large men down, and sometimes, injuries will happen. You have to make split-second decisions, and while you need to make better choices than Mangold did, or Clay Matthews did on his hit against Colin Kaepernick, the hits are attempts at tackling a player with the football, which is sort of the job description. Bad plays, foolish plays – but plays, notwithstanding.

Throwing a punch in a scrum after the play is over, though? Shoving an official to the ground? These sorts of extra-curricular activities don't have an excuse. A bad tackle can be explained as a bad decision in an attempt to help your team win; when you start throwing punches, that excuse flies out the window.

In fact, they may seriously harm the Jets in their upcoming game. Mangold, Colon, and Ferguson are 3/5ths of the Jets starting offensive line, and all three face hefty fines and possible suspension for their actions in the closing seconds of Thursday's game. It's important to note that an ejection does not equal an automatic suspension in the NFL, nor does Mangold's personal foul seem likely to bring anything more than a significant hit in the wallet – see Matthews' punishment for his hit on Kaepernick.

However, Colon and Ferguson are much more likely to miss time. Earlier this year, Antonio Smith was suspended a game for swinging a helmet at Richie Incognito, and these incidents would seem to fall close to that. Missing either one of them, much less both, would be a significant blow for their home game against Buffalo, which could be eminently winnable, assuming their rookie quarterback has an intact offensive line to keep him upright and Mario Williams off his back.

Suspensions and fines are usually levied on the Thursday after games, though this having happened on a Thursday night might alter that schedule somewhat. The Jets can only sit and hope that they get off easy on this one.


What do you think?
We'd love to hear your comments and/or opinions. If you submit them here, other visitors can read them, rate them and comment on them. An e-mail address is not required.