Blackhawks vs. Red Wings: One Last Time
By Jason Fryer

The Blackhawks and Red Wings will face off Wednesday night for the final time as Western Conference Rivals.

Hockey Town vs. the Madhouse on Madison.One last time to see who advances to the Western Conference Finals. IT DOESN'T GET BETTER THAN THAT.
Below, I will show you why this is more than just a ordinary game 7, along with who to watch  and lastly who I feel will advance to the Western Conference Finals.




So why is this game 7 so significant?

Ok I have to state the obvious, ITS GAME 7! There's nothing better than this in sports.


The two teams won't ever meet again as Western Conference foes

   3. Its Chicago vs. Detroit
When I found out the Detroit Red Wings would be taking their "talents" to the Eastern Conference before the start of the 2013-2014, I was disappointed because it would conclude one of best rivalries in not just hockey, but in all of sports. However, if this is the end of this original 6 rivalry, at least its ending on a high note. Growing up in Chicago as a diehard sports fans, your taught a few sports rules:

Cubs or White Sox (either team is find, just don't pick both)


Don't be intimated by New York sports teams (were called the second city for a reason)


Always detest the Green Bay Packers (I've been to a number of Bears/ Packers games and on the way to the stadium all you hear are the chants of "GREEN BAY SUCKS"


And learn the chant of "DETROIT SUCKS" for all their sports teams (as a life long Chicagoan, the opportunity to chant "DETROIT SUCKS" one last time is as good as it gets)

So this shows that normal game 7's are important but this one takes goes another notch up because of what's surrounding these two franchises going forward. As for this series, just like a most other series that go the full 7 games, we've seen one team take the early momentum (Red Wings won games 2-4) and then the other team comeback to force (Blackhawks won games 5 & 6) a win or game home game 7. 

Who/What should be watched in game 7:
- Jimmy Howard: In the NHL Playoffs, you can only go as far as your goaltender takes you and the effectiveness of Jimmy Howard has been the story throughout the Red Wings 2013 Playoffs. When Jimmy Howard is avoiding a great deal of shots on net and the Wings aren't involved in a high scoring games, they usually find a way to come out on top. Since the start of the 2013 postseason, the Red Wings are 2-6 when allowing 3 goals or  more to theiropponent but are 5-0 when allowing 2 goals or less so the name of the games for Howard and the Wings is to play a low scoring game.
 
Howard In Wins: 1.85 GA (Goals Against) and 31.8 SA (Shots Against)

Howard In Loses: 3.5 GA and 33.83 SA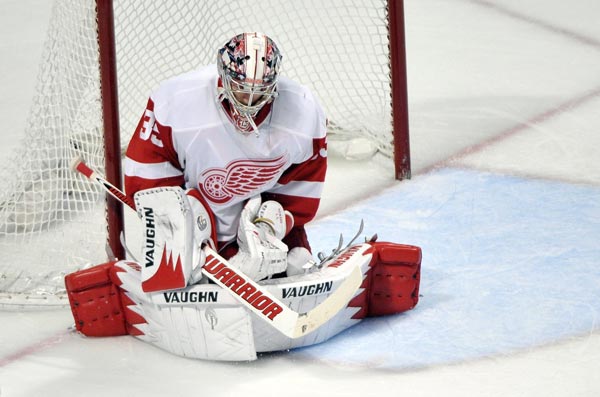 - Whoever Scores First: In game 7's, the tempo is always set once a team scores first as the pressure is heightened that much more for the team that starts from behind. In this series, the team that has scored first in this series has gone onto win 5 of the 6 games in this series (the lone exception was game 2 when Patrick Kane scored first but the Wings won 4-1 at the United Center).

- Jonathan Toews: Like most NHL teams, they go as their captain goes and their's nowhere more clear of this than in Chicago with Jonathan Toews. The former Olympic Champion (and best forward at the 2010 Olympic Games), Conn Smyth Winner, Stanley Cup Champion , and Selke Trophy Nominee has had an up and down Playoff to say the least. Toews got off to aslow start to the 2013 playoffs as he recorded just two assists in his first 9 playoff games along with having 3 penalties in a crucial game 4 loss at Joe Lewis Arena. Since his unusually bad preform in game 4, Toews has recorded a PPG (power play goal) and two assists two help the Hawks avoid elimination. In my opinion, the tone of Toews will tell how the Hawks willcome out in Game 7.

Prediction: Both the Blackhawks and Red Wings have been here before as both teams have been though a number of recent high intensity, win-or-go-home playoff games:

Red Wings: Won the 2008 Stanley Cup, lost game 7's to the Penguins (2009 Stanley Cup) & Sharks (2011 Western Conference Semifinals) and won their 2013 first round series in 7 on the road in Anaheim.

Blackhawks: Won the 2010 Stanley Cup, lost game 7 to the Canucks (2011 Western Conference Quarterfinals), and lost game 6 to the Phoenix Coyotes (2012 Western Conference Quarterfinals).

Detroit has received a great deal of help from their young and inexperienced 3rd, 4th lines (Damien Brunner, JoakimAndersson, Gustav Nyquist, Justin Abdelkader, and Cory Emmerton) and younger defense pairings (JakubKindl and Brendan Smith) throughout the 2013 Playoffs. The future of the Red Wings looks as bright as ever, however, with all that said, I still feel the depth, star power, and home ice will be too great for the Wings to handle:
 
3-1 Blackhawks


What do you think?

We'd love to hear your comments and/or opinions. If you submit them here, other visitors can read them, rate them and comment on them. An e-mail address is not required.