Best Player in the 2011 NFL Draft
Blaine Gabbert, QB Missouri
It's that time of year: NFL draft time. Well, it's coming soon at least; you can't blame me for getting excited about something football oriented that doesn't involve the words, "your honor I object!" In honor of the upcoming draft, The Best Sports Blog wanted to take a look at some of the top players available to be selected and where else to begin but with the best overall player in the 2011 NFL Draft: quarterback Blaine Gabbert out of Missouri.
Here's our Von Miller jersey
There is a lot of talk that Cam Newton will be selected first overall by the Carolina Panthers but any team that selects Newton with a top five overall pick will be taking a tremendous risk. Gabbert, by contrast, seems to be a much safer bet, though he is not without some serious potential flaws. But, let's look at THE POSITIVES:
See our Julio Jones jersey
Blaine Gabbert profiles as a potential franchise quarterback because of his rare combination of size, pocket passing ability, and underrated athleticism. He has prototypical height for an NFL starter and combines that height with real bulk and large frame capable of taking a sack. Gabbert also has a very strong arm and is capable of making throws all over the field with great accuracy. He combines that strength and accuracy with a very natural release that creates a tight spiral and does not take extra time in the pocket to release effectively. Gabbert also has scrambling ability and uses his size to make and extend plays but he does not depend on his athleticism the way Newton does, which makes it an underrated strength rather than a potential weakness. Finally, Gabbert also has poise in the pocket and is capable of managing games from the pocket, which is essential for a franchise leader at the quarterback position.
Shopping for a Blaine Gabbert jersey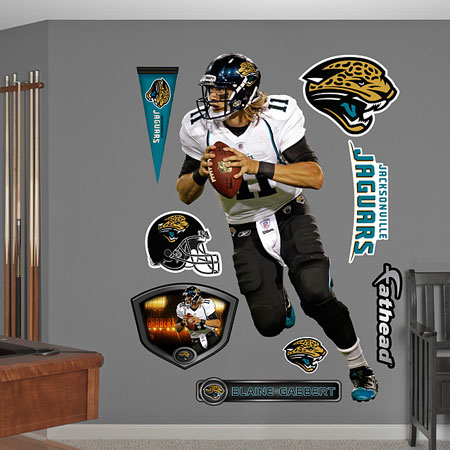 University of Missouri sophomore quarterback Blaine Gabbert (11) looks to throw the ball downfield in the first half of the U.S. Naval Academy vs. University of Missouri football game during the 2009 Texas Bowl at Reliant Stadium on Thursday December 31, 2009 in Houston, Texas. The U.S. Naval Academy won 35-13.
---
Gabbert's weaknesses have more to do with his experience than anything else. He played in a predominantly shotgun-based system at Missouri, which has limited his exposure to pro-style snaps. However, Gabbert played in a pro-style offense in high school and his throwing motion is quick enough to adjust well to the NFL's style of play. He needs to work on his pressure footwork and downfield accuracy but these are changes that an NFL coaching staff should be able to address. He also saw some of his production dwindle in 2011 as compared to his breakout 2010 season but this criticism may be overblown: he lost his elite receiving corps, future NFL star Jeremy Maclin included, to the 2010 NFL Draft and still led Missouri to ten wins and an impressive bowl berth. In fact, that level of execution throughout the season without elite receivers may be the best evidence of all that Gabbert is ready to step in and become the new franchise leader of an NFL team.
Other Top Quarterback Options
Cam Newton, Auburn
Ryan Mallett, Arkansas
Jake Locker, Washington
Christian Ponder, Florida State
Andy Dalton, TCU
---
What do you think?
We'd love to hear your comments and/or opinions. If you submit them here, other visitors can read them, rate them and comment on them. An e-mail address is not required.
---
From Best Player in the 2011 NFL Draft to NFL Football Blog | Sports Blog | NCAA Football Blog | NFL Football Archives | College Football Archives | MLB Baseball Blog | College Baseball Blog | MLB Baseball Archives | NBA Basketball Blog | NCAA Basketball Blog | NBA Basketball Archives | NCAA Basketball Archives | Fantasy Football | Fantasy Basketball | Fantasy Baseball | Soccer Archives | Olympics Archives | Stupid Athletes Archives | Other Archives | Football Forum | Basketball Forum | Baseball Forum | NFL Football Store | NBA Basketball Store | MLB Baseball Store | NCAA Football Store | NCAA Basketball Store | NCAA Baseball Store | Fatheads | NFL Football Tickets | NBA Basketball Tickets | MLB Baseball Tickets | NCAA Football Tickets | NCAA Basketball Tickets | NCAA Baseball Tickets |
---
Home Page
About Us | Contact Us | Site Search | Advertise | Terms of Use |
---