Best NFL Players of All Time
Offense:
Quarterback: Joe Montana (1979-1994)
San Francisco 49ers quarterback Joe Montana was an icon in the 1980s. The winner of four Superbowls in 1981, 1984, 1989, and 1990, Montana can to personify the "NFL quarterback." His regular season totals and records were impressive-eight Pro Bowl trips, the 1989 and 1990 AP NFL MVP awards, 40,500 yards, 273 receiving touchdowns, and a career quarterback rating of 92.3-but they don't tell the whole story. What elevated Montana over all other NFL quarterbacks-some of whom have superior career statistics-was his poise and unparalleled postseason play. He was the primary playmaker for four Superbowl winning teams and won three Superbowl MVP awards (1981, 1984, and 1989) and tops out this list.
Running Back: Jim Brown (1957-1965)
As a diehard Chicago Bears fan, I felt very tempted to pick Walter Payton. However, there is just no getting around the fact that Jim Brown remains the best running back to ever play the game. Brown played nine seasons (1957-1965) in the NFL. He was a Pro Bowl selection in all nine seasons (including his rookie year) and an All Pro in eight of them. He also won three NFL MVP awards (1957, 1958, and 1965) and dragged a mediocre Browns team to an NFL Championship victory in 1964 and is still the only running back to ever average over own hundred yards per game for his career. Read more about the Browns at the Cleveland Browns Report.
Wide Receiver: Jerry Rice (1985-2004)
Like his teammate Joe Montana, Jerry Rice came to define the prototypical NFL star receiver. Hardworking and mercurial, Rice never lost sight of his desire for greatness. He won three Superbowls with the San Francisco 49ers (1989, 1990, and 1994) and later lost a fourth with the Oakland Raiders in 2003. In addition to his outstanding postseason play, Rice also went to thirteen Pro Bowls (including eleven as an All Pro) and holds every major NFL receiving record to this day.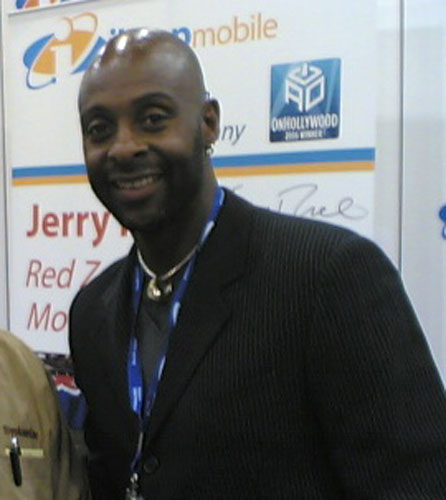 NFL legend Jerry Rice.
Thanks to GISuser.com at flickr.com for the picture.
---
Tight End: Tony Gonzalez (1997-Present)
Though he has yet to enjoy postseason success, Gonzalez is still the best tight end in NFL history. He was selected for the Pro Bowl for the first ten years of his career (and was robbed of an eleventh appearance) and holds every major passing record for a tight end. Perhaps the most impressive part of his career has been his ability to mentor Matt Ryan and the rising Falcons over the last few years. Perhaps they will bring him the postseason success he yearns to get the chance to earn.
Center: Mike Webster (1974-1990)
"Iron Mike" Webster is the definition of Steelers football. Gritty, tough, and formidable to the end, Webster led the greatest offensive line in NFL history. Webster himself went to nine Pro Bowls and his teams won four Superbowls in 1975, 1976, 1979, and 1980. Unsurprisingly, no offensive line has since approached the levels of talent and toughness displayed by Webster and his teammates.
Guard: Gene Upshaw (1967-1981)
The great Gene Upshaw played his entire career with the Raiders. Spending time in both Oakland and Los Angeles, he was part of the great Raiders teams that won two Superbowls in 1977 and 1981 and battled Chuck Noll's great Steelers dynasty. Upshaw personally went to six Pro Bowls and was beloved by other players, so much so, in fact, that they made him the head of the NFL Players Association after his playing days were over. He held the position until his death in 2008.
Tackle: Walter Jones (1997-2009)
There have been many, many great left tackles in NFL history. While Jones is only one of them, and never managed to win a Superbowl, his sheer consistency was what earned him this spot. From the day he was drafted until injuries broke him down in 2008, Jones was guaranteed money at the left tackle spot. There was no better blind side protector in the league.
Defense
Defensive End: Reggie White (1985-2000)
Reggie White is two things: the greatest defensive end ever and the greatest free agent acquisition of all time. White was a highly productive Pro Bowl defensive end for the Philadelphia Eagles from 1985-1992 but left for the Packers when he was low-balled. White thrived in Green Bay and was the leader of a defense that helped lead the Packers to two Superbowls-including a 1996 victory. White was consistently dominant and made the Pro Bowl every year except his rookie and final seasons and is the NFL's 2nd all time sack leader.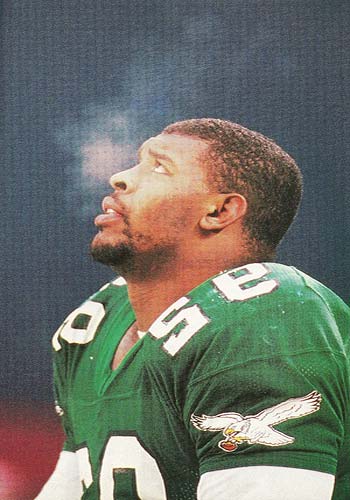 Pro Football Hall of Fame Reggie White.
Thanks to CoincidenceUNO at flickr.com for the picture.
---
Defensive Tackle: Warren Sapp (1995-2007)
Warren Sapp is my personal favorite player. I grew up watching him clog the middle for the Tampa Bay defense and wreak absolute havoc on opposing offenses. However, my personal bias shouldn't take away from this ranking: Sapp is clearly the most dominant defensive tackle ever. He had 96.5 sacks (an incredible total for a defensive tackle), was impossible to run on, and was a highly consistent performer.
Linebacker: Lawrence Taylor (1981-1993)
The original LT has been in the headlines for the wrong reasons lately but that shouldn't take away from his achievements on the field. The iconic Giants linebacker was the primary defensive playmaker on one of the best defensive teams in NFL history: the Giants of the late 1980s and early 1990s. Playing from 1981-1993, Taylor won two Superbowls with that group and was also a ten time Pro Bowl selection, nine-time All Pro, and the 1986 NFL MVP. He was the last defensive player to win that award, which continues to demonstrate his dominance to this day.
Cornerback: Mel Blount (1970-1983)
When you think of the "Iron Curtain" defense, you tend to think of the front seven. Linebackers Jack Ham and Jack Lambert certainly anchored an impressive group, but they wouldn't have been half as good without Pittsburg's shutdown secondary. That secondary was led by Mel Blout who remains the best corner to ever play the game. Blount's career accolades-five Pro Bowls and the 1975 Defensive Player of the Year-may not wow you but he was the best shutdown postseason corner of all time. That's why he as four rings on his fingers.
Safety: Ronnie Lott (1981-1995)
San Francisco 49ers safety Ronnie Lott is arguably history's most underrated Superstar. Joe Montana and Jerry Rice may have monopolized the highlight reel, but Lott was the glue in the best defense of the 1980s. He went to ten Pro Bowls, won four Superbowls (1981, 1984, 1989, and 1990) and held numerous defensive records and is a lock for this spot.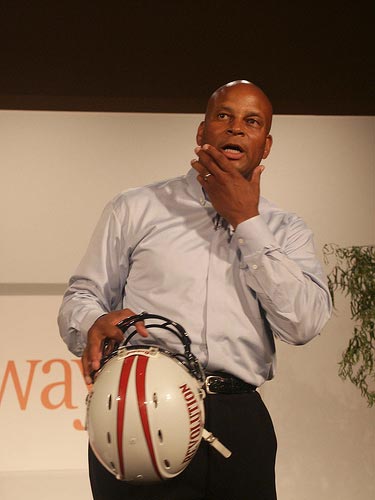 Former SF 49er Ronnie Lott.
Thanks to jdlasica at flickr.com for the picture.
---
---
What do you think?
We'd love to hear your comments and/or opinions. If you submit them here, other visitors can read them, rate them and comment on them. An e-mail address is not required.
---
From Best NFL Players of All Time to NFL Football Blog | Sports Blog | NCAA Football Blog | NFL Football Archives | College Football Archives | MLB Baseball Blog | College Baseball Blog | MLB Baseball Archives | NBA Basketball Blog | NCAA Basketball Blog | NBA Basketball Archives | NCAA Basketball Archives | Fantasy Football | Fantasy Basketball | Fantasy Baseball | Soccer Archives | Olympics Archives | Stupid Athletes Archives | Other Archives | Football Forum | Basketball Forum | Baseball Forum | NFL Football Store | NBA Basketball Store | MLB Baseball Store | NCAA Football Store | NCAA Basketball Store | NCAA Baseball Store | Fatheads | NFL Football Tickets | NBA Basketball Tickets | MLB Baseball Tickets | NCAA Football Tickets | NCAA Basketball Tickets | NCAA Baseball Tickets |
---
Home Page
About Us | Contact Us | Site Search | Advertise | Terms of Use |
---