Best NBA Players of All Time
Who are the Best NBA Basketball Players of All Time?
I grew up in Chicago during the "Jordan Era." Now, most cities don't name a historical era after a sports figure, even a prominent one. You don't hear about the "Urlacher era," the "Iverson era," or the "Malone era" too often. Nonetheless, the term "Jordan era" exists because Michael Jordan elevated himself to another level while winning six NBA championships: he became the greatest basketball player ever and quite possibly the greatest athlete who ever lived. So, knowing that, which other basketball greats were transcendent enough to be considered the best ever at their respective positions? Let's take a look:
Point Guard: Magic Johnson
In truth, Magic Johnson was never a pure point guard. He was 6' 9" and quite large, which meant he was capable of playing all five positions on the court. Indeed, he famously filled in for an injured Kareem and put up one of the most memorable Finals stats lines in NBA history: 42 points, 15 rebounds, 7 assists, and three steals as a center in a Game 6 win that carried the Lakers to the 1980 title. Such incredible versatility was the key to Magic's enduring greatness: he adapted his playing style to what his team needed at the time and was always capable of making his teammates better. Ultimately, this earned him five NBA titles in ten seasons (1980, 1982, 1985, 1987-88), three MVP awards (1987, 1989-1990), and twelve All Star berths as the most dominating player of the 1980s. He remains the only player who could conceivably challenge Michael Jordan's claim to the title of "Greatest Player of all Time."
Shopping for a Magic Johnson Jersey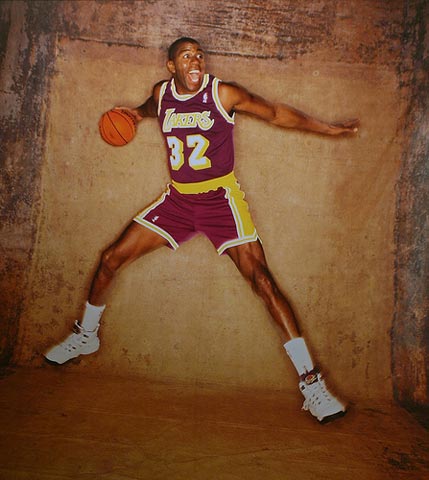 Earvin "Magic" Johnson, Inglewood, Calif.
Thanks to cliff1066 at flickr.com for this photo.
---
Shooting Guard: Michael Jordan
I grew up watching His Airness and, despite his managerial foibles, he remains my favorite sports figure. What made Jordan special was that he matched incandescent talent with a burning competitive fire that drove him to work harder than anyone else. There are a handful of players who have had Jordan's pure talent (Vince Carter and Tracy McGrady for example) but none have paired it with a similar work ethic (sorry Vince), winning attitude (sorry Tracy), or pure basketball acumen (sorry anyone else). Jordan knew every facet, angle, and nuance in the game of basketball and tailored his game to incorporate them all, which was why he won an MVP and an NBA title at 36 years old.
On top of all that, Jordan dominated his era of basketball like no other player. While Bird and Magic were winning titles in the 1980's, Jordan dazzled audiences but needed his supporting cast. He got them with the additions of Scottie Pippen and Horace Grant and the results were telling: six NBA titles (1991-3, 1996-8) in eight years (and he was retired in 1994 and most of 1995). When paired with his ten NBA scoring titles and five NBA MVPs, it creates a legacy that is unlikely to ever be eclipsed by any other basketball player.
Looking for a Michael Jordan Jersey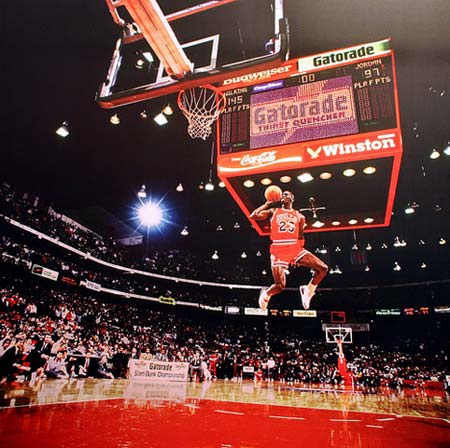 Michael Jordan.
Thanks to cliff1066 at flickr.com for this photo.
---
Small Forward: Larry Bird
LeBron James may be the most talented small forward to ever play the game but Basketball Jesus was the best. Larry Bird was an incredible talent to be sure but, like Jordan, he used his competitive fire and work ethic to drive his game to another level. A born scorer with the sweetest stroke in the game, Bird developed the ability to drive to the hoop and perfected the dish out assist. As a result, he was essentially un-defendable in his prime and won three NBA titles (1981, 1984, 1986) and three NBA MVP awards (194-1986) in his prime. Only his back problems and the unexpected death of future complimentary star Len Bias kept Bird from winning championships well into the 1990s.
Ultimately, however, Bird's legacy is tied up in his rivalry with Magic Johnson. The two electrified basketball in the 1980s and basketball has not enjoyed a remotely similar rivalry since. It is this rivalry element and the associated competitive greatness that has been missing from the game, which is why LeBron James' decision to go to Miami is so tragic for basketball: he robbed fans of their chance for the next great rivalry.
Visit Larry Bird Jersey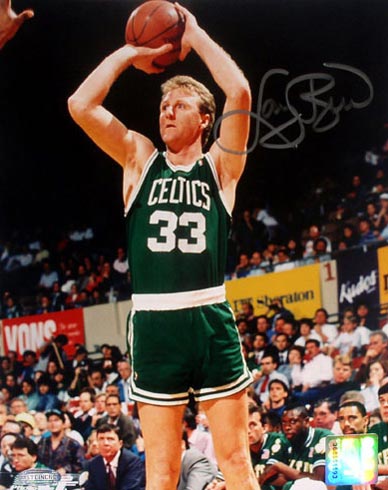 Larry Bird.
Thanks to locationscout at flickr.com for this photo.
---
Power Forward: Tim Duncan
Tim Duncan, the combo power forward-center star of the San Antonio Spurs, is unquestionably the best power forward of all time. His statistical contributions on both ends of the floor remain exceptional and, unlike many of his peers, he has proven himself to be a selfless leader and peerless winner. His next best competitor at the position, Karl Malone, was a weaker defender who never managed to win an NBA title. In an era of overpaid stars, glossy magazine covers, and monetary obsession, Tim Duncan has been committed to one thing: winning titles. That commitment has led to four NBA championships (1999, 2003, 2005, 2007) and counting and will enhance Tim Duncan's legacy compared to his peers for years to come.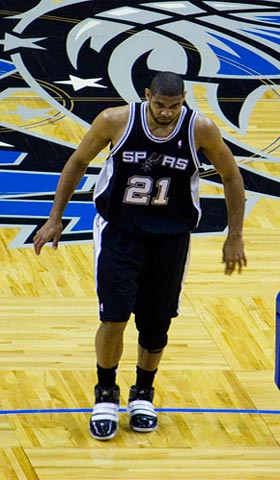 Tim Duncan, San Antonio Spurs, 2010.
Thanks to RMTip21 at flickr.com for this photo.
---
Center: Kareem Abdul Jabbar
As some avid fans might notice (and hopefully comment on), I decided to avoid the Wilt Chamberlain-Bill Russell debate by selecting neither for this spot. However, that's because I genuinely feel neither deserve it for two distinct reasons. First, the 1970s NBA was not nearly as competitive as today's NBA because the 1976 NBA-ABA merger and subsequent 1980s talent infusion changed the game forever. Players are now faster, stronger, more athletic finely tuned machines and stars from earlier eras would never put up their stats in today's game. Hall of Fame center George Mikan dominated the 1950s and early 1960s; please raise your hands if you think he could even start in 2010?
Here's an article about Kareem Abdul Jabbar Jersey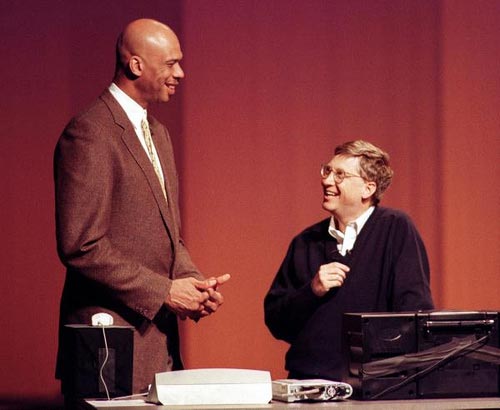 Kareem Abdul Jabbar and Bill Gates.
Thanks to iccsports at flickr.com for this photo.
---
Of course, Bill Russell and Wilt Chamberlain were both better than George Mikan. Indeed, they were part of the avant garde group of athletes who changed the speed and size of the game. With that said, both would be hard pressed to truly star in today's league based on the average height, size, and speed of player's from their era as compared to today's. By contrast, Kareem Abdul Jabbar played through the 1976 merger and remained dominant throughout the explosive 1980s era of basketball. He dragged a weak Milwaukee Bucks team to the 1971 title and later won five more with the Lakers as Magic Johnson's 1980s costar. In the process, he won a record six NBA MVP awards (1971-2, 1974, 1976-7, 1980), was a nineteen time All Star, and became the all time NBA scoring champion.
Here's an article about Wilt Chamberlain Jersey
So, those are my picks. I think these players all rose above the rest and dominated at their respective positions. Of course, the best part about all time lists is the debate that comes with them so I would love to hear everyone's comments, ideas, and suggestions. If you disagree, let me know and let's duke it out…through comment boxes of course.
---
What do you think?

We'd love to hear your comments and/or opinions. If you submit them here, other visitors can read them, rate them and comment on them. An e-mail address is not required.
---
From Best NBA Players of All Time to NBA Basketball Blog | Sports Blog | NFL Football Blog | NCAA Football Blog | NFL Football Archives | College Football Archives | MLB Baseball Blog | College Baseball Blog | MLB Baseball Archives | NCAA Basketball Blog | NBA Basketball Archives | NCAA Basketball Archives | Fantasy Football | Fantasy Basketball | Fantasy Baseball | Soccer Archives | Olympics Archives | Stupid Athletes Archives | Other Archives | Football Forum | Basketball Forum | Baseball Forum | NFL Football Store | NBA Basketball Store | MLB Baseball Store | NCAA Football Store | NCAA Basketball Store | NCAA Baseball Store | Fatheads | NFL Football Tickets | NBA Basketball Tickets | MLB Baseball Tickets | NCAA Football Tickets | NCAA Basketball Tickets | NCAA Baseball Tickets |
---
Home Page
About Us | Contact Us | Site Search | Advertise | Terms of Use |
---