Best Current NFL Players
Football is as big as it has ever been. Baseball may once have been "Americas' Pastime" but now Americans gather to watch football every Sunday. The games' level of talent has also risen and now there are truly elite players at every position on a number of teams. Let's take a look at the leagues very best.
Offense:
Quarterback: Tom Brady (2000-Present)
The Brady-Manning debate rages on. Manning has superior career statistics but Brady has delivered when it matters: the playoffs and the Superbowl. As a three time Superbowl-winning quarterback (2002, 2003, 2004) and the leader of a near-miss 18-1 team in 2007, Brady dominated the last decade. Moreover, whereas Manning and his Colts began to slip this season, Brady is playing like an MVP and leading his team on another Superbowl run.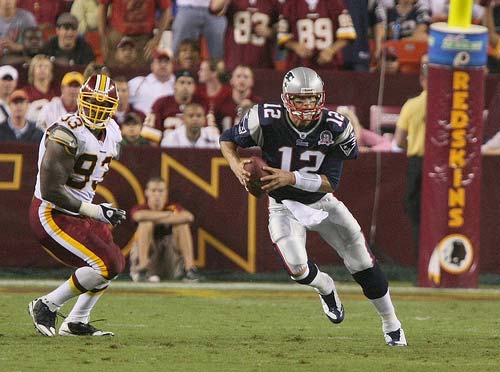 Tom Brady #12 of the New England Patriots in action during a preseason game against the Washington Redskins at FedExField.
Thanks to Keith Allison at flickr.com for the picture.
---
Running Back: Adrian Peterson (2007-Present)
No disrespect to Chris Johnson but AP remains the best running back in the game. Dominant since he first touched the ball in his rookie season, Peterson has been to three Pro Bowls and came within one game of the Superbowl last season. He is also only 25 so he should remain the leagues' top back for years.
Wide Receiver: Andre Johnson (2003-Present)
Gunning for his third straight 1500+ yard season, Andre Johnson is the most dominating pass-catcher on the field today. Though he has yet to enjoy any postseason success, Johnson has been to four Pro Bowls and led the league in yards and receptions since 2008. All in all, he may be the most talented receiver in the NFL since Jerry Rice.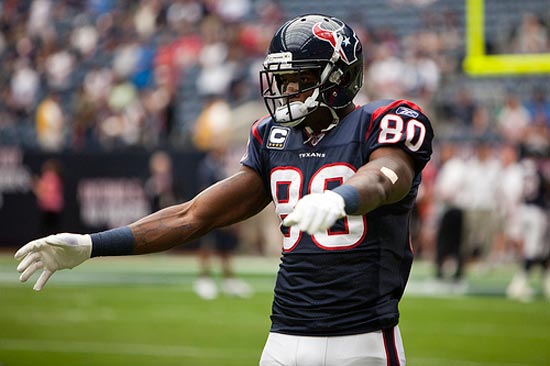 Andre Johnson at Reliant Stadium. Houston, Tx.
Thanks to AJ Guel at flickr.com for the picture.
---
Tight End: Antonio Gates (2003-Present)
Philip River's best receiving option remains the top tight end in the game. With Hall of Famer Tony Gonzalez entering a slow decline and the next generation's crop (Aaron Hernandez, Tony Moeaki, Vernon Davis) still young, Gates is the best at his position. He has been to six Pro Bowls and twice come close to the Superbowl but his injuries have limited him time and time again when the season has been on the line.
Center: Nick Mangold (2006-Present)
Since being drafted in 2006, Mangold has anchored the Jets offensive line. In recent years, the Jets line has become the best in the league and Mangold deserves a lot of the credit. He led the way last season when the Jets pounded their way to the AFC Championship Game and, at 26, has barely entered his prime.
Guard: Jahri Evans (2006-Present)
Jahri Evans emerged as the NFL's best guard in 2009. He was part of the Saint's impressive run to a Superbowl title and was critical to the Saint's capable running game and elite pass protection. Evans remains the team's best blocker and, as the Saints have quietly worked their way into contention this season, honed all facets of his game.
Tackle: Jake Long (2008-Present)
This University of Michigan product was the 1st overall pick of the 2008 draft. A surefire prospect, Long has not disappointed. He was an elite left tackle from the first game of his rookie season and has stayed at that level. Even though the Dolphins have disappointed this season, Long has maintained his level of play and will be ready to protect whoever is under center in 2011.
Defense:
Defensive End: Julius Peppers (2002-Present)
Five-time Pro Bowler Julius Peppers is one of the game's best known defensive players yet few fans would call him the best defensive end in the game. However, that is changing: since coming to the Chicago Bears in free agency, Peppers has been allowed to show his versatility and it has paid off well for his team. The Bears are now a top three defense in the NFL again and much of that is due to Pepper's contributions. He is very tall, extremely athletic (especially for a defensive end), bats down passes with ease, and can line up on both sides of the defensive front on demand. No other defensive end can do that, which makes Peppers the best impact player at his position today.
Defensive Tackle: Vince Wilfork (2004-Present)
Even though he plays for the Patriots, Wilfork's incredible contributions sometimes seem to go unnoticed. Despite being the anchor of a defense that has won ten games every season he has played and came within two minutes of a Superbowl championship, Wilfork has been selected to only two Pro Bowls (2007 and 2009) and never been an All Pro. Consider this: the average Patriots defender's age this season is 24 (the team is also starting several rookies) yet Wilfork has led that defense to an 11-2 start alongside Tom Brady's humming offense. The Patriots seem to have finally recognized his value: they locked him up in a massive offseason deal and he should man the center of their defensive front for years to come.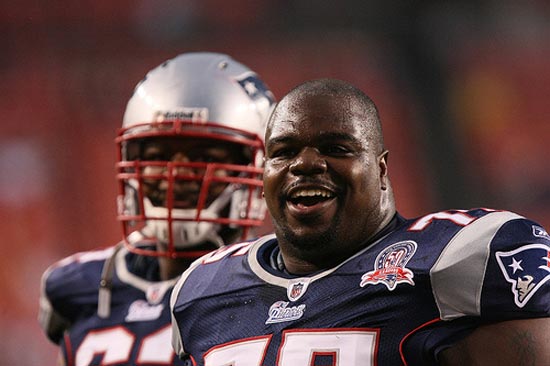 Defensive Tackle Vince Wilfork.
Thanks to Keith Allison at flickr.com for the picture.
---
Linebacker: Patrick Willis (2007-Present)
The 49ers may be perennially disappointing nowadays, but that shouldn't take away from their middle linebacker's incredible NFL achievements. Since being selected eleventh overall in 2007, Willis has earned the 2007 NFL Defensive Rookie of the Year Award, been selected to three Pro Bowls and two All Pro berths, and captained a maturing 49ers defense. Best of all: he's only 25.
Cornerback: Nnamdi Asomugha (2003-Present)
I'm betting that many readers would put Darrelle Revis in this spot. While Revis is an exceptional cover corner and "Revis Island" is aptly named, I think Asomugha remains the best corner in the game. The Raiders' star defender has been selected for three Pro Bowls but doesn't put up great statistics-few interceptions, balls batted down, and the like-but that is because he is almost never targeted. Whereas Revis Island has had a few breakouts, so to speak, even elite quarterbacks tend to avoid their top wide receivers when Asomugha is handling the coverage. That kind of treatment says it all.
Safety: Troy Polamalu (2003-Present)
Steelers star Troy Polamalu isn't just the best safety in the league; he is the best defensive player in all of football. How do I know? When Polamalu is on the field, the Steelers are the league's best defense. Opponents have averaged less than fifteen points against them in games that Polamalu plays but, as the Steeler's proved last season, they are a totally different group without him. That's because he is unlike any other safety in the game: he plays all over the field, covers the middle like a shutdown corner, and tackles like a linebacker. He remains one of the leagues' most underrated players but that is not to say he hasn't received any recognition for his accomplishments: he has won two Superbowls (2006 and 2008) and been selected to five Pro Bowls in seven seasons.
---
---
What do you think?
We'd love to hear your comments and/or opinions. If you submit them here, other visitors can read them, rate them and comment on them. An e-mail address is not required.
---
From Best Current NFL Players to NFL Football Blog | Sports Blog | NCAA Football Blog | NFL Football Archives | College Football Archives | MLB Baseball Blog | College Baseball Blog | MLB Baseball Archives | NBA Basketball Blog | NCAA Basketball Blog | NBA Basketball Archives | NCAA Basketball Archives | Fantasy Football | Fantasy Basketball | Fantasy Baseball | Soccer Archives | Olympics Archives | Stupid Athletes Archives | Other Archives | Football Forum | Basketball Forum | Baseball Forum | NFL Football Store | NBA Basketball Store | MLB Baseball Store | NCAA Football Store | NCAA Basketball Store | NCAA Baseball Store | Fatheads | NFL Football Tickets | NBA Basketball Tickets | MLB Baseball Tickets | NCAA Football Tickets | NCAA Basketball Tickets | NCAA Baseball Tickets |
---
Home Page
About Us | Contact Us | Site Search | Advertise | Terms of Use |
---