Best and Worst Run Organizations in the NBA
This article looks at NBA franchises and rates the five best and five worst run franchises in the league based on a 50 point scoring scale. The scale is divided as follows: 10 pts for franchise profitability, 10 pts for drafting over the last three years, 10 pts for team performance the last three years, 10 points for franchise popularity and fan interest, and 10 pts for the current roster (listed in that order within the brackets). The article will begin by listing the scores for each team then will provide some detail on the best and the worst. These rankings will also be updated periodically based on league moves in order to maintain their accuracy.
The Scores:
Los Angeles Lakers: 48 (10,9,10,10,9)
Since their 2008 theft of Pau Gasol, the Lakers have taken the Spurs place as the best run and best performing organization in the league. Los Angeles' darlings have been to the last three finals, won the last two, and tweaked their roster this summer (acquiring Steve Blake and Matt Barnes) to contend for a three-peat. The Lakers also have the best profitability ratings and fan loyalty in the league and are the brand that defines NBA basketball.
Boston Celtics: 40 (7,9,9,9,7)
The Celtics 2008 trades to acquire Ray Allen and Kevin Garnett capitulated Boston to the pinnacle of the NBA again for the first time since the late 1980s. The Celtics won an NBA title in 2008, lost in the 2010 finals, and look set to contend this year as well. Moreover, the Celtics remain a top five NBA market and are one of the most marketable brands in the NBA. What holds the Celtics back is the age of their roster: the team has a two or three year window of contention but will then be forced to rebuild.
Boston Celtics Big 3 Paul Pierce, Kevin Garnett, and Ray Allen.
Thanks to Keith Allison at flickr.com for the picture.
---
Chicago Bulls: 40 (10,8,5,9,8)
The Bulls catapulted themselves into the top five on this list with an excellent summer. Always at the top of the NBA in terms of profitability, market share, and brand recognition, the Bulls struck out on LeBron and Co. but, unlike other teams, masterfully managed to reposition themselves and revamp their roster by acquiring PF Carlos Boozer, SF Kyle Korver, SG Ronnie Brewer, PG C.J. Watson, and defensive guru Tom Thibodeau as head coach. In many ways, the Bulls should resemble a younger, more talented, and deeper version of last year's Utah Jazz with the potential to win it all based on what could be the top defense in the league.
San Antonio Spurs: 37 (8,8,7,7,7)
Perennially rated as the NBA's best run organization, the Spurs have slipped a bit recently as their Parker-Ginobli-Duncan core has both aged and become increasingly prone to injury. Though the Spurs remain a contender and are still a profitable organization that always gets value in the draft, they have been unable to obtain a top notch late round talent like Parker or Ginobli in recent years. It is possible that recent import Tiago Splitter and last year's pick George Hill will step up and halt the Spurs decline but that remains to be seen.
Miami Heat: 37 (7,5,6,9,10)
The epitome of mediocrity since their 2006 championship, the Heat improved in a major way this offseason with the acquisition of PF Chris Bosh and superstar LeBron James. As distasteful as those player's decisions to combine their talents rather than try to win independently was, their move to the Heat makes Miami a top team in the East, an instant title contender, and a highly marketable brand. Credit must also be given to Pat Riley, the Heat mastermind who began orchestrating the summer of 2010 with his 2008 trade of Shaquille O'Neal for Shawn Marion. Ultimately, time will tell how successful the Heat trio will be, but for the moment Riley's offseason coup looks like a master stroke that will dramatically alter the balance of power in the league.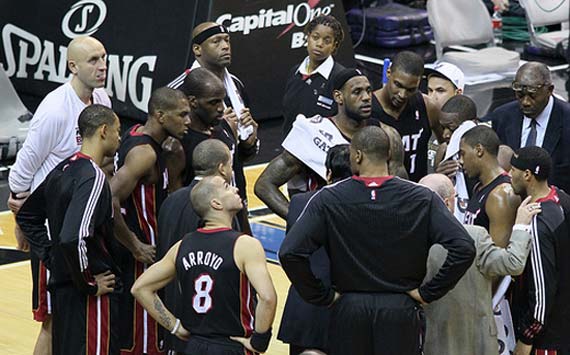 The 2010-11 Miami Heat team and coaches during a timeout against the Washington Wizards.
Thanks to Keith Allison at flickr.com for the picture.
---
Dallas Mavericks: 35 (6,6,7,8,8)
Houston Rockets: 33 (7,7,6,7,6)
Orlando Magic: 34 (4,6,8,8,8)
Oklahoma City Thunder: 33 (5,9,5,7,7)
Utah Jazz: 30 (4,6,7,7,6)
Phoenix Suns: 29 (5,5,7,6,6)
Milwaukee Bucks: 29 (4,8,4,6,7)
Denver Nuggets: 29 (5,6,7,5,6)
Portland Trail Blazers: 26 (0,7,7,5,7)
New York Knicks: 26 (7,4,3,7,5)
Atlanta Hawks: 25 (2,7,7,2,7)
Golden State Warriors: 25 (5,6,3,6,5)
Detroit Pistons: 25 (6,6,5,4,4)
Washington Wizards: 25 (6,6,2,7,4)
New Orleans Hornets: 24 (3,5,6,4,6)
Sacramento Kings: 24 (2,9,3,4,5)
Cleveland Cavaliers: 23 (4,4,8,5,2)
Philadelphia 76ers: 23 (4,6,4,5,4)
Indiana Pacers: 22 (3,8,3,3,5)
Los Angeles Clippers: 20 (4,6,2,2,6)
Memphis Grizzlies: 18 (3,5,3,3,4)
The Grizzlies made important strides on the court in 2009-2010, posting a record over .500 for the first time in recent memory and contending for a fringe playoff spot. Nonetheless, the team's young core is not talented enough to contend in the west, fan interest remains sporadic at best, and the franchises' management and financial woes are well documented and unlikely to change in the near future.
Toronto Raptors: 17 (3,5,5,2,2)
Toronto took a massive hit with the departure of Chris Bosh in free agency this summer, but the franchise was not exactly in a good position to begin with. Burdened by mediocre drafting and bad contracts (Leandro Barbosa anymore?), the team does not have the talent to contend anytime soon, continues to lose money and fan interest, and will be in rebuilding mode for several years.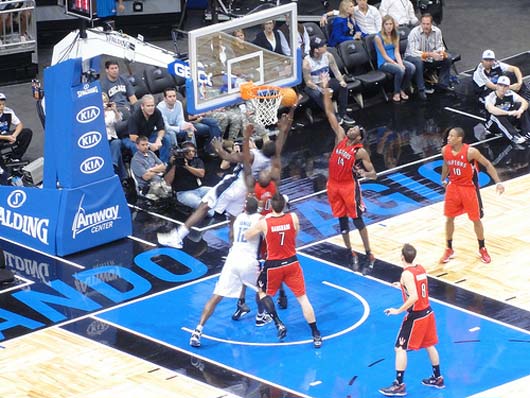 Orlando Magic v.s. Toronto Raptors November, 2010 at Amway Center.
Thanks to inazakira at flickr.com for the picture.
---
New Jersey Nets: 17 (4,6,1,3,3)
The Nets future looked exceptionally bright in May with a new owner (Mikhail Prokhorov) taking the reins, lots of cap room, and highly anticipated move to Brooklyn coming in two years. However, the team struck out in free agency and handed out overvalued contracts (Travis Outlaw for 5 years; 35 million and Johan Petro for 3 years; 10 million), which will cut into their cap room next summer and, unfortunately, boost their on-court performance just enough for them to lose out on a top 3 talent in the 2011 draft. The Nets are no-longer the NBA's undisputed bottom feeder but they have not crawled out of the basement just yet.
Charlotte Bobcats: 13 (1,3,3,1,5)
The Bobcats would vie for the title of worst-run organization in any sport but, somehow, the Wolves managed to edge them out. Despite that, the Bobcats hemorrhage money, have zero brand recognition or fan interest, and are locked into an ageing and mediocre roster for several years. It hardly looks like a recipe for success in Charlotte.
Minnesota Timberwolves: 12 (2,4,2,2,4)
Since David Kahn took the reins, the Wolves have been utterly unpredictable; alternating moves of debatable brilliance with true head scratchers. For instance, the Wolves filched highly talented power forward Michael Beasley for a second round pick (brilliant) but then gave away 25-10-2 talent Al Jefferson for cap relief (completely un-explainable). As it stands, the Wolves lose money, have no fan base, seem to lack a coherent direction, and are the worst run franchise in the league.
---
What do you think?

We'd love to hear your comments and/or opinions. If you submit them here, other visitors can read them, rate them and comment on them. An e-mail address is not required.
What Other Visitors Have Said
Click below to see contributions from other visitors to this page...

Lakers Best; Clippers Worst Not rated yet
The best and worst run organizations in the NBA are the Lakers and the Clippers. Start at the top. The Lakers are run by Dr. Jerry Buss, whereas the Clippers …
---
From Best and Worst Run Organizations in the NBA to NBA Basketball Blog | Sports Blog | NFL Football Blog | NCAA Football Blog | NFL Football Archives | College Football Archives | MLB Baseball Blog | College Baseball Blog | MLB Baseball Archives | NCAA Basketball Blog | NBA Basketball Archives | NCAA Basketball Archives | Fantasy Football | Fantasy Basketball | Fantasy Baseball | Soccer Archives | Olympics Archives | Stupid Athletes Archives | Other Archives | Football Forum | Basketball Forum | Baseball Forum | NFL Football Store | NBA Basketball Store | MLB Baseball Store | NCAA Football Store | NCAA Basketball Store | NCAA Baseball Store | Fatheads | NFL Football Tickets | NBA Basketball Tickets | MLB Baseball Tickets | NCAA Football Tickets | NCAA Basketball Tickets | NCAA Baseball Tickets |
---
Home Page
About Us | Contact Us | Site Search | Advertise | Terms of Use |
---