Best and Worst Drafting GM's in Football
Football teams make a lot of splashy moves. Trades and free agency often make the biggest headlines. Sometimes these moves work but, more often than not, teams get the best results by building gradually through the draft. Take a close look at the best teams in the NFL-the Patriots, Colts, Falcons, Packers, and Jets to name just a few-and you'll find that most of their top talent is homegrown. Conversely, if you look at the league's worst teams, you will likely find a recent history of poor drafting. So, with that general premise in mind, I wanted to delve a little deeper and determine the three best drafting teams in NFL Football.
The Best:
1. The Falcons
When baby-faced GM Thomas Dimitroff was hired out of the Patriots front office in 2007, the Falcons were an absolute mess. Former franchise quarterback Michael Vick was headed to prison for dogfighting, new coach Bobby Petrino had just bolted for the University of Arkansas, and the franchise was rudderless. However, the Falcon's turnaround the last few seasons has been nothing short of remarkable and, while the team has also made several astute trades (for Hall of Fame tight end Tony Gonzalez) and free agency signings (cornerback Dunta Robinson and running back Michael Turner) the bulk of this improvement has come from historically good drafting. The mastermind behind the Patriots highly successful drafts early in the last decade, Dimitroff brought his acumen to Atlanta and didn't miss a beat.

He promptly selected quarterback Matt Ryan, the third choice overall, who has since become the team's franchise player and one of the most clutch passers in the NFL. Dimitroff also selected offensive tackle Sam Baker, outside linebacker Curtis Lofton (now one of the best in the league), and highly underrated receiver Henry Douglas to build a solid foundation for the team. The next year, he added defensive tackle Peria Jerry (who missed 2009 due to injury but was a highly productive player in 2010), safety William Moore (a productive 2010 starter), and future starting corner Christopher Owens. With the 2010 additions of future star linebacker Sean Witherspoon, defensive tackle Corey Peters, and guard Mike Johnson, the Falcons have a foundation of young, highly talented players to contend with for years to come. As such, Dimitroff deserves credit as the best drafting GM in the game.

2. The Jets
Rex Ryan may talk a lot of trash but he has talented players to back it up. That is largely due to the work of GM Mike Tannenbaum. The Jets headman has drafted a number of top players in recent years and all are currently contributing to the Jets impressive run the last two seasons. His 2006 draft was historically strong because, with the fourth and twenty-ninth overall picks, he secured All Pro Tackle D'Brickshaw Ferguson and All Pro Center Nick Mangold. The dominant duo continues to be the strength behind the league's best offensive line. In 2007, he added Darrelle Revis, the best corner in the NFL, and inside linebacker David Harris. His only 'dud' year was 2008-when he drafted total bust defensive end Vernon Gholston-but he still managed to snag talented tight end Dustin Keller. Moreover, he made up for it in 2009 when he boldly traded up to draft future franchise quarterback Mark Sanchez. These players all remain young, under Jets control, and poised to contribute to a contending club for several future seasons.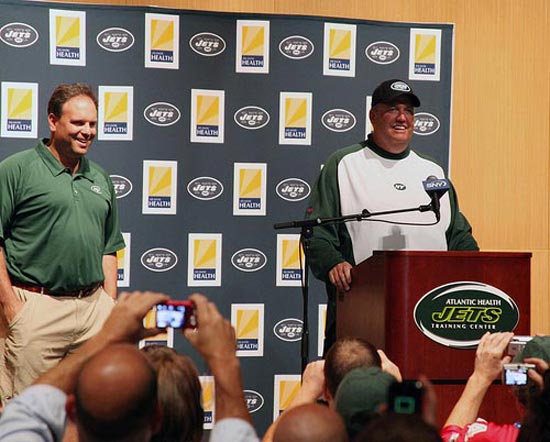 Thanks to Steve from Flikr.com for this great picture of GM Mike Tannenbaum (left) and Coach Rex Ryan.

3. The Patriots
Admittedly, the Patriots have had a few dud picks in recent years. The departures of Thomas Dimitroff and whiz Vice President Scott Pioli (the mastermind of the Chief's excellent 2010 draft) deprived the Patriots of the minds behind their early 2000s dynasty. However, the Patriot's brain trust has still run competent drafts in recent seasons. Since they were the best team in the NFL in 2010, have won ten games or more for six straight seasons, and are primarily homegrown, their exploits deserved some credit. Recent smart picks include Pro Bowl kicker Stephen Gostowski (2006), Pro Bowl safety Brandon Meriweather (2007), Pro Bowl linebacker Jerod Mayo (2008), tackle Sebastian Vollmer (2009), wide receiver Julian Edelman (2009), Devin McCourty (2010), and twin threat tight ends Rob Gronkowski and Aaron Hernandez in 2010. Plus, with two first round picks and eight in the first one hundred in 2010, the Patriots will only add to their impressive haul of talent.

Honorable Mention: The Indianapolis Colts
That's my list of the best drafting teams in the league right now. In the future there will certainly be changes: the Chiefs are liable to make the list in future seasons if their impressive 2010 draft was a true indicator and the Colts (who would have topped the list as recently as 2008) will need to start drafting impact talent again to shore up their ageing roster and woeful defense. I'm sure there will be debate so, if you have a different opinion, make sure to let it be known through the comment box!


What do you think?
We'd love to hear your comments and/or opinions. If you submit them here, other visitors can read them, rate them and comment on them. An e-mail address is not required.