Baltimore Ravens Suffer from Post-Super Bowl Poaching
If you can't beat 'em...steal their best players.

That seems to be the NFL's mantra after 2013 free agency began, with rival teams stealing standouts Darnell Ellerbe, Paul Krueger, and Bernard Pollard from the Baltimore Ravens' ranks.  Combined with the AnquanBoldin trade and retirements from Ray Lewis and Matt Birk, the Ravens will have collectively lost more than twenty Pro-Bowl seasons.

Baltimore proved unable to hold on to several key free agents after winning the Super Bowl and signing star quarterback Joe Flacco to a record-level extension.

While the Ravens were certainly expected to lose players, poaching on this scale was still very surprising.  Krueger, who emerged this season and starred in the playoffs, left as expected, overpaid by the rival Cleveland Browns.  Pollard was also overpaid – and can be replaced by another hard hitting safety in free agency or via the draft – but losing wide receiver AnquanBoldin by trade to the 49ers will hurt.

Collectively, the Ravens will feel the loss of so many critical contributors but allowing the poaching is probably necessary to retool for the future.

Ellerby and Krueger, while both excellent players, were significantly overpaid and their cap holds would have hurt the Ravens' spending capabilities for years to come.  Pollard and Boldin, while very useful players, also cost far too much to maintain at their existing salaries – and refused to renegotiate those contracts.  Ravens GM Ozzie Newsome, widely regarded as one of the very best in the game, certainly knows what he is doing and clearly has internal replacements in mind.

Certainly, fans know the Ravens will not fall off the map.  Joe Flacco is back and the Ravens will return nearly everyone from one of the leagues' best offenses.  On defense, Baltimore will get a healthy Terrell Suggs back at linebacker and, if the Ravens resign Ed Reed, need only to plug a few holes on the defensive front with late free agent signings or draft picks.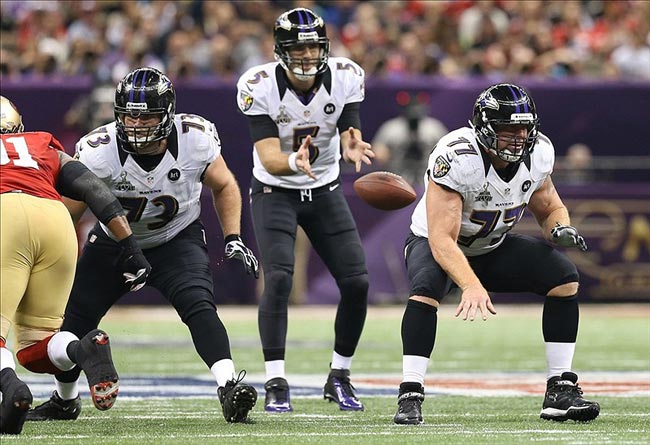 Feb 3, 2013; New Orleans, LA, USA; Baltimore Ravens guard Marshal Yanda (73) and center Matt Birk (77) block for quarterback Joe Flacco (5) against the San Francisco 49ers in Super Bowl XLVII at the Mercedes-Benz Superdome. Photo Credit: Mark J. Rebilas-USA TODAY Sports.

So, Baltimore will feel these losses.  It is always tough to win a Super Bowl, forge a collective bond with the team through that experience, then say good-bye to so many core contributors.  But, the Ravens are a deep team with reserves of talent across the board and anyone who thinks they will be out of the picture next year is sorely mistaken.

After all, the best way to win isn't to poach talent.  It is to develop it and that is what the Ravens do – pure and simple.
What do you think?
We'd love to hear your comments and/or opinions. If you submit them here, other visitors can read them, rate them and comment on them. An e-mail address is not required.