Are the Old Patriots Back?
Nowadays, when people talk about Tom Brady's greatness, they often reference back to his MVP-winning 2007 season. They talk about the 16-0 regular season, the fifty touchdowns, the magical defense, and the excruciating final two minutes of the Superbowl when an impossible catch by a replacement player denied history. But, as great as that Patriots team was, it proved to be a one year wonder. Tom Brady was injured fifteen minutes in the next season and has no interest in remaining a gunslinger, Randy Moss aged and was traded away, and talented defensive stalwarts Tedy Bruschi, Mike Vrabel, Richard Seymour, Rodney Harrison, and Asante Samuel all left the team. After a home field beat down loss to the Ravens to end the 2009 season, pundits asked whether the Patriot glory was gone forever.
But now, eleven games later, the Patriots are back. The team sits at 9-2, has dominated every top opponent this season, and is poised for a deep playoff run. Tom Brady is having an MVP caliber year, the defense is again proving dominant, and the Pats are atop the NFL. But, contrary to popular belief, this Patriots dominance is not a return to their historic 2007 heights. Instead, the Patriots have gone retro: their remaining veterans and talented young players have embraced the hard attitude and grit that characterized their title teams from early in the last decade.
Upon analysis, the similarities are quite compelling. Brady is still the headman, good as ever, and supported by a few tough veterans from the title teams of the past: Ty Warren, James Sanders, Dan Koppen, Stephen Neal, and Adam Vinateiri. Koppen and Neal have kept the line tough with talented additions. Deion Branch, a tough possession receiver at the core of the Patriots dynasty, is back and, while he is a bit older, his game has not changed significantly. Wes Welker remains a better version of David Patten and new tight ends Rob Gronkowski and Aaron Hernandez have provided tough and resilient receiving options to spread the field. All told, this offense is far away from the mercurial diva group of 2007 and, while even more prolific that the 2000-2005 version, still has the grit of that group of title winners.
Shopping for a Tom Brady Jersey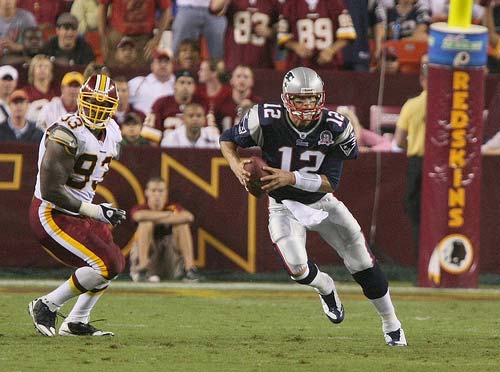 Tom Brady #12 of the New England Patriots in action during a preseason game against the Washington Redskins at FedExField.
Thanks to Keith Allison at flickr.com for the picture.
---
On defense, the Patriots have quietly spent the last four years reloading through the draft and are poised to dominate again for years to come. While the rumored addition of All Pro defensive lineman Julius Peppers (who eventually signed with the Bears) would have helped make this unit dominant and address its one weakness (the pass rush), it is still a defense overflowing with talent and coming into its own after two subpar seasons. Ty Warren remains from the title teams and, along with veteran safety James Sanders and linebacker Jerod Mayo, is working to incorporate talented new additions including safety Pat Chung, safety Brandon Meriweather, corner Devan McCourty, and linebacker Brandon Spikes into a young and dynamic defensive squad. While hardly dominating, the results this season have been encouraging thus far this year and, with eight picks in rounds one-three in the 2011 draft, the Patriots should be able to address any remaining problems after this season.
Shopping for a Randy Moss Jersey
All told, the Patriots are returning to form quickly and looking to reassert their dominance over the NFL. At a time when the injury riddled and ageing Colts look ready to fold, the quietly reloaded Patriots look ready to push them aside and return to prominence. Just don't think the coming Patriots dynasty will sling it like 2007, they would much rather hark back to their dynasty forebears and administer an old style gritty beat down.
Shopping for a Richard Seymour Jersey
---
---
What do you think?
We'd love to hear your comments and/or opinions. If you submit them here, other visitors can read them, rate them and comment on them. An e-mail address is not required.
---
From Are the Old Patriots Back to NFL Football Blog | Sports Blog | NCAA Football Blog | NFL Football Archives | College Football Archives | MLB Baseball Blog | College Baseball Blog | MLB Baseball Archives | NBA Basketball Blog | NCAA Basketball Blog | NBA Basketball Archives | NCAA Basketball Archives | Fantasy Football | Fantasy Basketball | Fantasy Baseball | Soccer Archives | Olympics Archives | Stupid Athletes Archives | Other Archives | Football Forum | Basketball Forum | Baseball Forum | NFL Football Store | NBA Basketball Store | MLB Baseball Store | NCAA Football Store | NCAA Basketball Store | NCAA Baseball Store | Fatheads | NFL Football Tickets | NBA Basketball Tickets | MLB Baseball Tickets | NCAA Football Tickets | NCAA Basketball Tickets | NCAA Baseball Tickets |
---
Home Page
About Us | Contact Us | Site Search | Advertise | Terms of Use |
---