Analysis of NFL's Brett Favre Decision
A Self-Imposed Roadblock to NFL Football's Attempts to Attract Female Fans
This week, the NFL announced that it would be fining iconic quarterback Brett Favre fifty thousand dollars for "non-cooperation" with the investigation into his text messaging and possible sexual harassment of former New York Jets employee Jen Sterger. The details are well know so I won't delve on it but, for those of you who haven't followed the scandal and investigation, here are the basics: Sterger accused Brett Favre of making advances towards her, sending her inappropriate text messages, and leaving unwanted romantic voicemails during their mutual time with the Jets organization in 2008. After hundreds of articles, numerous press conferences, a full investigation, and more, the NFL quietly announced that Favre would receive a fifty thousand dollar fine and that was the end of the matter.
Immediately afterword, Sterger's lawyer condemned the NFL's decision. To paraphrase, he said it represented the very worst parts of football culture. On top of that, every sports journalist and talking head that wrote an article about the decision seemed to condemn it. They argued that it showed that the NFL was still an "old boys club" that was not coming to grips with changing times.
My own reaction to this commentary was simple: it was embarrassingly shallow. While condemning the NFL's weak and halfhearted wrist-slap was the right thing to do, pundits stopped short of any real analysis. Saying that the NFL is an "old boys club" is not analysis because that fact is completely self evident. The NFL is made up of men who are paid to run an all male sport that is currently watched by a mostly male audience. Could it be anything other than an old boys club? Of course it couldn't. But that mere fact is not the real significance of the NFL's embarrassingly weak wrist slap of Favre: the real significance is that it could deal a devastating blow to the NFL's efforts to build its female audience.
Here's an article about Brett Favre Jersey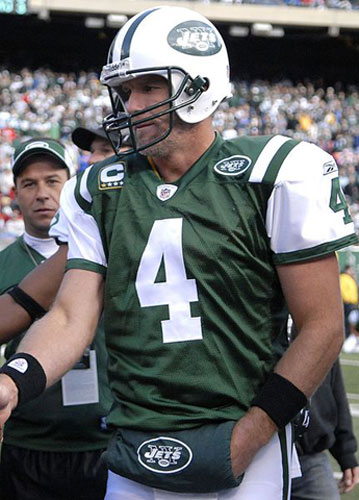 Brett Favre from the New York Jets during the coin toss on the field at the Meadowlands.
Thanks to Joe R. Campa Jr. at wikipedia.org for this photo.
---
There is nothing wrong, in and of itself, with NFL football as a boy's club; except that it decreases football's appeal to the female half of the US population. That's bad for profits, expansion, and ultimately the future of the game so, for years now, the NFL has been trying to rebrand its image and remarket itself in order appeal to female fans. That effort has met with limited success; there are more female fans now than there used to be but the sport's violence and male stereotypes have kept a lot of women from really buying into it. Nonetheless, over time, football has slowly gotten more and more female fans but the NFL's handling of the Favre situation threatens to destroy this progress.
Why? Because he's a retiring legend so the NFL essentially covered up the problem. Despite his annual drama and offseason antics, Favre remains a beloved icon of many male fans of the game. He embodies the tough attitude that most of us football fans look up to on some level. Therefore, football brass was caught between a rock and a hard place: they didn't want to alienate long-time fans by coming down extra hard on a very popular, retiring lion of the game but, at the same time, were afraid not to punish him at all. As a result, they vacillated and chose a weak punishment that will turn off male fans who remain unconvinced he is guilty and, worse, turn off female fans who think he sexually harassed a female Jets employee and totally got away with it. The loss of those potential fans, and the resulting steps the NFL may take to lure them back, is the true significance of the long and embarrassing Favre saga.
---
What do you think?
We'd love to hear your comments and/or opinions. If you submit them here, other visitors can read them, rate them and comment on them. An e-mail address is not required.
---
From Analysis of NFL's Brett Favre Decision to NFL Football Blog | Sports Blog | NCAA Football Blog | NFL Football Archives | College Football Archives | MLB Baseball Blog | College Baseball Blog | MLB Baseball Archives | NBA Basketball Blog | NCAA Basketball Blog | NBA Basketball Archives | NCAA Basketball Archives | Fantasy Football | Fantasy Basketball | Fantasy Baseball | Soccer Archives | Olympics Archives | Stupid Athletes Archives | Other Archives | Football Forum | Basketball Forum | Baseball Forum | NFL Football Store | NBA Basketball Store | MLB Baseball Store | NCAA Football Store | NCAA Basketball Store | NCAA Baseball Store | Fatheads | NFL Football Tickets | NBA Basketball Tickets | MLB Baseball Tickets | NCAA Football Tickets | NCAA Basketball Tickets | NCAA Baseball Tickets |
---
Home Page
About Us | Contact Us | Site Search | Advertise | Terms of Use |
---