Analysis of 2010 Orlando Magic Trades
Last week, the Orlando Magic pulled off two major trades. These trades involved some of the most "untradeable" (clearly a misnomer after this deal) contracts in the sport and may redefine the Eastern Conference and NBA title races. Let's take a look at each trade and its effect on the Magic and the two other teams involved: the Wizards and Suns.
Magic-Wizards Trade:
This trade was a simple heads up swap of former franchise players. The Magic sent forward Rashard Lewis to the Wizards in exchange for Gilbert Arenas. From the Wizards' perspective, this deal was close to perfect. Their former star was a distraction and, worse, Arenas was hurting the development of new franchise icon point guard John Wall. Arenas had to go and, even though he has struggled this season, Rashard Lewis is a professional whose under-the-radar attitude fits what the Wizards want to do this season. On the Magic's end, they get a game-changing talent in Arenas but there are questions. Is Arenas healthy? The evidence so far this year seems to show that he is. Can he play with Jameer Nelson? That is a question that still has to be answered. Ultimately, I think Arenas will play well for the Magic but he is not the key to a championship.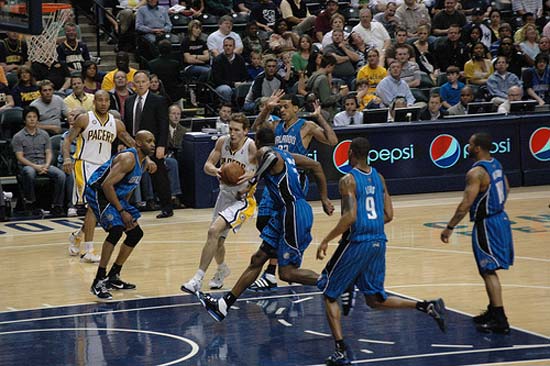 Orlando Magic vs Pacers at April, 2010.
Thanks topiratesports at flickr.com for the picture.
---
Magic-Suns Trade:
This side of the trade was a bit more complicated. Orlando sent Vince Carter (and his seventeen million dollar expiring contract), Mickael Pietrus, Marcin Gortat, cash, and a first round pick to the Suns in exchange for Jason Richardson, Hedo Turkoglu, and Earl Clark. From the Sun's perspective, this trade was an absolute home run. Phoenix dealt an ageing but still effective Richardson, a free-falling Turkoglu, and what appears to be a lottery bust in exchange for both cap relief and one of the leagues' most coveted big man in Marcin Gortat. Gortat will form an excellent inside tandem with young Robin Lopez, Carter should replicate most of Richardson's offense, and the Suns definitely won't miss Turkoglu. However, this trade could also work out for the Magic if they get a bit lucky. Richardson should thrive as a shooter with Howard in the middle and, if Turkoglu can recapture the Magic from his 2008 season, then Orlando will be a major contender.
Here's an article about Dwight Howard Jersey
Final Outlook:
Both the Wizards and Suns clearly benefited from these two trades. The Magic's endgame remains unclear. A lineup of Gilbert Arenas-Jason Richardson-Hedo Turkoglu, Ryan Anderson-and Dwight Howard looks very potent on paper. However, some of those players appear to be in decline. Perhaps playing together will reignite the Magic (pun intended) and jump start their season but, more likely, this will leave the Magic as capped out conference finalists.
What do you think?

We'd love to hear your comments and/or opinions. If you submit them here, other visitors can read them, rate them and comment on them. An e-mail address is not required.
---
From Analysis of 2010 Orlando Magic Trades to NBA Basketball Blog | Sports Blog | NFL Football Blog | NCAA Football Blog | NFL Football Archives | College Football Archives | MLB Baseball Blog | College Baseball Blog | MLB Baseball Archives | NCAA Basketball Blog | NBA Basketball Archives | NCAA Basketball Archives | Fantasy Football | Fantasy Basketball | Fantasy Baseball | Soccer Archives | Olympics Archives | Stupid Athletes Archives | Other Archives | Football Forum | Basketball Forum | Baseball Forum | NFL Football Store | NBA Basketball Store | MLB Baseball Store | NCAA Football Store | NCAA Basketball Store | NCAA Baseball Store | Fatheads | NFL Football Tickets | NBA Basketball Tickets | MLB Baseball Tickets | NCAA Football Tickets | NCAA Basketball Tickets | NCAA Baseball Tickets |
---
Home Page
About Us | Contact Us | Site Search | Advertise | Terms of Use |
---