America's Government or the NHL: Which is More Dysfunctional?
Is there anything more dysfunctional in the United States than its Federal Government and its National Hockey League?
This week, Speaker of the House John Boehner, the President's supposed partner in negotiations to avoid the fiscal cliff, could not even get his own tax bill past his own mutinous members. The House promptly disbanded for Christmas and the President responded by suggesting that this was a tragedy – how could Congressman get a holiday when the nation's worst crisis in a half decade might keep him away from his taxpayer-sponsored trip to Hawaii?
Meanwhile, the NHL continues to do its best to remind the American public that politics could only become more dysfunctional if they were played out in a hockey ice rink. The Players Union voted to give permission to disband, a move that should have been confirmed in the early fall, and the NHL responded by claiming the season is likely to be lost. So much for the Holiday Spirit.
It leaves you wondering: which is more dysfunctional, America's crumbling system of checks and balances or its hockey league?
The Federal Government's inability to pass legislation has become a running joke: from Pennsylvania Avenue, to Wall Street, and right up Main Street. A simple, stopgap compromise deal on taxes – to keep them the same for 99% of America and hike them for the ultra-rich, cannot even make it through; even with the treat of a new recession. Forget the actual politics of it; it's the lack of effective politicking that is of real concern. Even ten years ago, this kind of legislative compromise could have been hammered out in hours between the power brokers of the major parties. Now? John Boehner can't even clean up his own mess and Barack Obama won't hang up his bathing suit.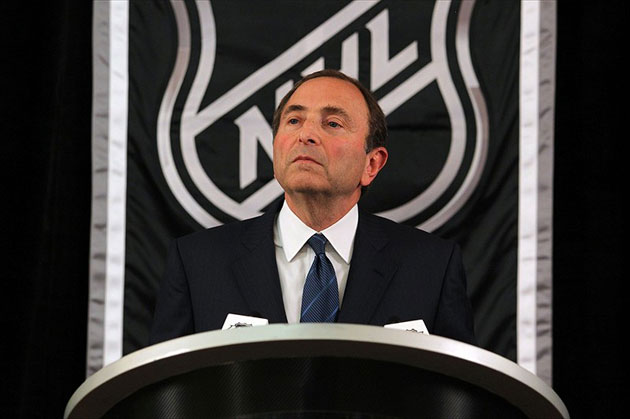 ---
The NHL can't sign any joint bargaining agreements without a lockout. It's the height of dysfunction when a full lockout and lost season are required just to amend a few bylaws and sign a new contract between owners and players. The NHL does not lack for politicking; but it is politicking with the media rather than across the table. Ten years ago…well ten years ago the NHL would have had the same problem; the league has endured an unprecedented four work stoppages in the last twenty years.
The silver lining?
Ice hockey is basically Canadian. The Federal Government – that's our mess. The NHL – Canada, you can have it, hockey is your mess.
Now go fix it, aye?
Please read these other related pages:
---
What do you think?
We'd love to hear your comments and/or opinions. If you submit them here, other visitors can read them, rate them and comment on them. An e-mail address is not required.
---
From America's Government or the NHL: Which is More Dysfunctional? to Other Archives | Sports Blog | NFL Football Blog | NCAA Football Blog | NFL Football Archives | College Football Archives | MLB Baseball Blog | College Baseball Blog | MLB Baseball Archives | NBA Basketball Blog | NCAA Basketball Blog | NBA Basketball Archives | NCAA Basketball Archives | Fantasy Football | Fantasy Basketball | Fantasy Baseball | Soccer Archives | Olympics Archives | Stupid Athletes Archives | Football Forum | Basketball Forum | Baseball Forum | Sports Trivia Questions | NFL Football Store | NBA Basketball Store | MLB Baseball Store | NCAA Football Store | NCAA Basketball Store | NCAA Baseball Store | Fatheads | NFL Football Tickets | NBA Basketball Tickets | MLB Baseball Tickets | NCAA Football Tickets | NCAA Basketball Tickets | NCAA Baseball Tickets |
---
Home Page
About Us | Contact Us | Site Search | Advertise | Terms of Use |
---