Adding Nash Does Not Make Lakers Contenders
By Dennis Berry

The Los Angeles Lakers' goal is always to make a run at a NBA title. They have won the second most NBA titles in league history with 16. Their fans are always used to contending in the Western Conference.

Their fans have also come to expect the front office to do whatever it takes for them to be contenders. So it should be no surprise that the Lakers traded two first-round and two second-round draft picks for Steve Nash last week. The addition of Nash gives the Lakers a point guard that they believe can help them win a NBA Championship.
The question is: Does the addition of Nash alone truly make the Lakers title contenders?

No.

Acquiring Nash is not enough to make Los Angeles title favorites. While the western conference is pretty wide open after the Oklahoma City Thunder, the Lakers still did not address their main needs to beat the Thunder.

The first problem with the addition of Nash is that it makes the Lakers even older. Nash will turn 39 in February. Last year the Lakers traded away Derek Fisher, who helped them win five NBA titles. He turns 38 in August. So the Lakers traded for a point guard older than Fisher.

Then look at the starting lineup for the Lakers next year. Outside Andrew Bynum, who will turn 25 in October, the Lakers have been around a while. Nash will be joining Kobe Bryant – turns 34 in August –, Metta World Peace – turns 33 in November –, and Pau Gasol who just turned 32.

They will have a total of 56 years experience in the NBA. Look at the total number of regular season games played to get an idea. Bryant has played in 1,161 games. Nash has played in 1,152 games. World Peace has played in 827 games. Gasol has played in 796. That is a total of 3,933 combined games played between the four. Remember, that is just regular season games.

That is a lot of basketball games.

With a starting lineup made up of that many veteran players, it will be interesting to see if the Lakers can stay healthy. Sure at the start of the season they will be fine, but next year will be a full 82-game season. Can they hold up for that through a whole season and be ready for the playoffs?

The next worry about this Lakers team is defense. Granted Mike Brown is a defensive-minded coach, but he will have his work cut out for him next season. As good as Nash is offensively, he is a liability on defense.

At this point in his career Nash, cannot guard anyone. A faster point guard will be able to drive past Nash and get into the lane. There the opposing point guard can pull up for a mid range jumper, kick out to a spot up shooter, or dump it off to a big man.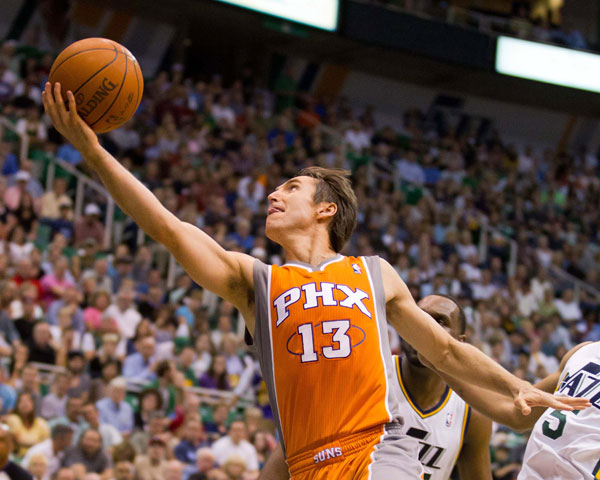 A prime example will be Russell Westbrook of Oklahoma City. Any team that wants to beat the Thunder is going to have to find a way to deal with Westbrook defensively. Steve Nash is not the answer. If anything, he only compounds the problem.

How will they make up for the hole that Nash will be defensively? Whoever Nash guards will have the advantage and the rest of the Lakers will have to help. It's not like Bryant and World Peace are not what they used to be on defense. That will mean Bynum and Gasol will have to help on drives. The Lakers will be at a disadvantage on defense all year.

The next concern will be how the offense will work. The concern is not the addition of Nash. Nash is a great offensive player and adds another a new dimension to the Lakers offense. He gives them another outside shooter and he can create shots for his teammates.

Will Bryant allow Nash to control the offense?

Bryant has been the main focus of the Lakers' offensive. He is an isolation player that can get shots on his own. He is used to the offense going through him. How will he respond to a true point guard like Nash running the offense?

Nash is used to controlling the ball at point guard. Last year he averaged 10.7 assists a game on a Phoenix team that did not have that many weapons offensively. Nash will create more scoring chances for his new teammates, but will it take away shots from Bryant?

Will Bryant defer to Nash for him to run the offense? If this new Lakers offense is going to work, Bryant will have to do just that.

The other problem is what the Lakers gave up to get Nash. Giving up four draft picks is a lot for a 38-year-old point guard. That is picks that they could have used to address another problem: the bench.

Lakers usually finish with a record good enough that regulates them to late round picks. Now they will not get a franchise player there, but they could get players to improve their bench. Perhaps a quality backup point guard, another low post player, or an outside shooting threat.

Instead, they traded it away for a 16 year veteran to chase a NBA title. It seems like this move is not enough to extend the title hopes of this aging core group of Lakers.

The Lakers are nowhere closer to a NBA title then they were before this trade.


What do you think?

We'd love to hear your comments and/or opinions. If you submit them here, other visitors can read them, rate them and comment on them. An e-mail address is not required.