Abdul Jabbar Upset Over a Statue
By Dennis Berry

So in case you have not heard, Kareem Abdul-Jabbar is upset that he does not have a trophy outside of the Staples Center in Los Angeles. He has been interviewed by the Sporting News, he has been on the radio talking about it, and he has even made statements on twitter about it. He is not happy he does not have a statue.
There are currently five statues outside the Staples Center. They are Wayne Gretzky, Oscar De La Hoya, Chick Hearn, Jerry West, and Magic Johnson. Three of which are connected to the Lakers.

Hearn of course is the Hall of Fame broadcaster. He called Lakers games from 1961 to 2002. He died in 2002; the last game he called was the Lakers winning their third straight NBA championship. Hearn was a fan favorite.

West played his entire career in Los Angeles. He was a 14 NBA All-Star and known as one of the best scorers in the history of the league. In 1969, he was named MVP of the Finals, even though the Lakers lost to the Boston Celtics in seven games. He was a member of the 1972 NBA championship team. After he retired, he helped build the Lakers Dynasty of the 80's that won five NBA titles. He is also known as "The Logo" as it is his silhouette used in the NBA logo.

Magic Johnson is a five time NBA Champion and member of the Hall of Fame. He was the leader of the Lakers dynasty of the 80's. He won three MVP awards and three Finals MVP awards. Some of Johnson's best moments came on the biggest state. In the 1980 Finals, with Kareem injured, he played center and scored 42 points and grabbed 15 rebounds to secure the Lakers the title. Then in the 1987 Finals, Johnson hit his famous hook shot against Boston to secure the win in game four. The Lakers would go on to win the title in 6 games.

As you can see each one is worthy of the honor the Lakers have given to them. So what about Abdul-Jabbar?

He was also a member of the five NBA titles in Los Angeles. He was the MVP of the 1985 Finals. He is a six time MVP, earning three of those while playing for the Lakers. He is the NBA's all time scoring leader. He was an integral part of the Laker's success in the 1980's as well. He is also the All-Time Leader in points scored the NBA with 38,387 points in 20 NBA seasons. 14 of those seasons he spent a member of the Los Angeles Lakers.

Abdul-Jabber definitely deserves to have a statue outside of the Staples Center. Since Kareem has come out and stated his dislike for not having one, the Lakers have said that they plan on giving him that honor and always have.

The problem is the Kareem has come out of nowhere complaining about not having one. It comes off like a spoiled kid who did not get his way. One can understand that he might feel "slighted" as he said about not receiving that honor.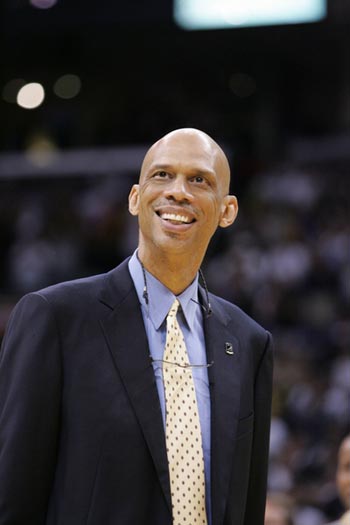 Kareem Abdul Jabbar is all smiles as the 1985 Championship Lakers are being honored at the STAPLES Center in Los Angeles, CA. Mandatory Credit: Jeff Lewis/Icon SMI

He has come out saying that it is more than just the lack of a statue that has frustrated him. He has talked about how, after the NBA Finals against Orlando, he had to sit in a small seat on the flight back to Los Angeles. He has also complained about how his salary has been cut while working in different forms in the organization.

Apparently he has become so frustrated that he had to go public with his feelings. Why? Could he not take make his case to the Lakers' front office? If you have a problem where you work, is it not best to take your concerns to the boss?

I am sure that Jerry Buss would have been happy to meet with Kareem and discuss any concerns that he had. Instead, he took his concerns to the media to draw attention to the fact that he has no statue and and draw attention to himself.

In fact, Kareem states that communication between himself and the Lakers could be better. So if he knew before hand that communication was bad, again why did he not speak to the owner himself? He comes off more like a child who got frustrated that he did not get something like everyone else. He was told that he was in line to get a statue, but yet instead of talking to the Lakers, he went to the media. He took the "woe is me" approach.

Does Kareem deserve to have statue outside the Staples Center? Absolutely. But he should have handled his frustration with the Lakers in a different manner.


What do you think?

We'd love to hear your comments and/or opinions. If you submit them here, other visitors can read them, rate them and comment on them. An e-mail address is not required.