Aaron Hernandez Charged With Murder
A few days ago, we talked about Aaron Hernandez's bad week, and we noted the following:

"This is a developing story, and more of the story has to come out before anything can be said for certain ... at this point, it needs to be stressed, however, that what his role was – if any – in this incident remains cloudy."
Well, the story has developed.  Hernandez has been officially charged with murder in the first degree in the death of Odin Lloyd, as well as carrying a firearm without a license, two counts of possession of a large-capacity firearm, and two counts of possession of a firearm without a valid ID card.  He has pleaded not guilty to all charges, and is now in jail with no bail being set.

The Patriots, of course, released Hernandez immediately, in a decision they had made last week.  With Rob Gronkowski's injury, that leaves Jake Ballard as the presumptive starter at tight end.

That's small potatoes, though – let's not bury the lede here.  There'll be plenty of time to get to the on-field ramifications; it all is dwarfed in comparison to Hernandez's case.  This goes well beyond anything we've seen in the NFL in recent memory.  It dwarfs even the Ray Lewis case – Lewis, you may remember, was charged with murder back in early 2000, later pleading guilty to obstruction of justice and receiving a suspended sentence.  Both Lewis and Hernandez were (at this point) suspected of hiding evidence – Lewis by disposing of a suit, Hernandez by destroying surveillance camera footage.  Lewis eventually came out of things fine in the end, but there are several key differences between Lewis and Hernandez:

There's a lot more evidence pinning Hernandez to the scene than there was for Lewis; surveillance camera footage, the rental car, text messages and the like.  2013 is a lot more connected than 2000 was, so there's more of a digital footprint.  It's all circumstantial at this point – and, it's important to remember that the story is still developing, so what is and is not evidence could change rapidly – but there's more evidence linking Hernandez to this case than there was for Lewis.  That alone will make it harder for him to cut any sort of deal with the police, regardless of his innocence or guilt.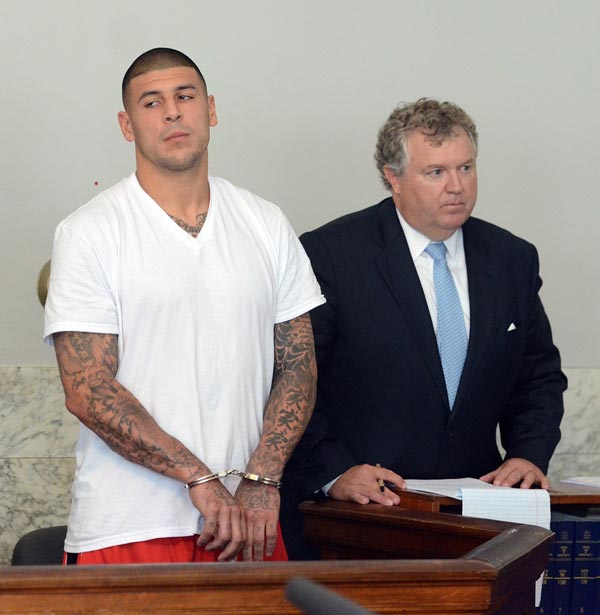 It is interesting to note, of course, that Lewis was also held without bail at this point in his respective trial; if the police believe that one of the men with Hernandez on June 17th actually committed the murder in question, we could see this case go down similar lines, but this is all pure speculation at this point – and footage of Hernandez walking around with a gun, and shell casings found in a rental car under his name seems to bode poorly for him.  At the moment, police are claiming Hernandez orchestrated the murder of Lloyd – a far cry from the more nebulous role Lewis supposedly played in his case.

It's also worth noting that the Patriots released Hernandez immediately, while the Ravens decided not to do so with Lewis back in 2000.  The Ravens felt they were confident enough in Lewis' character to feel that, when the facts came out, he would be exonerated – former coach Brian Billick said that "our support of Ray Lewis stemmed primarily from our faith in Ray Lewis as a person."  The Patriots organization clearly does not have that same faith in Hernandez as a person, noting "Words cannot express the disappointment we feel knowing that one of our players was arrested as a result of this investigation… at this time, we believe this transaction is simply the right thing to do."

Yes, Lewis was a better player in 2000 than Hernandez was now, so there might be a bit of an on-field conflict of interest there, but it's not like the Patriots aren't schematically or financially tied to Hernandez – he's worth millions of dead money against the Patriots salary cap for this season and the next.  The Patriots will likely try to get some of that money back, but it's clear that off-the-field issues, rather than on-the-field issues, drove this move.  It doesn't precisely show "faith in Aaron Hernandez as a person" – it shows an expectation that this doesn't end anywhere near where the Patriots feel comfortable.

Lost in all the murder charges are the five gun charges, too – even if Hernandez pleads to obstruction or something of that nature, he'd still likely face jail time for the gun charges, yet another obstacle Lewis didn't have.  No, this isn't like what happened to Ray Lewis – this is much worse for Hernandez.  This is Rae Carruth.

Rae Carruth, you may remember, conspired to murder his girlfriend and fled from police.  He's currently serving a 24 year sentence in the Nash Correctional Institution.  Again, Hernandez has yet to be convicted of any charges, but if you have to compare it to a past NFL player's crimes, Carruth's the one you want to be looking at.  Again, we need to stress that this story is developing, and the situation could change, but at the moment, there doesn't seem to be very many paths which lead to Hernandez seeing no jail time.

We'll close with one note about the Patriots on the field performance – as the days go on, we'll look more on the impact this will have on football, as opposed to what impact this will have on Hernandez, but for now, here's a stat to keep in mind.  Hernandez missed six games in 2012, while Rob Gronkowski missed five.  Football Outsiders can split DVOA with and without certain players, and the Patriots actually went up from 24% to 42.4% above average without Hernandez in the lineup – they played better without him.  Gronkowksi's absence, however, saw the Patriots offense drop from 34.7% to 22.3% above average.  Small sample size caveats and the like, but it appears the Patriots will miss Gronkowski much more than they'll miss Hernandez – and they'll be happier to see him around their training facilities, too.

Please read these other related pages:

What do you think?
We'd love to hear your comments and/or opinions. If you submit them here, other visitors can read them, rate them and comment on them. An e-mail address is not required.