Plus-1 Can Save the BCS
The BCS can be saved
ByRoss Read
Since its inception in 1998, the BCS has been under constant scrutiny. Fans, coaches, players and analysts complain every year about the results and the argument for a playoff comes to the forefront. The BCS is flawed but the system should not go away, they just need to add one game. Boise State Head Coach Chris Peterson said "everybody is tired of this system" to reporters this week. Frustration has set in and changes need to be made.
We are getting the rematch to the "Game of the Century" in the National Championship Game. Only now after the first matchup left such a bad taste in everybody's mouth the second meeting is hardly viewed as the best game of the bowl season. Other matchups in the BCS include Wisconsin (11-2) against Oregon (11-2) in the Rose Bowl, Stanford (11-1) against Oklahoma State (11-1) in the Fiesta Bowl, West Virginia (9-3) against Clemson (10-3) in the Orange Bowl and Michigan (10-2) against Virginia Tech (11-2) in the Sugar Bowl. Of those games, The Fiesta Bowl and Rose Bowl immediately stand out as more exciting games with the other two possibly being more entertaining than the marquee matchup.
It is nearly impossible to have a playoff system in place. The amount of money generated in these large bowl games would not allow it to happen. In order for fans not to keep traveling to random neutral sights during a playoff season you would have to give out home games based upon best record. That is a plan the officials at the Rose Bowl, Fiesta Bowl, Orange Bowl and Sugar Bowl will not go for. A school generates close to $20 million for its conference because of a BCS appearance. The BCS Bowl itself can generate almost $200 million. Money like that will not be given up easily by anybody.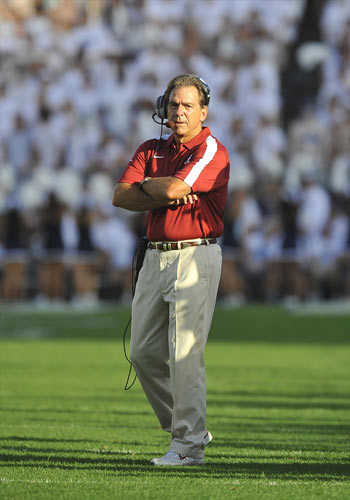 Alabama head coach Nick Saban. The Alabama Crimson Tide defeated the Penn State Nittany Lions 27-11 at Beaver Stadium in State College, PA.
---
One more game is all you need. Let's take this year for example. Have the BCS play their games out. Once that is done then you have a Nation Championship Game one week later. Have one more poll from the coaches and let the computers do their thing in terms of records and put the best two teams on the field. Hypothetically, you could see LSU play Oklahoma State. That's the matchup everybody wants to see. Or you could get Alabama playing Stanford. Wouldn't you like Nick Saban's stout defense to go against Andrew Luck and Stanford?
The "plus one" format has been considered in the past. It was shot down by the Big 10 and Pac-10 conferences but that would most likely change now. As more conferences grow and regular season games become more competitive the format is almost seen a necessity. The playoff system will never come into fruition but if ratings are poor due to an anticlimactic rematch, you will see a plus one in the near future.
Read more:
---
What do you think?
We'd love to hear your comments and/or opinions. If you submit them here, other visitors can read them, rate them and comment on them. An e-mail address is not required.
---
From Plus-1 Can Save the BCS to NCAA Football Blog | Sports Blog | NFL Football Blog | NFL Football Archives | College Football Archives | MLB Baseball Blog | College Baseball Blog | MLB Baseball Archives | NBA Basketball Blog | NCAA Basketball Blog | NBA Basketball Archives | NCAA Basketball Archives | Fantasy Football | Fantasy Basketball | Fantasy Baseball | Soccer Archives | Olympics Archives | Stupid Athletes Archives | Other Archives | Football Forum | Basketball Forum | Baseball Forum | NFL Football Store | NBA Basketball Store | MLB Baseball Store | NCAA Football Store | NCAA Basketball Store | NCAA Baseball Store | Fatheads | NFL Football Tickets | NBA Basketball Tickets | MLB Baseball Tickets | NCAA Football Tickets | NCAA Basketball Tickets | NCAA Baseball Tickets |
---
Home Page
About Us | Contact Us | Site Search | Advertise | Terms of Use |
---