49ers vs. Giants: The Return of NFL Defense
By Paul Grossinger
Before 2011, five quarterbacks had 5,000+ yard seasons. In 2011, three signal callers, Drew Brees, Tom Brady, and Matthew Stafford, eclipsed that milestone. At times, games looked as if they were played without defense; touchdown after touchdown as offensively prolific teams torched NFL defensive backs. But, in a year where 50-32 was a more probable score than 20-17, defense will finally return to the National Football League when the New York Giants play the San Francisco 49ers for the right to represent the NFC in the Superbowl.
The Giants and 49ers are both defensive-minded teams. Unlike many franchises in the NFL, which have constructed their identities around prolific offense and preventive defense, both these teams are built around defensive aggressiveness. Their defensive fronts are engineered to tear up backfields and get after the quarterback without needing to blitz. That patented defensive intensity, epitomized by the Giant's Justin Tuck and the 49er's Patrick Willis, permeates the roster. There may be some pretty throws this weekend but it will not be about offensive prowess and point scoring, this game will be about defensive toughness and mentally crushing the other team into submission.
But, this game is not just a singular moment; it speaks to a point NFL front offices increasingly miss: defense still wins championships. In recent years, star quarterbacks and their offenses have become the most visible part of a football team. Touchdown replays dominate highlight reels and quarterback jerseys sell out. The NFL itself aids offenses; the games' rules are now geared to handicap defensive backs and protect the passer from tough (but often legal) hits. Yet, despite those changing dynamics and front offices' increasing focus on offense, it is good defense that remains critical to success. The NFL's three best defenses, the San Francisco 49ers, Baltimore Ravens, and New York Giants, represent three of the four remaining teams in the playoffs. Its three best offenses, the Green Bay Packers, New Orleans Saints, and Detroit Lions, were all eliminated in the early playoff rounds. That is no accident. A good offense will get a team to the postseason but it will not get them over the hump. Only a good defense can win the Superbowl.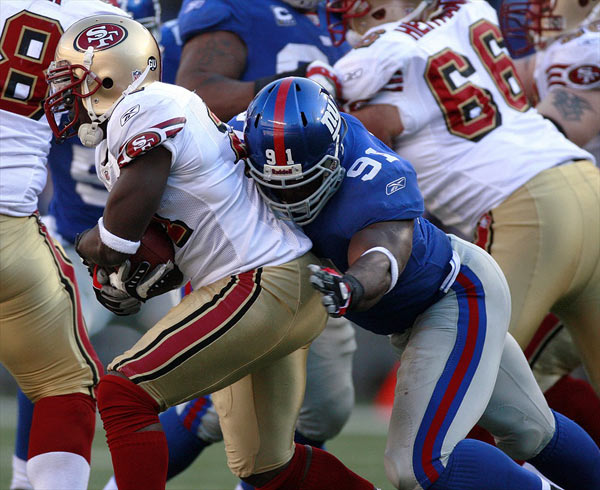 New York Giants defensive end Justin Tuck (91) tackles San Francisco 49ers running back Frank Gore (21) during the game at Giants Stadium. The Giants defeated the 49ers 29-17.
---
For those fans who doubt the veracity of these points, think deeper about the value of good defense. In particular, think about the value of a strong pass defense and an aggressive defensive front line. Top defensive fronts, like those of the 49ers and Giants in particular, are the crucial factor in determining success. Because the NFL's rules now help quarterbacks and marginalize defensive backs, a defense is at its best when its front four can bring consistent pressure and generate sacks without needing blitz packages or help from the secondary. If a defense consistently needs to bring a corner or safety to blitz on important plays, as the Green Bay Packers did all season, they are doomed to failure.
Aggressive defense and pressure from the front four is exactly what the Giants and 49ers will bring to the table this weekend. After a tough, physical contest, one of them will prevail. Then, on Superbowl night, that defensive front will probably win the Superbowl. So, who says defense has fled the NFL? We may barely see any of it in the regular season but defense is still the defining factor when it counts.
---
What do you think?
We'd love to hear your comments and/or opinions. If you submit them here, other visitors can read them, rate them and comment on them. An e-mail address is not required.
---
From 49ers vs. Giants: The Return of NFL Defense to NFL Football Blog | Sports Blog | NCAA Football Blog | NFL Football Archives | College Football Archives | MLB Baseball Blog | College Baseball Blog | MLB Baseball Archives | NBA Basketball Blog | NCAA Basketball Blog | NBA Basketball Archives | NCAA Basketball Archives | Fantasy Football | Fantasy Basketball | Fantasy Baseball | Soccer Archives | Olympics Archives | Stupid Athletes Archives | Other Archives | Football Forum | Basketball Forum | Baseball Forum | NFL Football Store | NBA Basketball Store | MLB Baseball Store | NCAA Football Store | NCAA Basketball Store | NCAA Baseball Store | Fatheads | NFL Football Tickets | NBA Basketball Tickets | MLB Baseball Tickets | NCAA Football Tickets | NCAA Basketball Tickets | NCAA Baseball Tickets |
---
Home Page
About Us | Contact Us | Site Search | Advertise | Terms of Use |
---