2013 NBA Playoff Preview: The First Round
By Lorenzo Tanos

EASTERN CONFERENCE
Miami Heat (66-16, 1) vs Milwaukee Bucks (38-44, 8)

- This series will likely be the equivalent of a pro wrestling "squash match", only in the NBA, results are not predetermined.  After starting a bit "slow", the Heat had a scorching final 39 games, winning 37 of those encounters, including 27 straight.  Brandon Jennings and Monta Ellis may be exciting and talented, and Larry Sanders may have surprised many as a defensive stopper in the middle, but they won't be able to hold a candle to Miami's Big Three (LeBron James, Dwyane Wade and Chris Bosh) and deeper, more experienced supporting cast.
New York Knicks (54-28, 2) vs Boston Celtics (41-40, 7)

- These aren't your older brother's Knicks, though they may be your father's Knicks, what with Jason Kidd, Kenyon Martin and Marcus Camby still in the lineup and Rasheed Wallace and Kurt Thomas having spent time with the Knicks in the regular season.  Kidding aside, we mean to say that the Knicks have been reinvented under Mike Woodson, locking down on defense while still having a say on the offensive end, thanks in no small part to 2012-13 NBA scoring champion Carmelo Anthony.  They'll be facing another aging squad, the Boston Celtics, who are playing without Rajon Rondo (as they had in the second half of the regular season) and with Kevin Garnett still slowed down by an ankle injury.  Consider this sweet revenge for the Knicks, who got swept by the Celtics in the first round of the 2011 Playoffs.

FORECAST - Knicks in 5

Indiana Pacers (49-32, 3) vs Atlanta Hawks (44-38, 6)

- The slow-it-down, defensive-oriented Pacers will be up against the Atlanta Hawks, who aren't exactly the fastest team in the league, though not all too shabby on the offensive end.  As such, expect a low-scoring series between both squads, as Frank Vogel's lineup of workmanlike average Joes take on an average team, period.   That's not to say that the Hawks haven't worked hard, but at the end of the day, a bit more was expected out of Josh Smith, and the Hawks' backcourt has been quite weak as of late, following Lou Williams' season-ending injury and Devin Harris' continued slide into mediocrity.

FORECAST - Pacers in 6.

Brooklyn Nets (49-33, 4) vs Chicago Bulls (45-37, 5)

- The Nets have had an interesting season in their new home, with a coaching change midway through the season, their star point guard and center (Deron Williams and Brook Lopez) finally staying healthy and a one-time double-double machine (Kris Humphries) spending a good amount of time either injured or in the doghouse.  Still, the Nets have had it better than the Bulls, who have toughed it out despite Derrick Rose being out all year long.  The Bulls will give it their all on defense, but will probably fall short with their franchise point guard still on the shelf.

FORECAST - Nets in 6.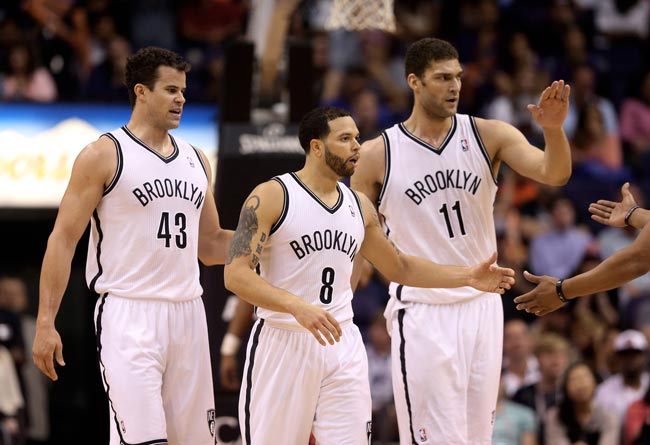 Mar. 24, 2013; Phoenix, AZ, USA: Brooklyn Nets forward Kris Humphries (43), guard Deron Williams (8) and center Brook Lopez (11) celebrate in the second half against the Phoenix Suns at the US Airways Center. The Nets defeated the Suns 102-100. Photo Credit: Mark J. Rebilas-USA TODAY Sports.


WESTERN CONFERENCE
Oklahoma City Thunder (59-23, 1) vs Houston Rockets (45-37, 8)

- Chances are this is going to be a quick and painless walk in the park for the Thunder, even with the Rockets parading one-time Thunder sixth man James Harden and his near-26 ppg regular season average.  The Rockets, while standing out as the NBA's fastest-paced team, aren't that good on the other end of the floor, and while we should see some high-scoring games in this series, most, if not all will be in favor of the Thunder.

FORECAST – Thunder in 4 or 5.

San Antonio Spurs (58-24, 2) vs Los Angeles Lakers (45-37, 7)

- Both of these teams are entering the Playoffs with injury problems to deal with, particularly the Lakers, as Kobe Bryant definitely won't be playing this postseason, and may not even be ready for the start of the 2013-14 season due to his Achilles injury.  And the Spurs will be without role player deluxe Boris Diaw, while the recently-returned Manu Ginobili and Tony Parker are not at 100%.  The Lakers will likely make it tough for the Spurs, what with their improved cohesion and momentum from their strong second half of the regular season, but in the end, they may fall short to the tighter, more defensively-sound Spurs, who haven't altered their core lineup since God knows when.

FORECAST - Spurs in 7

Denver Nuggets (56-26, 3) vs Golden State Warriors (47-35, 6)

- How well can the Denver Nuggets do with DaniloGallinari out for the season, Kenneth Faried possibly out for a bit and Ty Lawson still slowed down by injury?  Considering all this, the Nuggets may have a tougher go than usual against the Golden State Warriors, a team that's developed some long-overdue defensive effort while remaining potent on offense.  Despite that effort, the Warriors are still average at best on defense, and they may have some trouble shutting the high-powered Nuggets down.  It's going to be a close one with the injuries and all, but we see this going the distance and Denver moving on to the second round.

FORECAST - Nuggets in 7.

Los Angeles Clippers (56-26, 4) vs Memphis Grizzlies (56-26, 5)

- It's going to be a matchup of contrasts here – Blake Griffin and Chris Paul's fast-paced, exciting Clippers versus the grind-it-out Grizzlies with their odd, yet effective combination of deliberate offense and pressing defense.  Both teams have their respective X-factors – as pointed out by Yahoo! Sports, Eric Bledsoe has been clutch in games against the Grizzlies, particularly when pitted against Mike Conley, while we believe the Grizz could get some Playoffs mileage from veteran midseason acquisition Tayshaun Prince.  We predict the Grizzlies' defense (Prince, Tony Allen, etc.) will shine through this time around, despite a disappointing Game 1 loss.

FORECAST – Grizzlies in 7.


What do you think?

We'd love to hear your comments and/or opinions. If you submit them here, other visitors can read them, rate them and comment on them. An e-mail address is not required.