2012 NBA Basketball Trade Ideas
By Jason Fryer

The NBA Season is down to the final stretch and with the NBA thankfully back to a normal offseason, I felt it was a good time to look at a few trade ideas before the start of the 2012 offseason.
| | |
| --- | --- |
| 1. Anderson Varejao and RodrigueBeaubois to Sacramento, Cleveland acquires Sacramento's 1st Round pick (5th overall) and Dallas 1st round pick (17th overall), Dallas acquires one of Cleveland's 2nd Round pick (number 33). | |
I would really like to see the Cavaliers be persistent this offseason and try to acquire more picks in this years and future drafts. Outside of 2011 rookie's Kyrie Irving and Tristan Thompson, Cleveland's third most valuable player would be Power Forward/Center Anderson Varejao. Varejao (who will turn 30 just before the start of the 2012-2013 season), would give the Kings a veteran big man who would help the younger players on Sacramento's roster.
Midway through last season, it seemed that the Kings wanted to play a smaller lineup and with trade would be able to with Tyreke Evans, Marcus Thornton, Isaiah Thomas, along with RodrigueBeaubois, JimmerFredette, and John Salmons off the bench. With the Kings going to a smaller lineup, they would be able to play a faster, more athletic style that would run a lot more. If they had Cousins and Varejao in the front court, then the Kings would feature one of the most athletic lineups in the NBA.

As for how this would help Cleveland; if they were to make this trade, then the Cavs would have both the 4th and 5th overall picks in this year's draft and would be able to feature a line that would include: Irving, Thompson, Michael Kidd-Gilchrist (or Harrison Barnes) and Bradley Beal. With this lineup, the Cavs would feature one of the best 1-4 young lineups in the NBA. In addition to that, the Cavs would have two other 1st Round Picks (17 and 24) to address both their depth and draft a few international prospects that will come over in a few years.
Marion would also be a great influence on the Cavs core and make them one of the fastest/most entertaining teams in the NBA. Once Shawn Marion's contract expires (at end of the 2014 season), the Cavs would have a a great deal of cap space to go after any free agent player and pair him with one of the best young cores in the NBA.

Lastly, the Mavs would have the cap space to go after any two free agents that they'd want to as they could amnesty Brendan Haywood's contract and only be left with Dirk's contract on their cap. This would allow the Mavericks to create their own "Big 3" or "2 man duo" with money for depth on their roster.

In the end, Sacramento would get a tough-minded center that's will help with the young Kings players; Cleveland would have 4 1st round picks (and the 4th pick in the 2nd round) or 5 of the first 34 picks to help build their future; and Dallas would have the cap space that they've been looking for since they won the 2011 NBA Championship.


2. Philadelphia trades Andre Iguodala to the Golden State for Richard Jefferson, Dorell Wright, and Golden States 1st Round Pick (7th overall).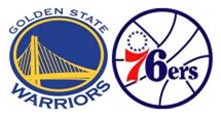 In my mind, this trade would greatly help both teams for both now and the future. First, the Warriors would feature a very solid 5 man rotation (Curry, Thompson, Iguodala, Lee, and Bogut) and would finally have the athletic defensive stopper that Head Coach Mark Jackson has been looking for. This would be one of the best veteran starting 5's in the NBA (if they can stay healthy) and be one of the best teams in the NBA.

As for the 76ers, they would be able to continue to build with their young core and still have a team that competes for a playoff spot. In addition to still putting out a competitive team, the 76ers would have Elton Brand's contract coming off the books (next year) to go along with still having their amnesty available. If the Sixers were to amnesty Jefferson after the 2013 season, then they'd have a ton of cap space so they could resign their core and still be able to sign a few free agents to play alongside their core.
In addition to now being able to start Evan Turner at the 2-guard position, the Sixers would now feature a better 3-point shooter at the Small Forward Position in Richard Jefferson (or Dorell Wright) and have even more depth on their roster. Most importantly, Philadelphia would now be able to add a very quality player to their core with the 7th overall pick at a reasonable price.


3. Pau Gasol and Al Jefferson to the Houston Rockets, Luis Scola and Kyle Lowry to the Los Angeles Lakers, Patrick Patterson and one of Houston's two First Round Picks to the Jazz.


During the entire 2011 offseason (which lasted all of 1 month), the Rockets looked for any way possible to acquire 2 big men to lead their front court as there a team that features a lot of depth at both the point guard and small forward positions. With that said, they and need to upgrade their front court and this trade would allow them to do this (giving them two 7 footers). In this trade, the Rockets would now have one of the biggest front courts in the entire league, and will fit in with Kevin McHale's system.

The Lakers on the other hand would feature a vastly different starting lineup for the 2012-2013 season. Los Angeles would now have the point guard they've been looking for (Kyle Lowry) since they thought they had Chris Paul on their roster, only to find out that he wasn't on their roster. In addition to Lowry, the Lakers would also be able to acquire one of the most underrated players in the entire league in Luis Scola which would allow for Bryant and Bynum to be the number 1 and 2 options.

Lastly, Utah would trade one of their 4 big men (still have Favors, Kanter, and Millsap) and acquire an additional 3/4 man to their team along with a mid-first round draft pick from Houston so they could address either their point guard or small forward depth. If Utah made this trade and amnestied Devin Harris contract, the Jazz would have enough money to draft either a point guard or small forward and sign the other position in free agency.


What do you think?

We'd love to hear your comments and/or opinions. If you submit them here, other visitors can read them, rate them and comment on them. An e-mail address is not required.