2012 - 2013 NBA Preview
By Lorenzo Tanos
BOSTON CELTICS
2011-12 RECORD – 39-27
PROJECTED ROTATIONS:
1st String – Kevin Garnett (C), Brandon Bass (PF), Paul Pierce (SF), Courtney Lee (SG), Rajon Rondo (PG)
2nd String – Chris Wilcox (C), Jared Sullinger (PF), Jeff Green (SF), Avery Bradley (SG), Jason Terry (PG)
3rd String – Fab Melo (C), Jason Collins (C), Kris Joseph (SF), Dionte Christmas (SG), KeyonDooling (PG)
Coaching staff – Doc Rivers (HC), Kevin Eastman, Armond Hill, Jay Larranaga, Mike Longabardi, TyronnLue, Jamie Young (A)
LAST YEAR'S LEADERS:
Scoring – Paul Pierce (19.4 ppg)
Rebounding – Kevin Garnett (8.2 rpg)
Assists – Rajon Rondo (11.7 apg)
Steals – Rondo (1.8 spg)
Blocks – Jermaine O'Neal (1.7 bpg)
Minutes – Rondo (36.9 mpg)
FRONTCOURT – The C's frontcourt may have gotten younger with draft picks Jared Sullinger and Fab Melo, but if Kevin Garnett misses time due to injury, there might be some problems. Chris Wilcox isn't starter material on a good team, at least not at this point in his career. And the rookies, of course, are still too raw to start. Brandon Bass will be the likely starter at power forward, mainly because KG, 36, has no choice but to suit up again in the middle. He'll bring his lunch pail to the hardcourt as he always does, but don't expect a 20-10 season from this solid, yet unspectacular contributor.
At small forward, Paul Pierce will again be expected to lead the team in scoring. Those 20-5-5 stat lines are seemingly automatic for this guy – he shouldn't be any less effective even as he turns 35 next month. The big news, though, would be if Jeff Green can make a successful return to the Celtics after missing the 2011-12 season due to surgery. He's still Pierce's heir apparent at the three – a versatile player and a great passer for a frontcourt player – though he may be brought along slowly as he returns after a year's absence. (B+)
BACKCOURT – Only one thing appears sure in the backcourt – Rajon Rondo will be the starting point guard for the Celtics. And still, the only thing he can't do consistently is shoot. Yet any offense from Rondo beyond his usual 11-13 points is icing on the cake – he specializes in passing and defense, and as far as NBA point guards are concerned, he's among the best of the current crop. But who's going to start at the two now that Ray Allen's with bitter Eastern Conference rival Miami Heat? Courtney Lee may have the edge over Avery Bradley, being the more veteran player, but Bradley's defensive skills have endeared him to the Celtics' coaching staff. There's a chance Bradley may see reduced minutes once he returns from shoulder surgery. Free agent signing Jason Terry spent the last three years as the Mavericks' high-scoring sixth man – he too could possibly start, but he'll probably see about 25-30 minutes per game backing up both guard positions.
Finding a true backup PG for Rondo may also be a problem. Bradley and Lee don't have a whit of point guard skills, and Terry hasn't been used exclusively at the point since his days with the Atlanta Hawks. KeyonDooling is still with the Celtics, but he's at the twilight of his career. Then again, it could've been worse. Rondo's good enough to give the Celts' backcourt a grade of… (B+)
COACHING – Doc Rivers has come a long way since the days when people were calling for his head. There's nothing fancy about how he runs the team, but he knows how to motivate his players and allocate those minutes. Expect more of the same – seamless halfcourt offense and tough defense from the C's with Rivers as head coach. (B+)
DRAFT – The Celtics drafted very well this June, selecting Sullinger (21st) and Melo (22nd) in the first round and Kris Joseph (51st) in the second. Sullinger, who was once a lottery prospect, has a good chance of seeing quality minutes. Melo looks more like a project, but he could be a serviceable defensive specialist in a few years. Joseph has a good chance of sticking as a third-string shooter. (A)
FREE AGENCY/TRADES – The Celtics' two significant additions so far have been Terry, who signed a three-year deal worth $15 million, and Lee, who was acquired from the Houston Rockets via trade. Both men should add some spark to the backcourt, and as mentioned above, are prime candidates to replace Allen as the Celtics' starting off-guard. Jason Collins was also added as a backup center; while he'll most likely be seen on court only if the game's already decided, he and Garnett should provide quality veteran tutelage to the Celts' rookie big men. (A-)
SUMMARY – By wisely addressing their needs through free agency and the Draft, the Celtics have done enough to ensure what could be another Atlantic Division title.
PROJECTION – 1st in Atlantic
---
BROOKLYN NETS
2011-12 RECORD – 22-44
PROJECTED ROTATIONS:
1st String –Brook Lopez (C), Kris Humphries (PF), Gerald Wallace (SF), Joe Johnson (SG), Deron Williams (PG)
2nd String –AndrayBlatche (C), MirzaTeletovic (PF), Josh Childress (SF), MarShon Brooks (SG), C.J. Watson (PG)
3rd String –Reggie Evans (C), TornikeShengelia (PF), Keith Bogans (SF), Jerry Stackhouse (SG), Tyshawn Taylor (PG)
Coaching staff –Avery Johnson (HC), P.J. Carlesimo, Mario Elie, Tom Barrise, Doug Overton, Popeye Jones (A)
LAST YEAR'S LEADERS:
Scoring – Deron Williams (21.0)
Rebounding –Kris Humphries (11.0)
Assists – D. Williams (8.7)
Steals – Gerald Wallace (1.4)
Blocks – Humphries (1.2)
Minutes – D. Williams (36.9)
FRONTCOURT – Last year, Brook Lopez saw action in only five games due to foot and ankle injuries, and in that brief stretch he averaged 19.2 ppg and, believe it or not, only 3.6 rpg. He's one of the best scoring big men when healthy, but don't count on him to rebound in double figures on a nightly basis. He also needs a lot of work on the defensive end. Fortunately, rebounding is what Kris Humphries does best; the late-blooming power forward shattered his career averages yet again, and was undoubtedly the team's steadiest presence inside. Gerald Wallace, who joined the Nets midway through the 2011-12 season, isn't the stat-stuffer he was with the Bobcats, but he still can be counted on for aggressive play on both ends of the court.
With the three frontcourt starters back, the big difference here is a much deeper bench. Johan Petro and the two forward/centers named Williams (Shelden and Jordan) are no longer with the Nets, and if those are your relievers AND occasional starters, that would be the epitome of a thin frontcourt. AndrayBlatche joins the Nets after a disappointing 2011-12 with the Wizards; he should be a productive reserve provided he's willing to accept the role. Former Hawks starter Josh Childress will be reprising his role last year with the Suns – an athletic two-three swingman whose defense is as good as his offense is negligible. Bosnian rookie free agent MirzaTeletovic is a small forward trapped in a burly 6'9" power forward's body – he could surprise some as a reserve combo forward.If he doesn't pan out, Brooklyn may turn to veteran rebounding specialist Reggie Evans or second-rounder TornikeShengelia. (B)
BACKCOURT – The Nets pulled off a major coup by acquiring Joe Johnson from the Atlanta Hawks in exchange for five veterans (Petro, Jordan Williams, Anthony Morrow, Jordan Farmar and DeShawn Stevenson) and a future first-rounder. He's coming off two slightly subpar seasons with the Hawks (notably right after signing that $119 million deal for six years), so much will be expected from the player occasionally known as "Iso Joe." The fact he won't be the main concern of defenders anymore should give his numbers a slight boost in 2012-13.
Johnson's acquisition is music to Deron Williams' ears as he won't have to do double duty as franchise point guard and go-to guy on offense anymore.That, and adjusting to Avery Johnson's offense has largely been responsible for his subpar shooting as a Net.He can still score in bunches, and will probably be the Nets' second option on offense, with a good chance to post double-digit assist averages.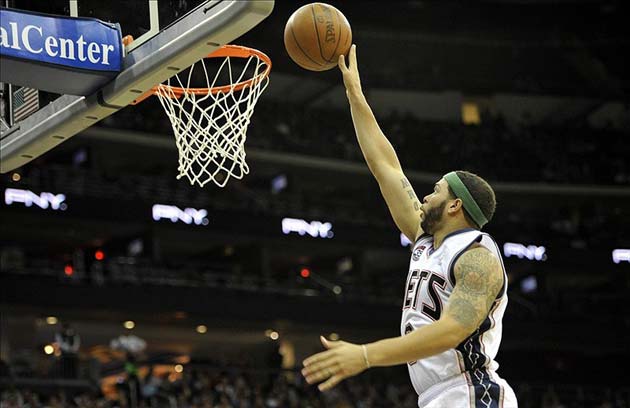 ---
Then there are the backups – MarShon Brooks surprised many last year when he became the Nets' starting two-guard, but let's face it – he started mainly because the Nets were so thin at almost every position. He'll be a nice source of offense off the bench this 2012-13 season. Recent waiver acquisition C.J. Watson will be a quality backup even if he needs to rediscover how to shoot above 40% from the field. He was solid starting in the place of Derrick Rose last season with the Bulls. Former All-Star and scoring runner-upJerry Stackhouse is merely roster fodder at this point – he might want to consider hanging it up instead of sticking it out as a 12th man. Lightning-quick rookie Tyshawn Taylor will be the Nets' third-stringer at the point guard position. (A-)
COACHING – Avery Johnson is a coach who preaches defense, though the Nets didn't play much of that last year (99.1 ppg allowed, 24th in the league). He also claims to enjoy fast-paced basketball, but again, the Nets were 24th in scoring last year at 93.1, and it wasn't just due to a lack of talent and/or depth. Now that Johnson has a much-improved team to work with, he'll have to take the mute button off the offense and start practicing what he preaches on both ends. (C-)
DRAFT – The Nets did what they could with their three second-round picks. Tyshawn Taylor (41st) is better than what his draft status suggests, though he won't be seeing much burn with Williams and Watson at the point. TornikeShengelia (54th) impressed in summer league play but he'll be buried deep in the Nets' frontcourt rotation. IlkanKaraman (#57) signed with Turkish team FenerbahceUlker this August – don't expect him in the NBA till 2015, when his contract expires. (B+)
FREE AGENCY/TRADES – Where do we start and where do we end? In just a few short months, the Nets added Johnson, Blatche, Watson, Evans, Teletovic, Stackhouse and Childress via trades and free agency. Johnson will immediately step in as starting SG, while most of the others will play key roles off the bench. We could be looking at the Eastern Conference's most improved team. (A+)
SUMMARY – The new-look Nets will be playing their first season in Brooklyn, and thanks to the new additions, a playoff appearance seems quite realistic.All that retooling has given the Nets depth off the bench to go with the talent on the starting lineup. Nope, no need this time to call on the likes of Dennis Horner, Larry Owens and Jerry Smith just to fill out some space on the roster.
PROJECTION – 2nd in Atlantic
---
NEW YORK KNICKS
2011-12 RECORD – 36-30
PROJECTED ROTATIONS:
1st String –Tyson Chandler (C), AmareStoudemire (PF), Carmelo Anthony (SF), ImanShumpert (SG), Raymond Felton (PG)
2nd String –Marcus Camby (C), Kurt Thomas (PF), Ronnie Brewer (SF), J.R. Smith (SG), Jason Kidd (PG)
3rd String –Henry Sims (C), Chris Copeland (SF), Steve Novak (SF), James White (SG), Pablo Prigioni (PG)
Coaching staff –Mike Woodson (HC), Herb Williams, Kenny Atkinson, Darrell Walker, Jim Todd (A)
LAST YEAR'S LEADERS:
Scoring – Carmelo Anthony (22.6)
Rebounding –Tyson Chandler (9.9)
Assists – Jeremy Lin (6.1)
Steals – ImanShumpert (1.7)
Blocks – Chandler (1.4)
Minutes – Anthony (34.1)
FRONTCOURT –2011-12 is a season AmareStoudemire would want to forget. His numbers were down across the board because of nagging injuries and weight problems, to say little of the dissension towards the end of Mike D'Antoni's tenure as coach. Look for him to bounce back this season, and hopefully exert more effort on defense, now that Mike Woodson is at the helm. That might be a difficult task, though, for Carmelo Anthony. Melo is an extremely talented player, no doubt about that – he can score like nobody's business, and isn't a bad rebounder and passer for a small forward. But one can't help but think that the guy's spent most, if not all his career looking out for number one. Tyson Chandler will again be starting in the middle, and this season he'll be sharing time with a player who had a very similar NBA game in his prime, Marcus Camby. This center tandem is enough to give opposing big men sleepless nights on account of their defensive skills.

And there's even more defense off the bench, courtesy of returning Knick Kurt Thomas and former Jazz/Bulls wingman Ronnie Brewer. Thomas, who will turn 40 next month, is the oldest active NBA player, and he's still, just as the old song goes, meaner than a junkyard dog. Brewer has one of the most comical-looking releases in the league, but there's nothing funny about his perimeter defense. He'll probably be used more as a reserve SF rather than SG, because the only other option the Knicks have at the three is one-dimensional three-point specialist Steve Novak.(B+)
BACKCOURT – Linsanity was fun while it lasted. Unheralded, undrafted Jeremy Lin created an immediate sensation when he outplayed past-their-prime point guards Baron Davis and Mike Bibby en route to a regular starting gig. Now that he's with the Houston Rockets, the point guard position will be shared by Raymond Felton (acquired from Portland via trade) and 19-year veteran Jason Kidd (acquired from Dallas via free agency). Felton should thrive in the Knicks' fast-paced offense, just as he did in his first stint with the team. He just needs to develop more consistency. Kidd, whose offense now almost exclusively consists of three-point bombs, will still look to pass first and provide veteran leadership.Spanish ACB League veteran Pablo Prigioni is an interesting third option at the point.
As far as the "big picture"is concerned, second-year player ImanShumpert should take over from Landry Fields, who recently signed with Toronto. Like Brewer, he's a suffocating perimeter defender who can also play above the rim. Don't expect him back until December or January, due to a nasty left knee injury suffered in the 2012 Playoffs. In the meantime, Brewer could start at off-guard, but he too will be coming off arthroscopic knee surgery. That would leave J.R. Smith as a possible opening day starter. Despite his volatile reputation, he remains one of the league's most-feared three-point bombers when he's on. (C)
COACHING –I was one of many who had hoped Jeff Van Gundy would replace Mike D'Antoni and finally get the Knicks living and breathing defense like they did in those successful '90s seasons. Mike Woodson is no JVG when it comes to defensive coaching, but the mindset is there – he wants the Knicks shutting down the opposing team instead of running up and down the court '70s-'80s-style and trying to score 150 points each time around.And he doesn't seem averse to letting the Knicks run an up-tempo offense as they've been used to for the past several years. Could he finally convince Anthony and Stoudemire to at least think defensively, as it's too much to expect them to become stoppers? Let's hope he could.(B+)
DRAFT – Kostas Papanikolaou (48th) had his draft rights sent to Portland in the Felton/Thomas trade, so technically, the Knicks don't have any 2012-13 draftees gunning for roster spots. (N/A)
FREE AGENCY/TRADES – It's easy to see how the Knicks want to bring defensive basketball to New York. Veteran newcomers Brewer, Camby, Kidd and Thomas are all accomplished defensive players, so was 35-year-old rookie Prigioni in the Argentine and Spanish leagues. The only possible issue here is the age of most of these acquisitions – Camby, Kidd and Thomas are all on the wrong side of thirty, thus making them short-term solutions off the bench. Felton has yet to prove he can consistently run an NBA team at the point, but the Knicks could've done a lot worse. (B+)
SUMMARY – After the D'Antoni era ended with a whimper instead of a bang, Woodson took over and helped the Knicks make the Playoffs with an 18-6 finish. If not for the Brooklyn Nets' potentially drastic improvement, we'd be talking potential second place in the Atlantic here.
PROJECTION – 3rd in Atlantic
---
PHILADELPHIA 76ERS
2011-12 RECORD – 35-31
PROJECTED ROTATIONS:
1st String –Andrew Bynum (C), Spencer Hawes (PF), Evan Turner (SF), Jason Richardson (SG), Jrue Holiday (PG)
2nd String –Kwame Brown (C), Thaddeus Young (PF), Dorell Wright (SF), Nick Young (SG), Royal Ivey (PG)
3rd String – Lavoy Allen (PF), Arnett Moultrie (PF), MaalikWayns (PG)
Coaching staff –Doug Collins (HC), Michael Curry, Brian James, Aaron McKie, Jeff Capel (A)
LAST YEAR'S LEADERS:
Scoring – Louis Williams (14.9)
Rebounding –Spencer Hawes (7.3)
Assists – Andre Iguodala (5.5)
Steals – Iguodala (1.7)
Blocks – Elton Brand (1.6)
Minutes – Iguodala (35.6)
FRONTCOURT –The only sure thing in the Sixers' starting frontcourt is Andrew Bynum. Acquired last month from the Lakers in the vaunted four-way trade that sent Dwight Howard to L.A., Bynum was finally healthy for an entire season, averaging a career-best 18.7 ppg and 11.8 rpg, but he still has a lot of growing up to do.Head coach Doug Collins should remedy that. Bynum will be ideally complemented by last year's starting center, Spencer Hawes. The sixth-year man is a splendid passer and shooter for a 7'1" natural center, but would Collins be willing to start him at the four? The veteran coach has several other options.
Thaddeus Young and, believe it or not, Kwame Brown, may also be in contention for a starting PF spot. Young has been quite effective and versatile as Philly's sixth man, but at 6'8", he's a tad too short to play power forward.His build and playing style is small forward all the way. Brown, whom we all know as the most disappointing first-overall pick of the 21st century, was apparently brought in to fill a starting spot; if he does, he'll probably check if the water's fine before letting Hawes and Young get most of the minutes at the four. If it's any consolation, he plays good "D". Lavoy Allen was a pleasant surprise as a rookie last year and is a ferocious rebounder who can also serve as a defensive specialist.

Meanwhile, at the three spot, it's put up or shut up time for Evan Turner. The second overall pick of the 2010 Draft had some flashes of brilliance as an Andre Iguodala-lite type of player, hustling on "D" and doing a little bit of everything…except shoot well from outside. He needs to put it together this year to avoid the draft bust tag. If his shooting remains inconsistent, former Golden State Warrior Dorell Wright will cause some mismatches at SF and try to rebound from a disappointing 2011-12 campaign. Rookie Arnett Moultrie can play the four and the five, but at this point he may need some D-League seasoning as the odd man out in the frontcourt. (B+)
BACKCOURT – Again, there's only one sure starter here – point guard Jrue Holiday. Though his third season was less impressive than his sophomore breakout season, Holiday stood out in the Playoffs, leading the Sixers to an upset of the Chicago Bulls (minus Derrick Rose) and a tight seven-game loss to the Celtics in the Eastern semis. Bynum's arrival almost guarantees Holiday will improve on his mediocre 4.5 apg in nearly 34 minutes an outing.
Shooting guard is a big question mark with new additions Jason Richardson and Nick Young and possibly Turner all candidates to start. J-Rich is coming off his worst season as a pro, an inconsistent 11.6 ppg, 41% FG campaign with the Orlando Magic. He won't score 20 points a game just like back in the day, but he'll do well in spreading the floor and hitting those threes. Nick Young's most likely role would be as the instant offense guy off the bench, the same role played by Lou Williams these past few seasons. Undrafted rookie MaalikWayns and veteran backup Royal Ivey will compete for the second-string PG job - these aren't the backups you'd want for a young, emerging point guard like Holiday.(C)
COACHING – Doug Collins may have mellowed down from his earlier days as a head coach, but one thing remains the same – his commitment to defense. He's still one of the better minds in the game, and is an ideal choice to continue piloting this young, improving team going forward.(B+)
DRAFT – Arnett Moultrie (27th) was acquired from the Heat shortly after the 2012 Draft. He's an athletic 6'11" forward/center who'll have trouble getting minutes in a crowded frontcourt. However, the Sixers originally drafted SF Moe Harkless (15th) before sending him to Orlando in the Dwight Howard/Andrew Bynum/et al. mega-trade. Obviously, they aren't backup point guards, which the Sixers need badly, but then again, Tony Wroten Jr. and Marquis Teague would've been too risky to pick at 15th.(D)
FREE AGENCY/TRADES –Several key Sixers departed via trade and free agency, namely Elton Brand, Andre Iguodala, Jodie Meeks, Nikola Vucevic and Lou Williams. Except for Bynum, it's hard to predict how the other newly-acquired vets (Richardson, Wright and Nick Young) would perform on their new team. All are coming off subpar 2011-12 seasons, and all will be hard-pressed to prove that last year was a fluke. Richardson may have the best chance of doing so as he's the one most likely to earn a starting job. Rookie free agent Wayns is a hometown hero (Philly-born and raised, played college ball at Villanova) who could earn some minutes due to the shaky backup PG situation.(B+)
SUMMARY –The 76ers are a lock to make the Playoffs and win at least 45 games, but so are the Celtics, Nets and Knicks. Bynum immediately makes the Sixers a better team and gives them arguably the NBA's second-best center, but this is still a team whose youth, lack of point guard depthand positional logjams at the two, three and four spots could workagainst them.
PROJECTION – 4th in Atlantic
---
What do you think?

We'd love to hear your comments and/or opinions. If you submit them here, other visitors can read them, rate them and comment on them. An e-mail address is not required.
---
From 2012 - 2013 NBA Preview to NBA Basketball Blog | Sports Blog | NFL Football Blog | NCAA Football Blog | NFL Football Archives | College Football Archives | MLB Baseball Blog | College Baseball Blog | MLB Baseball Archives | NCAA Basketball Blog | NBA Basketball Archives | NCAA Basketball Archives | Fantasy Football | Fantasy Basketball | Fantasy Baseball | Soccer Archives | Olympics Archives | Stupid Athletes Archives | Other Archives | Football Forum | Basketball Forum | Baseball Forum | NFL Football Store | NBA Basketball Store | MLB Baseball Store | NCAA Football Store | NCAA Basketball Store | NCAA Baseball Store | Fatheads | NFL Football Tickets | NBA Basketball Tickets | MLB Baseball Tickets | NCAA Football Tickets | NCAA Basketball Tickets | NCAA Baseball Tickets |
---
Home Page
About Us | Contact Us | Site Search | Advertise | Terms of Use |
---