2011 NFL Preview
By Eric Caldwell
With yet another season of miraculous catches, stunning upsets, and bone-shattering collisions alas assured, NFL fans can rest at ease knowing that their beloved sport will remain intact for another 10 years at least. As the anticipation of opening day mounts with each passing hour, our appetites are not spoiled by the lackluster advertisement of preseason, because a true football fan knows that patience is a virtue, and with the regular season just around the corner, our hungers will soon be subsided. No one can ever predict how the drama will play out, but why not take a stab at it anyway?
AFC
AFC EAST
*New England Patriots (3) - It seems like year after year the Pats attract more critics and skeptics than any other team in the league. While these opinions are well justified, acknowledging the steep drop-off in veteran talent and worrying changes in the front office, the fact remains that New England's offense is still orchestrated by the most competent quarterback in the league operating in front of perhaps the most brilliant coach the NFL has ever seen. The Pats haven't failed to make the playoffs with Brady at the helm since 2002 and that streak shouldn't cease anytime soon.


Buy This Allposters.com


Buffalo Bills - Now here's a team with a lot to prove in 2011. Chan Gailey took over what was considered the least promising offensive team in the league in 2010, but managed to turn nobodies like Harvard graduate, Ryan Fitzpatrick, and outspoken wideout, Stevie Johnson into miniature superstars. Fitzpatrick will be out to prove that he can be this franchises QB of the future and the defense has the pieces in place to be one of the league's top units. I'd be genuinely shocked in this team finished sub-.500 this year.
New York Jets - It should be interesting to see how Rex Ryan deals with the backlash from his self-imposed hype once his team doesn't live up to their continually rising standards. Mark Sanchez has been a great teammate and beloved leader no-doubt, but performance-wise, really hasn't displayed the flashes of brilliance that you would expect from a guy with a decorated ring hand. Without a big-time pass rusher, it's going to be nearly impossible for this team to topple Brady and the Pats to take the division.


Buy This Allposters.com


Miami Dolphins - The quarterback situation in Miami was something that I felt really needed to be addressed on draft day. Chad Henne has made it VERY clear that he is incapable of excelling in this league, the Pat White experiment was nowhere short of a disaster, and Chad Pennington"¦well, let's just say he's going to be out of commission for a little while. Miami's offense shouldn't be a total flop as long as they can continue to lean on the running game, or in other words, as long as they can re-sign Ronnie Brown and find an appropriate role for Reggie Bush.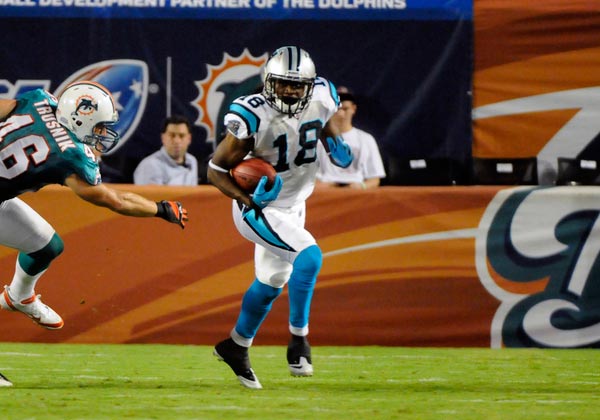 Carolina Panthers wide receiver Jamorris Warren (18) returns a kick against the Miami Dolphins in the Dolphins' 20-10 victory at Sun Life Stadium, Miami, Florida.
---
AFC NORTH
*Pittsburgh Steelers (4) I may be a superstitious guy, but the curse of the Superbowl runner-up is never one that I've taken too seriously. The Steelers have, in my opinion, the oddest pattern for success in the NFL. Here's how it goes:

Polamalu stays healthy they win 12 games due to strong performances on the defensive end.
Polamalu gets banged up Roethlisberger and the offense carry the team through 8 wins.

Ideally, the team physicians will be able to keep Troy healthy enough to attain some sort of median in my formula, and although the post season may be within walking distance regardless, the Steelers will need his help to keep the Ravens from overtaking their perch atop the AFC North.


Buy This Allposters.com


*Baltimore Ravens (6) Its all about the defense in this division. Sergio Kindle is ready to return from the skull fracture that forced him to miss his rookie season. Meanwhile, 1st round pick Jimmy Smith will look to bolster this staggering Baltimore secondary that gave up 225 passing yards per game during the regular season. Baltimore fans hope that these additions can close the gap that separates a good defense from the elite unit of not-too-long ago. Joe Flacco has proven that he can manage his team to post season success and that the offense isn't as feeble as the numbers may indicate, but whether or not this team can finally get a playoff win against Pittsburgh will determine if they're ready for another Superbowl run.


Buy This Allposters.com


Cleveland Browns Youthful and stabile, Cleveland's success in 2011 will largely depend upon the development of their promising young quarterback, Colt McCoy. Although he was unable to command a passing game of any real note in 2010, McCoy demonstrated leadership qualities that have got to have Walter Camp reevaluating his big board. The draft was used to retool and reenergize the defense, particularly the line, which ranked 22nd in the league last year in total yards allowed. I can see this squad reaching as far as 8 wins, but the real measures of this team's talent will be apparent a few more years down the road.


Buy This Allposters.com


Cincinnati Bengals - You pissed off Carson Palmer enough that he opted for early retirement, all of your reality-show hosting receivers are splitting town your offensive and defensive lines are more short-handed than Ochocinco's bull riding career, and even Marvin Lewis can't figure out why he isn't waiting in line at the welfare office. Unless Andy Dalton turns out to be some kind of miracle worker, I see the Bengals competing valiantly for the top overall pick in 2012. Oh, and this just in, Cedric Benson may have a tough time rushing for 1,000 yards from a prison cell.


Buy This Allposters.com

AFC SOUTH
*Indianapolis Colts (2) - The Colts are probably under more pressure to succeed than any other team in the AFC. Unlike the Patriots, Peyton Manning and the Colts have to deal with the constant nuisance of every team in the division breathing down their necks. Nevertheless, Indy is once again geared up for success and ready to stampede out of the gate in 2011 with championship expectations. The key components of the passing game are healthy at last, Peyton should be ready to do his thing by Week 1, and the addition of Anthony Castonzo has the league's posterchild breathing a hefty sigh of relief. Despite the barrage of competition being thrown their way, all signs point to go with another division crown in plain sight.


Buy This Allposters.com


*Houston Texans (5) - There is no doubt in my mind. This year will be the year that Houston finally overcomes the playoff hurdle. The offense will be high-powered as always, highlighted by the "˜Dre and Matt air attack alongside what may be referred to as the NFL's newest smash & dash combination, Arian Foster and Steve Slaton. However, the real reason for optimism is the hiring of new defensive coordinator, Wade Phillips, to implement the perks of the 3-4 defense and better utilize the talents of this accomplished Houston front-7. The secondary has been a major concern since the departure of Dunta Robinson via free agency, but the recent emergence of Glover Quin as pacesetter in the defensive backfield along with the addition of University of Miami star, Brandon Harris, and former Bengals, Jonathan Joseph, make for a much less worrisome unit.


Buy This Allposters.com


Jacksonville Jaguars - The Jags have the talent in place to compete for the AFC South title, but isn't that the case every year? If Jack Del Rio can motivate his team to earn victories in the clutch and keep from losing games that they SHOULD win, it would make a world of difference for this well-balanced team of underachievers.


Buy This Allposters.com


Tennessee Titans - Unfortunately for 1st year head coach, Mike Munchak, the Titans are probably hurt worse by this lockout than any other team in the conference. Not only has the only true veteran on the offense, Kerry Collins, opted for retirement, leading tackler Stephen Tulloch is all set to test the free agency market. 1st round pick and supposed star quarterback for years to come, Jake Locker, is not only left without a mentor, I'm not even positive he got a playbook. Let's not forget that he's had a whole summer to try to correct an uneasy throwing motion with no contact from team employees. A little help from the staff would likely make for a much smoother transition. I doubt Jake will be sending out any thank-you cards to the owners and players for that mishap. Matt Hasselbeck should take over until at least mid-season.


Buy This Allposters.com

AFC WEST
*San Diego Chargers (1) - The offense is dynamic enough to carry them further than any team in league, yet the questions surrounding the team's ability to succeed are seemingly endless. V-Jax may end up with another AFC West team before the season begins and not one of the three backs the Chargers like to feature have had any proven success. However, there are a few key reasons why I think the Chargers will excel in 2011. For starters, I feel that their offensive line might be the best in the league. Marcus McNeill is a physically dominant left tackle; Nick Hardwick and Kris Dielman control the interior like they have universal remotes, and Louis Vasquez is probably the best emerging young guard in the NFL. Behind a line of this caliber, Ryan Mathews could rush for 1,000 yards even if he doesn't end up being the star we all thought he'd be. Secondly, the defense is only getting stronger. Quentin Jammer isn't out of his prime just yet and he's made headway for stars-of-the-future, Antoine Cason and Eric Weddle to make an impact. Not only are the pieces that are in place sturdy, but San Diego invested its top 3 draft picks on defensive players as well. Corey Liuget, Marcus Gilchrist, and Jonas Mouton should all be able to make contributions during their rookie seasons. My final statement: Don't underestimate the punting game. Nobody does it quite like Mike"¦Scifres that is. Although often overshadowed by the pure leg-power of Oakland's Shane Lechler, Scifres's ball placement is uncanny and there are a lot of short-term benefits that come with pinning the opposition inside the 5.


Buy This Allposters.com


Kansas City Chiefs - KC's 2010 campaign was profound, but I still consider the Chiefs "on the rise" rather than ready to compete for a title. They'll only be able to thrive offensively in 2011 if Jamaal Charles can tackle his role as a feature-back and continue to provide balance to this fragile unit. Jonathan Baldwin was acquired through the draft to give the team another deep threat but whether or not he and Dwayne Bowe can coexist is yet to be seen. The role of Dexter McCluster is also unknown at this point. He's living in a tail back's body, but they desperately need his talents in the slot. Defensively, the Chiefs are sound. Eric Berry played at a Pro-Bowl caliber level during his rookie year and Glenn Dorsey and Tyson Jackson finally appeared to be coming into their own along the line. Don't count this team out of the Wild Card race but it wouldn't be wise to pencil them in either.


Buy This Allposters.com


Oakland Raiders - If there is one thing Al Davis has done a good job of in his senile years, it's been loading up on talent at the skill positions. Darren McFadden looked like a Razorback again while he was running through, around, and over opposing defenses. You can praise Darren for tearing off his "bust" tag, stepping up the intensity, and carrying your fantasy team in 2011, or all you Raider-faithful can direct your gratitude where it should have gone, to Tom Cable. Cable (offensive line coach-turned-head coach) made sure his linemen were up to the task of clearing paths and opening holes for McFadden"¦something they had never felt up to before apparently. Now we begin life without Cable, which will likely resemble "life without Norv Turner" or "life without Art Shell". Word to Mr. Davis - if Hue Jackson wins 6 or more games this year, DON'T FIRE HIM!


Buy This Allposters.com


Denver Broncos - The Broncos have been terrible against the run since the start of the post-Shanahan era. Now you can add on all the Von Millers and Nate Irvings that you want, but until you get a big man in the middle to anchor the defensive line, you're not going to see much improvement. On the bright side however, while Denver's opponents are busy shredding their D and scoring on every possession, they might not notice that this surprisingly flashy offense is putting up points right there with them. Be wary that Laurence Maroney and LenDale White are still on this roster and have had almost a full year to recover from season-ending injuries. Demaryius Thomas may not be the most soft-handed guy in the world, but his size and athleticism demand coverage while Brandon Lloyd and Eddie Royal can make plays in the short game. Just don't get too anxious thinking Tebow time is now or never - the team still needs some time to rally around him.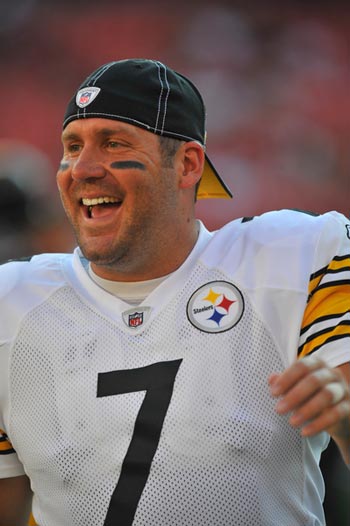 Steelers QB Ben Roethlisberger (7) smiles during warm ups. The Washington Redskins defeated the Pittsburgh Steelers 16-7 during their preseason game at FedEx Field in Landover, MD.
---
AFC WILDCARD ROUND
Ravens 20
*Patriots 32
-The Pats haven't had the best luck when matched up against Baltimore in recent years, but give Bill Belichick enough cracks at something and he's bound to get it right, just ask the Colts. Brady should be able to manipulate this defense, no matter how talented, with a variety of completions in the short passing game.
Buy This Allposters.com
Texans 10
*Steelers 24
-Houston's first playoff appearance will be short-lived as they face a well-decorated Pittsburgh team that has them out-classed physically. The game should provide an interesting matchup as the league's best receiver and best safety collide with a spot in the Divisional Round on the line.
AFC DIVISIONAL PLAYOFFS
Steelers 17
*Chargers 20
-Pittsburgh has been here often enough to know what it takes to get to the next round, but this dynamic Chargers' offense may bring back painful memories of Superbowl XLV. Blitzburgh will find a way to pin down the passing attack, but in case of shootout, Rivers gets the nod over Roethlisberger.
*Patriots 44 (OT)
Colts 41
-Manning v. Brady - perhaps the most heralded collision of commercial superstars that today's sporting community is allowed to witness. I wasn't yet 10 years old the last time the Patriots and Colts met without severe implications, and a situation of this magnitude will only personify the Manning/Brady rivalry that all advocates of the NFL crave. The reloaded and revamped supporting cast of the Patriots should be able to simply outlast the battle-worn Colts for yet another chapter in the league's greatest standoff.
AFC CHAMPIONSHIP GAME
Patriots 17
*Chargers 30
-Ole Norv's conservative persona may finally pay him dues in this battle of wits with Belichick. San Diego has had New England in the bag during their past several meetings but inexcusable turnovers and Pop Warner mistakes ended up costing them W's. You can bet a week of harsh preparation will be in store for a franchise looking to claim its first wave of rings.
NFC
NFC EAST
*New York Giants (3) - Eli Manning is at a point where he needs to lead his team back from the pits of mediocrity and show the league that the '07 Giants weren't just a lucky bunch of underdogs. The ground game is bruising, the secondary is well-represented by the turnovers they create, and the defensive line is as pumped up as ever by these recent twitter outburst. Divisional opponents had better be ready to get physical, because this is a team ready to succeed.


Buy This Allposters.com


*Philadelphia Eagles (5) - The addition of coveted cornerback, Nnamdi Asomugha, immediately makes this team the essence of the 2011 Superbowl conversation. This team wins 12 games minimum if Vick stays healthy"¦but can he?
Dallas Cowboys - The Cowboys are going to need to avoid another bumpy start if Tony Romo has any true belief in his "rings come in pairs" theory. But luckily for the fans of this title-hungry franchise, there isn't really anything standing in Romo's way"¦ except for the rest of the division. Physically, the quarterback is back to 100% and even if he has another incident, Jon Kitna is an experienced enough backup to carry this team. Jones and Choice are still a scary one-two punch in the backfield and the extra help of Sooner star DeMarco Murray should only improve the rushing attack. Despite being one of the best teams in the league when it comes to rushing the passer, Dallas is going to struggle defensively if they can't fill the gaping void at safety. Jay Ratliff is also going to need some help along the defensive front. Passing on Nick Fairley may not have been the wisest move.


Buy This Allposters.com


Washington Redskins - They're not necessarily getting better, but they're getting better personnel. That phrase summarizes the up-and-coming Redskins pretty well I'd say. While they may not possess a "dangerous" passing attack, they have enough depth at receiver to keep opposing secondaries on their heels while they grind the rock down the throat of the defense. They invested a lot of 2011 picks in the future, selecting talent over need with players like Brandyn Thompson, Leonard Hankerson, Niles Paul, and of course Ryan Kerrigan. Mike Shanahan will keep this team motivated to finish games and win where they're outmatched. I don't think 7 wins is out of the question.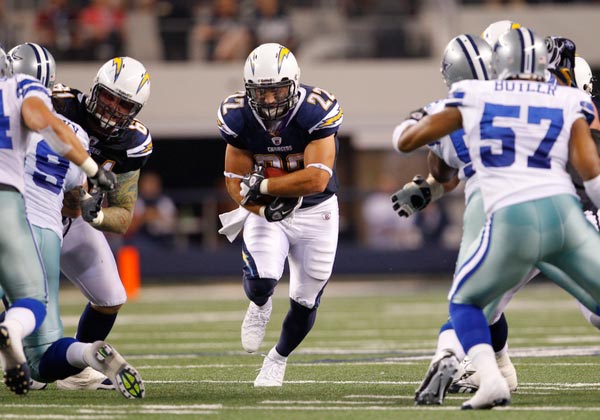 San Diego Chargers fullback Jacob Hester (22) runs with the football during the first half of the game between the San Diego Chargers and the Dallas Cowboys at Cowboys Stadium, Arlington, Texas.
---
NFC NORTH
*Green Bay Packers (2) - Repeats are becoming scarce, but it's not often that the defending champs improve as drastically as the Packers did when the IR list cleared. Jermichael Finley, Morgan Burnett, Ryan Grant, and Mark Tauscher are all prepared to return from the injured reserves with their bodies in tip-top physical shape and an extra tidbit of motivation to actually participate in a 2011-2012 Superbowl run. The team with the league's second best turnover ratio should be hard to slow down, especially with the squad's young cornerbacks finally coming into their own towards the end of last season.
Detroit Lions- Health is the key to success for this underlying powerhouse. If Detroit can get 16 games out of Matthew Stafford and Megatron, this offense will be hard to slow down. The defense is also stout, molding several young pieces into schemes where they will thrive. Louis Delmas has established a rep as one of the most complete safeties in the NFC, Ndamukong Suh took home the DPOY trophy in 2010, Alphonso Smith has shown an unrivaled knack for forcing turnovers, and when you throw Auburn idol, Nick Fairley, into the equation, there's nowhere to look but up.


Buy This Allposters.com


Chicago Bears - As long as Jay Cutler keep keeps choking, the Windy City faithful are going to be calling for yet another quarterback switch. Without an established #1 receiver and a defensive line and secondary that are just beginning to settle in, it's going to be hard for this team to keep up with a division growing faster than sunflowers around them. They'll win 6+ games thanks to their talent-stacked defense alone, but exactly how much further can Cutler carry them?
Minnesota Vikings - The NFC's lockout burn victim; Minnesota will be looking to assemble their quarterback of the future in a timely fashion while they count the games before they can determine if Joe Webb's end-of-the-year performance was legitimate or just a lucky fluke. Sidney Rice was just plucked from the market, leaving your best wideout, Percy Harvin, standing short at 5'11" and emaciated from his usual slot role. The most immediate issue in 2010, the secondary, hasn't been promptly addressed, leaving an otherwise stagnant defense with a glaring weak spot. Good luck slowing down the pass-happy gunslingers that will be keeping their foot on your neck in this division.


Buy This Allposters.com

NFC SOUTH
*Tampa Bay Buccaneers (1) - Perhaps the most animated young quarterback in the league, Josh Freeman, has had his team working towards their goal of an NFC title since early June. The roster is reloaded with young talent, namely two of 2010's breakout skill players, Mike Williams and LeGarrette Blount, on the offensive end. Defensively, the addition of prized line-enforcers Adrian Clayborn and Da'Quan Bowers through the draft should drastically improve a run-defense that ranked 28th in the NFL last year. Freeman's leadership qualities continue to impress respected figures throughout the league and these same qualities may just be the reason why the Bucs achieve their goal.


Buy This Allposters.com


*New Orleans Saints (6) - An ever-flourishing passing game and a pleasantly crowded backfield should be plenty of firepower for New Orleans to ride back to the postseason. Drew Brees and company will be looking to avoid a slow start that essentially doomed them from the NFC South title last year, making for quite the showdown in Green Bay to kick off the season.


Buy This Allposters.com


Atlanta Falcons - Unfortunately for ring-seeking veteran, Tony Gonzalez, the Falcons are the odd-man-out in this spirited NFC playoff race. The offense is going to play lights-out as usual, but the defense must shake off mediocrity in order to hold pace with the rest of the division. They need a big man in the middle of their defensive line if they have any hope of returning to Superbowl contention.
Carolina Panthers - Steve Smith deciding to stay put could be a sign of good news to come for a franchise ready to emerge from the trenches. Although Cam Newton's role as a prominent passer is yet to be determined, the running game should return to form as one of the league's premiere units as long as the health of DeAngelo Williams and RT, Jeff Otah is sustained. Unluckily, 4th place looks like the ceiling for a team with no proven passing attack. Everything is looking up for the Panther's aside from the fact that they play in what is widely considered the toughest division in football.


Buy This Allposters.com

NFC WEST
*Arizona Cardinals (4) - The Kevin Kolb trade almost undoubtedly bolsters the Cards to the top of their division. Now that Larry Fitzgerald finally has someone reliable to toss him the rock, his numbers should re-bloom and resemble those of the 2008 season when he carried Arizona to their first Superbowl appearance. The backfield splits quickly went from a three-back rotation to a one man show now that Tim Hightower is no longer with the team and Ryan Williams's season is in doubt. Multiple dimensions are a plus in a division that was lucky to even send a team to the playoffs last year, not to mention not even sport a team with a winning record. They have leaders at several key positions on the defensive side of the ball. Darnell Dockett is a premiere middleman, making a reputation for himself as arguably the league's best run-stuffer. Adrian Wilson and Kerry Rhodes are also both amongst the league's most feared at the safety position. The addition of first-year foundation players, Quan Sturdivant and Sam Acho should also provide headway for a solid core.
San Francisco 49ers - Jim Harbaugh's squad has very little time to adopt a very complex offense before Week 1 of the NFL's regular season. If this team comes out of the gate deflated, then Alex Smith's last stand as the 49ers' starting quarterback will be short-lived. After cutting Nate Clements, the 49ers are virtually decimated at cornerback. They'll need to add a big name post-haste if they want to make a statement for this division crown.


Buy This Allposters.com


St. Louis Rams - An up-and-coming offense paired with an under-performing defense may have been enough to compete for this division in 2010, but the Rams will soon find that the NFC West is loaded with a lot more firepower than this depleted secondary is suited to handle. The addition of Mike Sims-Walker finally gives Bradford a go-to receiver, which should give this unit more of a "dynamic" feel and create space for slot commodities, Danario Alexander and Danny Amendola to catch short passes and keep drives alive. The offense has enough firepower to push this team to 7 wins, but the problem is: This year, 7 wins won't be enough to win the division
.
Seattle Seahawks - The most uncertain quarterback situation in the NFL doesn't bring a whole lot of promise, even in the NFL's poorest excuse for a division. Tarvaris Jackson is set to get the nod over Charlie Whitehurst, but is he really the guy you see commanding this team to a playoff berth? I think not.
NFC WILDCARD ROUND
*Saints 36
Giants 31
-The visiting Saints should slide by with an all-out aerial assault on the sometimes-undisciplined New York secondary. It may be difficult for New Orleans to handle the physicality of the Giants' running game, but when push comes to shove, the ball moves quicker through the air than on the ground.
*Eagles 45
Cardinals 13
-Unfortunately for the upstart Cards, their only true source of offensive production will be rather ineffective once Nnamdi Asomugha takes Fitzgerald out of the picture. Arizona will have to revolutionize the way people think of offensive football if Kevin Kolb is to have any chance at toppling his former employer.
NFC DIVISIONAL PLAYOFFS
*Saints 27
Buccaneers 26
-I just don't see what could slow the Saints down here. Tampa has a deadly mix of youth and experience on the defensive end of the ball, but the ever-potent Saints will likely need to get hot down the stretch in order to beat out Atlanta and Detroit for the NFC's final Wildcard slot. Momentum will be the toughest thing for the young Bucs to overcome and as long as Brees is healthy, slowing their aerial attack may not be in the picture.
Eagles 35
*Packers 38
-The defending champs bring the essence of what it takes to be a champion into their first home playoff game since the bitter NFC Title Game loss at the hands of the '07-'08 Giants. The Eagles will prove to be much more than just hype, but the cool and precise Rodgers has shredded even the most complete defenses with seemingly effortless touch.
NFC CHAMPIONSHIP GAME
Saints 14
*Packers 20
-The Pack will take one-more step towards becoming the first repeat-champ since the Pats in '05. Brees and Rodgers will have to overcome their biggest obstacles since opening week. For Rodgers - the touchdown-producing secondary that carried New Orleans to their first title 2-years prior. For Brees - the relentless Packers' pass rush that turned Mike Vick from a free roaming racehorse into a caged puppy, and made Tom Brady look like your average-Joe beer-league quarterback. The Pack get more sacks than the Aint's force turnovers, resulting in a return to the big stage in Indy.
SUPERBOWL XLVI
San Diego Chargers v. Green Bay Packers
So yet another season concludes with a fireworks show of Francis Scott Key-esc proportions. Rivers and Rodgers, two of the league's most dignified young passers will duel on the climate-controlled Lucas Oil battlefield in Indianapolis. One with the heartfelt desire to warm his ring finger with its long-sought garment, the other battling to extend his legacy and further bury the memories of his predecessor. San Diego's mountainous offensive line should provide the most challenging test for this proven unit of Packer pass rushers, and as long as Rivers has time to throw, he shouldn't be intimidated by the pick-hungry secondary of Green Bay. Rodgers's wide array of weaponry should illuminate the scoreboard in a different fashion; working short, high-percentage routes until the outside defenders are sucked in and the big play opens up along the sidelines. Mr. X-Factor, Charles Woodson, may be the key to hoisting the Lombardi for the Pack. If Green Bay can pressure Rivers in ways that Bolts' offensive coordinator, Clarence Shelmon, can't scheme to block, then this offense will commit costly turnovers in a game where possessions are everything. I like the Packers to repeat, 37-35.
Here's more 2011 NFL Preseason Picks.
---
What do you think?
We'd love to hear your comments and/or opinions. If you submit them here, other visitors can read them, rate them and comment on them. An e-mail address is not required.
What Other Visitors Have Said
Click below to see contributions from other visitors to this page...

Great NFL Preview Not rated yet
Although I don't always agree with his picks/rankings, Eric has always done his research and writes with a great combination of information and entertainment. …
---
From 2011 NFL Preview to NFL Football Blog | Sports Blog | NCAA Football Blog | NFL Football Archives | College Football Archives | MLB Baseball Blog | College Baseball Blog | MLB Baseball Archives | NBA Basketball Blog | NCAA Basketball Blog | NBA Basketball Archives | NCAA Basketball Archives | Fantasy Football | Fantasy Basketball | Fantasy Baseball | Soccer Archives | Olympics Archives | Stupid Athletes Archives | Other Archives | Football Forum | Basketball Forum | Baseball Forum | NFL Football Store | NBA Basketball Store | MLB Baseball Store | NCAA Football Store | NCAA Basketball Store | NCAA Baseball Store | Fatheads | NFL Football Tickets | NBA Basketball Tickets | MLB Baseball Tickets | NCAA Football Tickets | NCAA Basketball Tickets | NCAA Baseball Tickets |
---
Home Page
About Us | Contact Us | Site Search | Advertise | Terms of Use |
---