2011 NFL Mock Draft
Welcome to the NLL…the National Litigation League. Fortunately for fans, while we do have to sit through endless weeks of legal wrangling and constant sniping back and forth between NFL owners and players, there is one bit of positive news on the horizon….THE NFL DRAFT IS COMING. In recent years, the NFL Draft has become an object of fan interest and, as a result, everyone has their own little first round draft bulletin to show their friends. Of course, no one can predict what NFL teams will do (how are you Darius Heyward-Bey?) but it is still fun to try. Here is my take on the NFL Draft's first round and, just for fun, I included a few trades to make it interesting:
1. Carolina Panthers: CAM NEWTON, QB Auburn
The Panthers think Newton is a cross between Michael Vick (speed and power) and Donovan McNabb (throwing arm) on the field and are convinced that his experiences, both positive and negative, have turned him into a credible locker room leader. This could be the riskiest number one pick in years.
2. Denver Broncos: PATRICK PETERSON, CB LSU
I don't see the Broncos giving up on Tim Tebow this early. Why not draft the top rated player in the draft and let him learn from Denver's Hall of Fame corner, Champ Bailey? Not to mention, a Peterson-Bailey combination at the corner spots would do a lot to mask Denver's relatively weak front four.
3. Buffalo Bills: MARCELL DAREUS, DT Alabama
The Bills desperately need a better pass rush and improved play against the run. Dareus could anchor their defensive front for a decade and would a crucial part of their rebuilding process.
4. Cincinnati Bengals: BLAINE GABBERT, QB Missouri
Carson Palmer will retire before wearing Bengals colors again and owner Mike Brown knows that. It is time to move on and Gabbert would be a fresh face who could lead this talented team to amazing places. Wait….I'm talking about the Bengals.
5. Arizona Cardinals: VON MILLER, OLB Texas A&M
With Gabbert gone, the Cardinals will take the best player on the board at a position of need.
6. Cleveland Browns: ROBERT QUINN, DE North Carolina
Quinn is so talented that he is still rated a top five player after missing the season. Cleveland's front four could not be poorer after the release of DT Shaun Rogers. It's a natural fit.
7. San Francisco 49ers: PRINCE AMUKAMARA, CB Nebraska
The 49ers are a surprisingly complete team but they are weak at the corners and need a quarterback. With Gabbert and Newton gone, the odds are that the 49ers will take a top corner here to solidify an already capable defensive unit and look at several talented QB candidates-Christian Ponder and Andy Dalton in particular-in the second round. San Francisco might also trade down ten spots or so to pick up a few picks then draft Ryan Mallett or Jake Locker later in the First Round.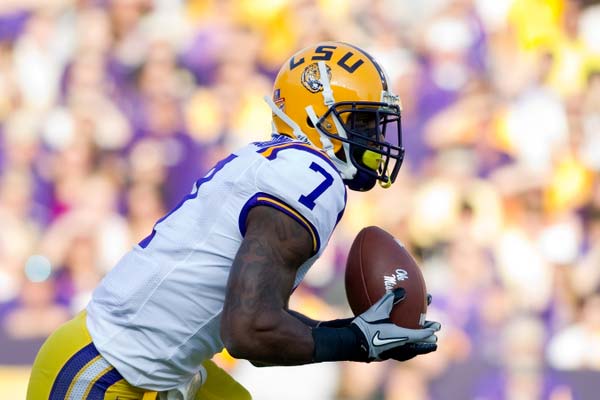 LSU Tigers cornerback Patrick Peterson (7) returns a kickoff during the first half vs Ole Miss.
---
8. Tennessee Titans: NICK FAIRLEY, DT Auburn
Fairley may be the draft's most talented player and the Titans excel at developing defensive lineman. This may the best match of the whole draft.
9. Dallas Cowboys: TYRON SMITH, OT USC
Dallas desperately needs to address its offensive line and Smith is the best option available.
10. Washington Redskins: TRADE TO THE ST. LOUIS RAMS FOR THE RAMS PICK AT 14 AND THE RAM'S THIRD ROUNDER. THE RAMS TAKE A.J. GREEN, WR ALABAMA. This is a natural move; Washington has many needs and no truly compelling options here while the Rams would love to move up and steal Green here.
11. Houston Texans: DA'QUAN BOWERS, DE Clemson
Knee issues aside, the chance to pair Bowers with all-pro defensive end Mario Williams will be too tempting to pass up. Plus, Bowers is a value here.
12. Minnesota Vikings: TRADE TO THE PATRIOTS FOR THE 17TH OVERALL PICK PLUS AN EXTRA 3RD ROUNDER. THE PATRIOTS SELECT J.J. WATT, DE WISCONSIN. The Patriots really need young blood on their defensive line and Watt fits their style, system, and attitude perfectly but will be gone by seventeen. Meanwhile, Minnesota moves down to seventeen to wait for Mallett or Locker.
13. Detroit Lions: ALDON SMITH, DE, Missouri:
A solid value here and that would give them the most impressive defensive line in the division (apologies to the Bears).
14. Washington Redskins: JAKE LOCKER, QB Washington
Mike Shanahan loves his system and wants a guy with size, guts, and intangibles to run it. Locker fits the bill and odds are Shanahan will chock up a lot of Locker's incomplete passes to his crop of junior-college level receivers. A great pick here.
15. Miami Dolphins: RYAN MALLETT, QB Arkansas
Everyone expects Miami to draft Mark Ingram here but Mallett makes the most sense. Chad Henne is a solid player but, despite my eternal love for all ex-Michigan Wolverines, even I must admit he is not a potential all-pro franchise quarterback. Mallett could be and, most importantly, the Dolphins have an incredible offensive line that can protect him and let him develop. If the Dolphins do make this pick, it could be the value of the whole draft.
16. Jacksonville Jaguars: JULIO JONES, WR Alabama
Jones is the best player at a major position of need for the Jaguars.
17. Minnesota Vikings: COREY LIUGET, DT Illinois
Without a top quarterback left to draft, the Vikings may opt to start developing a replacement for the Williams Wall.
18. San Diego Chargers: MUHAMMAD WILKERSON, DE Temple
The Chargers badly need a new playmaker on the defensive line.
19. New York Giants: MIKE POUNCEY, C/G Florida
The Giants need to start getting new blood on an ageing line and future All Pro Pouncey is an excellent place to start.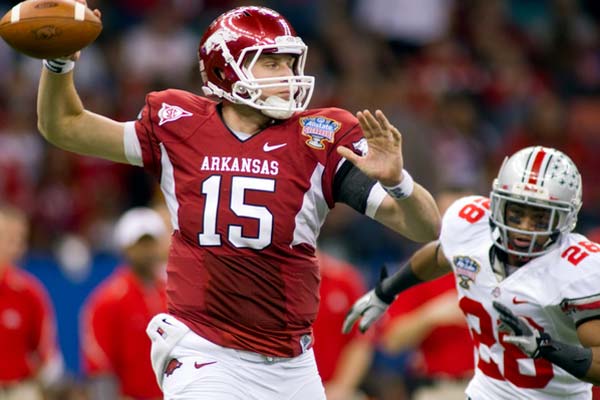 4 January 2011: Arkansas Razorbacks quarterback Ryan Mallett (15) drops back for a pass in the second half vs Ohio State Buckeyes.
---
20. Tampa Bay Buccaneers: MARK INGRAM, RB Alabama
The Buccaneers are in the middle of a remarkable turnaround. Adding a special franchise back in Ingram would really allow Tampa's offense to develop.
21. Kansas City Chiefs: CAMERON JORDAN, DE California
The Chiefs are taking the best player in the draft here and Jordan will really create a special defensive line group.
22. Indianapolis Colts: ANTHONY COSTANZO, OT Boston College
The Colts need to address this serious position of need now.
23. Philadelphia Eagles: NATE SOLDER, OT Colorado
The Eagles line has been surprisingly porous the past two seasons and Solder is a good value here.
24. New Orleans Saints: Kyle RUDOLPH, TE Notre Dame
With the release of Jeremy Shockey, tight end is a weak spot in an otherwise exceptional offense. Sean Payton will know what to do with a talent like Rudolph.
25. Seattle Seahawks: AKEEM AYERS, OLB UCLA
With Jake Locker gone, the Seahawks will look to upgrade their pass rush. Few players get to the quarterback like Ayers.
26. Baltimore Ravens: AARON WILLIAMS, CB Texas
Williams has special talent but his maturity issues will drop his stock….if anyone can handle those issues Baltimore can. Plus, corner is Baltimore's weakest position.
27. Atlanta Falcons: STEPHEN PAEA, DT Oregon State
The Falcons need a better front four group and Paea will help against both the pass and run. Not a home run but a solid pick in an area of need.
28. New England Patriots: BRANDON HARRIS, CB Miami
Taking a cornerback late in the first certainly worked for the Pats last year. However, they are still weak at the corners and need another playmaker. Harris is also a special talent who will benefit from a disciplined atmosphere.
29. Chicago Bears: RYAN KERRIGAN, DE Purdue
If the Bears get Kerrigan here, they will be thrilled. He is an absolutely fantastic pass-rusher and will thrive opposite Julius Peppers for years.
30. New York Jets: ADRIAN CLAYBOURN, DE Iowa
The Jets would love a do-over on Vernon Gholston and Claybourn would be a great option.
31. Pittsburg Steelers: GABE CARMINI, OT Wisconsin
The Steelers would love to start addressing their offensive line woes.
32. Green Bay Packers: BROOKS REED, DE Arizona
The Packers always take the best player on the board. But I would not be surprised if they trade down from this spot on draft day.
---
What do you think?
We'd love to hear your comments and/or opinions. If you submit them here, other visitors can read them, rate them and comment on them. An e-mail address is not required.
What Other Visitors Have Said
Click below to see contributions from other visitors to this page...

Loudpack 2011 Mock Draft Not rated yet
I'm just glad you don't have the Vikings picking up Locker like the rest of the world does. You can check out my mock draft at the link below. http://www.loudpackcult …
---
From 2011 NFL Mock Draft to NFL Football Blog | Sports Blog | NCAA Football Blog | NFL Football Archives | College Football Archives | MLB Baseball Blog | College Baseball Blog | MLB Baseball Archives | NBA Basketball Blog | NCAA Basketball Blog | NBA Basketball Archives | NCAA Basketball Archives | Fantasy Football | Fantasy Basketball | Fantasy Baseball | Soccer Archives | Olympics Archives | Stupid Athletes Archives | Other Archives | Football Forum | Basketball Forum | Baseball Forum | NFL Football Store | NBA Basketball Store | MLB Baseball Store | NCAA Football Store | NCAA Basketball Store | NCAA Baseball Store | Fatheads | NFL Football Tickets | NBA Basketball Tickets | MLB Baseball Tickets | NCAA Football Tickets | NCAA Basketball Tickets | NCAA Baseball Tickets |
---
Home Page
About Us | Contact Us | Site Search | Advertise | Terms of Use |
---