2011 NFL Draft: Linebacker Projections
Not a lot of 1st round talent in the linebacker class of 2011. This crop of well-rounded athletes all have the tools to lead long lives in the NFL, satisfying their multi-million dollar contracts before testing the free agent market in a continuous cycle. That's not to say that 1 or 2 of these young men will not escape this unfulfilling abyss and transcend into greatness, but in the shadow of some of the other position classes of 2011, the linebackers just don't shine too brightly.
1. Von Miller, Senior – Texas A&M
-Probably the closest thing to a clear-cut #1 at his position, Von Miller's stock is through the roof because of jaw-dropping measurables. The unanimous All-American selection was a clear standout at the combine, documenting a 4.53 40-yard dash, a 10'6" broad jump, and a 6.7 second 3-cone drill. But combine results aren't Miller's only notable accolade – the defensive standout of the Big-12 recorded 33 sacks during his 4-year career (17 during his Junior season) and led the conference in tackles-for-loss. At 6'3" and 243lbs, Miller is a suitable candidate for a starting linebacker position in any scheme.
Visit our Von Miller jersey
2. Quan Sturdivant, Senior – North Carolina
-Where should I start? Speed, strength, leadership – Sturdivant is the complete package. A former All-ACC selection, the pride of Oakboro, NC posted a whopping 310 career tackles including 122 during his Sophomore season. His athleticism is matchless, allowing him to make plays all over the field and be the defensive presence that many teams at the next level so drastically need. Inside linebacker usually isn't a very applauded pick early on, but he'll likely be the highlight of the 2nd round if he escapes the late 20s.
3. Bruce Carter, Senior – North Carolina
-When both were healthy, Carter and Sturdivant made for a gruesome twosome amongst the insurmountable resistance that was the UNC defense. While Sturdivant acted as more of an all-purpose 'general', Carter played the QB spying, turnover forcing, pass rush specialist. Proving himself as one of the draft's premiere athletes, Carter clocked in at 4.46 seconds in the 40-yard dash, meanwhile, projecting his 6'2" 241lb frame around the field like a missile. Bruce Carter will likely be an early 2nd round pick and a full-time starter at the next level.
4. Casey Matthews, Senior – Oregon
-Continuing his family's proud football tradition, Matthews gazes forward with hopeful eyes to April 28th. Using his superior speed and dynamic explosiveness, the heart of Oregon's defense can always be seen tearing up plays before they even get started. He's a sound tackler with the arm strength to bring down a runner when all he can grasp is cloth. He might be the most exciting playmaker of the linebacker class of 2011 and don't be surprised if he ventures from his normal inside backer spot. Just like his brother, he can also be effective as a 3-4 rush linebacker or even a 4-3 DE. Players with strong family history are usually locks to be drafted high and Matthews is no exception. He should come off the board in the early-mid 2nd round.
Looking for a Patrick Willis jersey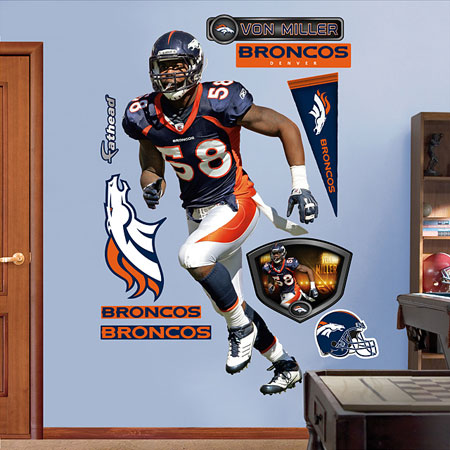 Von Miller of Texas A&M during the Senior Bowl's South Team Practice at the Fairhope Municipal Stadium in Fairhope, Alabama.
---
5. Martez Wilson, Junior – Illinois
-At 6'4" and 250lbs, Wilson may be the most physically imposing LB in this class. However, great size is not always coupled with a guarantee for success. He lost almost an entire season in 2009 after suffering a herniated disk in his neck during the season opener and hasn't exactly played consistent football during the time that he was healthy. The thing about Wilson that really excites me is how much room he has left to build. Not only could he healthily support a good 275lbs, but if he gains it properly he can maintain his 4.49 speed and make a smooth transition to OLB, where I believe he has a much better chance to succeed.
6. Brooks Reed, Senior – Arizona
-Although more of a pass rusher, Reed's build and light-footed drift will surely place him in a standup linebacker spot. The 3-year letterman has the versatility to be a feared pass rusher as a 3-4 outside backer or play a more laid back role in a 4-3. Although I feel he won't be nearly as effective a player in the 4-3 (which hurts his stock), his QB harassment skills will make him a coveted 2nd day player.
7. Akeem Ayers, Senior – UCLA
-A former 1st round projection, the 2nd Team All-American saw his stock plummet after a dreadful outing at the NFL Combine. Ayers' stands at 6'4" and 255lbs, making him an ideal specimen to play a 3-4 outside linebacker, but his measurables draw ongoing concern about whether or not he's capable of playing up to that stature. Ayers should be selected mid-way through the 2nd round purely off of potential.
8. Justin Houston, Junior – Georgia
-The 1st Team All-SEC linebacker supercharged his draft stock after recording 18.5 tackles-for-loss and 10 sacks after Georgia's transition to a 3-4 defense in 2010. His dominant play earned him numerous prestigious award nominations, including finalism for the Nagursky Trophy and Butkus Award. Houston, at a height of 6'3", tipped the scales at just under 260lbs, making him a superb cut for an outside backer in any NFL scheme. However, Houston will need to improve his speed and burst to crack a starting lineup at the next level - not a huge issue, but one that will have to be dealt with.
Here's our Brian Urlacher jersey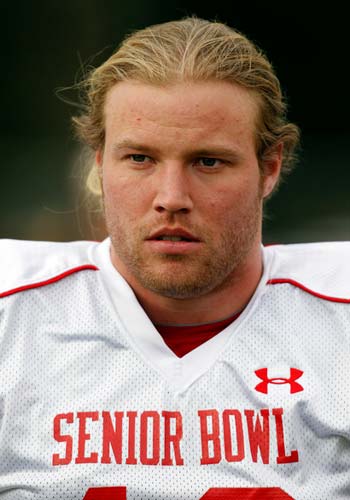 Brooks Reed of Arizona during the Senior Bowl's South Team Practice at the Fairhope Municipal Stadium in Fairhope, Alabama.
---
9. Bruce Miller, Senior – UCF
-Miller was awarded the C-USA Defensive Player of the Year award for various reasons. A solidified rush threat, the Senior from Canton, OH made terrorizing game plans his primary objective. Not only did he record 8.5 sacks in 2010, he was also seen making impact plays from sideline-to-sideline, recording 63 total tackles (13.5 for loss), forcing 2 fumbles, and lastly intercepting 2 passes, both of which he took to the house. Like Houston, Miller must also battle questions about his quickness if he wants to push his stock into the 2nd round. Miller plays with a constant motor and the heart of a champion and regardless of where he's selected, he should be able to step in when needed and be an impact player.
10. Kelvin Sheppard, Senior
– LSU-Hello Sleeping Beauty! Although undersized, one of the Tigers' many defensive impact players made up for his small body with big play. With close to 300 career tackles, Sheppard's force is constantly evident, earning him 1st Team All-SEC honors in 2010. Not only is he a proven playmaker against the run game, but also in comparison to the other linebackers in this class, his coverage skills are outstanding. Sheppard may be the best player in this class taken beyond the 1st round.
---
What do you think?

We'd love to hear your comments and/or opinions. If you submit them here, other visitors can read them, rate them and comment on them. An e-mail address is not required.
---
From 2011 NFL Draft: Linebacker Projections to NBA Basketball Blog | Sports Blog | NFL Football Blog | NCAA Football Blog | NFL Football Archives | College Football Archives | MLB Baseball Blog | College Baseball Blog | MLB Baseball Archives | NCAA Basketball Blog | NBA Basketball Archives | NCAA Basketball Archives | Fantasy Football | Fantasy Basketball | Fantasy Baseball | Soccer Archives | Olympics Archives | Stupid Athletes Archives | Other Archives | Football Forum | Basketball Forum | Baseball Forum | NFL Football Store | NBA Basketball Store | MLB Baseball Store | NCAA Football Store | NCAA Basketball Store | NCAA Baseball Store | Fatheads | NFL Football Tickets | NBA Basketball Tickets | MLB Baseball Tickets | NCAA Football Tickets | NCAA Basketball Tickets | NCAA Baseball Tickets |
---
Home Page
About Us | Contact Us | Site Search | Advertise | Terms of Use |
---